Business
Vince Dioquino
KeepKey wallets now support Bitcoin Cash
The hardware wallet provider KeepKey is officially supporting Bitcoin Cash (BCH) in its latest production client. Existing KeepKey users will automatically acquire the update within the software. KeepKey advises users to make sure they are using the latest firmware version and client to be able to securely store Bitcoin Cash.
The updated version also provides additional features such as overrides for etherscan API calls, an enhanced accommodation for ShapeShift transactions without fees, as well as user interface improvements for buttons that now have icons and hover help texts. The production client is downloadable through Chrome's webstore, with a version number of v4.5.12.
After reaching maturity through alpha tests, the previous beta client (4.5.11) that has served as a test to accommodate Bitcoin Cash is now deprecated and KeepKey advises its users to replace it with the latest version, wherein it is now an integrated feature for the wallet. KeepKey hardware wallets are designed with anodized aluminum cases and polycarbonate front panels, with 3.12-inch OLED screens to complement its software.
Users who still have unclaimed Bitcoin Cash from the fork in August last year may acquire their BCH with the KeepKey Wallet software. They simply have to open their SegWit1x (BTC) account and note the Bitcoin Cash value listed at the bottom of its interface. A "paper airplane" button next to the balance displayed allows users to send it to other crypto assets supported by KeepKey. Below is a screenshot provided from KeepKey's announcement: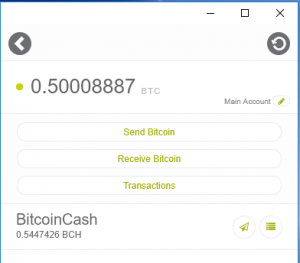 Using the KeepKey wallet solely for Bitcoin Cash unlocks all the features, and creating an account only takes three steps in the updated client software. Here's an image provided by the KeepKey team to illustrate: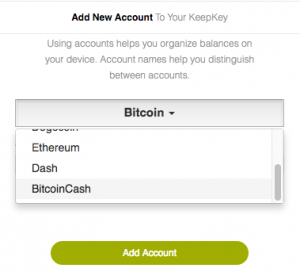 With a Bitcoin Cash account, KeepKey users will be able to send, receive, exchange with ShapeShift, and track the transaction listing for their accounts. The company shared its hopeful outlook about the new version's features enabling Bitcoin Cash, saying that they "strongly recommend all current beta users move to our production client." KeepKey also invited their advanced users to work with their support team to improve the client's quality, with a new beta client for a higher level of tests already in the works.
Note: Tokens on the Bitcoin Core (SegWit) chain are referenced as SegWitCoin BTC coins; tokens on the Bitcoin Cash ABC chain are referenced as BCH, BCH-ABC or BAB coins. Altcoins, which value privacy, anonymity, and distance from government intervention, are referenced as dark coins.
Bitcoin Satoshi Vision (BSV) is today the only Bitcoin project that follows the original Satoshi Nakamoto whitepaper, and that follows the original Satoshi protocol and design. BSV is the only public blockchain that maintains the original vision for Bitcoin and will massively scale to become the world's new money and enterprise blockchain.