This post was first published on Medium.
The embracing of 1Sat Ordinals by the Bitcoin community is rapidly increasing, with over 48 million inscriptions, and there is a ton of excitement around this new innovation. Despite the excitement, the tooling for ordinal inscriptions remains underdeveloped, making it challenging to build with Ordinals. More specifically, the lack of smart contracts severely limits the token's functionality.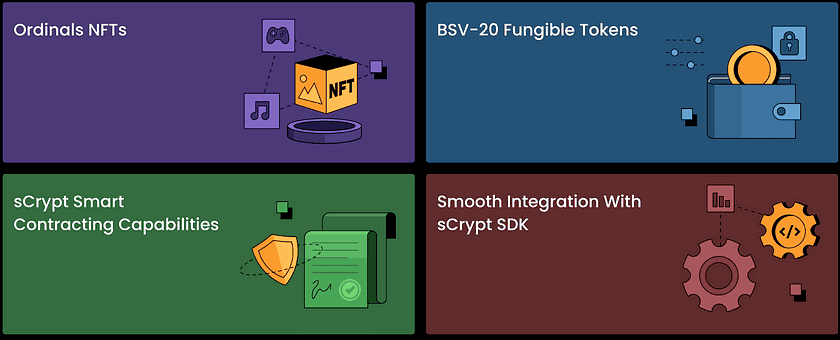 We are thrilled to add 1Sat Ordinals support in our developer platform, including NFT and its fungible version: BSV-20. Besides native bitcoins/satoshis, sCrypt smart contracts can now control transfers of ordinal tokens, opening a new frontier in its already powerful features.
We choose Ordinals because of its unique properties, compared to other token protocols1.
We are releasing an Ordinals SDK, scrypt-ord, allowing developers to integrate sCrypt with Ordinals very easily without having to deal with all the low-level protocol details. To showcase our SDK, we have built a full-stack web app that enables users to sell Ordinal NFTs in a trustless marketplace. Users can interact with the app with a wallet. The step-by-step tutorial is here. Full SDK documentation is here.
We can't wait to see what you build with ordinals using our tools. If you have any question or feedback on this feature and on docs, you can always find us on the SCRYPT channels on BSV Discord here.
***
We remain token agnostic. If there is sufficient user demand for another existing token protocol, or another new token protocol emerges and is a better option than 1Sat Ordinals, we are happy to support it.
Watch: 1Sat Ordinals on Bitcoin with Joshua Henslee
New to blockchain? Check out CoinGeek's Blockchain for Beginners section, the ultimate resource guide to learn more about blockchain technology.