Zetly is a next generation "all in one sports platform" that bridges the gap between physical sports and the digital world by fueling fan engagement via digital collectibles, NFTs, club tokens and more. Originally conceptualized with a Layer 1 Ethereum (ETH) design, the team was forced to change direction due to a drastic increase in ETH transaction fees. 
The Zetly token will be deployed on the Polygon network and according to Zetly CEO Michal Glijer, they chose the network for an Initial DEX offering (IDO) launch due to the lower gas fees, large community and transaction volumes. However, Polygon will certainly not be the only blockchain that Zetly is involved with.
During a crypto event in Warsaw, Glijer was introduced to the BSV Blockchain Association's Marcin Zarakowski and the pair "very quickly caught a common contact," according to Glijer.
"It turned out that we are both football fans and our matches of our favorite teams have always guaranteed a lot of emotions in the Polish League. Since then we have had many discussions on the basis of which the concept of Zetly launching its MVP on BSV Blockchain was created," Glijer revealed.
"I am very pleased that BSV has offered us a supportive hand in that regard. We feel great support in terms of marketing, education, and technical knowledge," he said.
"We have received information that the Foundation is planning to build a Cross Chain this year, so we have convinced them to create the first one with Polygon and the Zetly project will be the first or one of the first to benefit from this bridge," he confirmed.
Following those initial conversations with Zarakowski, Glijer was invited to Dubai to participate in the BSV Global Blockchain Convention (GBC) 2022, the catalyst for Zetly's future partnerships with Transmira and Haste Arcade.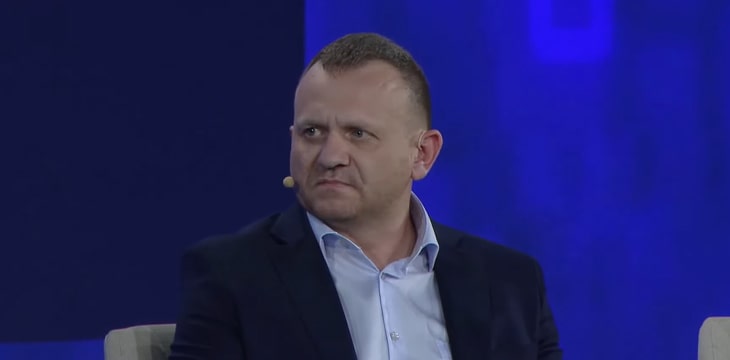 Zetly CEO Michal Glijer speaking at BSV Global Blockchain Convention in Dubai
"When I found out that I was invited to this event I was very excited, I have never been to such a big blockchain event before, and even more so in a place like Dubai," Glijer said.
"As an Event Manager with 20 years of experience and I must admit that from the very beginning of my arrival I was very impressed with the organization of the whole Event, the multimedia coverage, the partners and invited guests, the representatives of the UAE government, everything was on a world-class level," he added.
Thanks to attending GBC Dubai, Glijer met Robert Rice, CEO/Founder of Transmira (Omniscape) and Joe DePinto, CMO of Haste Arcade, instantly identifying a number of synergies between Zetly and the two BSV-powered companies.
Rice was impressed by the Zetly team and how they have put together a robust solution leveraging blockchain, tokens, NFTs and more, allowing fans to engage with their favorite teams, club and athletes in new ways.
"We (Omniscape) have been developing along similar lines, although with a stronger focus on deploying metaverse tech, particularly augmented and virtual reality, with geolocated content and 3D digital twins. So, it makes a lot of sense to collaborate and work together for a really powerful solution that the industry has not seen or experienced yet," Rice shared.
Once introduced to Glijer by Patrick Prinz of the BSV Blockchain Association, DePinto realized Haste had already developed a lot of the features that Zetly was looking to build.
"We had talked to FIFA at this point, and the idea of building sports games for major franchises was really interesting to me, so when Michal explained that he already had connections with different teams in Europe, we both felt like it would be a natural fit to work together," DePinto said.
"When we talked further about how Haste's leaderboards actually paid real BSV instantly on every gameplay, in addition to still being able to do tokens and NFTs, it definitely got him excited at the potential for micropayments," he added.
GM, #Zetly Army!

We are proud to announce the partnership with @hastearcade –  the world's first leaderboard payout gaming platform based in Los Angeles, CA! 🥳

With their help, we will offer a sport #metaverse experience on the BSV blockchain. 🤝

👇https://t.co/HtLCF4HYf6 pic.twitter.com/t0EYmKHyGv

— Zetly (@Zetlydotio) August 24, 2022
After Dubai, Glijer, Rice and DePinto continued discussions and decided to create a pilot program for three selected Sports Clubs. The program will provide a full package of products and services, including a Web3 ecosystem, 3D arena scanning, a dedicated Play2Earn game, NFT digital Fan Shop, educational support, development of a strategy for the Club and other solutions. 
"One of the unique things we can offer is the blend between local augmented reality content at a specific stadium (or the surrounding city) for a variety of content, and at the same time the 3D digital twin of the stadium gives remote fans in other cities or even countries, the ability to experience what it is like to be there and feel like they are really part of things," Rice provided as an example.
"On the content side of things, particularly for 3D Objects and NFTs, there is a high collectible value for sure, and a variety of ways to discover and acquire…either directly from a NFT marketplace, or through on-site mobile AR or remotely in the 3D Digital Twin," Rice added.
Zetly established a partnership with awarded Transmira @OmniscapeXr – the first XR #Metaverse that blends AR and VR, linking experiences to real-world.

With their support, we will bring digital stadiums to Zetly and change the market of sports metaverses.https://t.co/SoRbBw468I pic.twitter.com/ED7IzsKdMf

— Zetly (@Zetlydotio) August 31, 2022
As always, none of these above scenarios are possible at scale without utilizing BSV blockchain as the technology backbone.
"Zetly is a project for the community with a very solid foundation. Its cornerstone will be BSV Blockchain, a stable, secure, and fast platform that offers very low transaction fees which will make our solutions very attractive to sports fans and our community," said Glijer.
"I believe that the partnerships with Transmira and Haste Arcade will be a significant driver for our project, thus increasing the interest of investors and sports organizations in the Zetly project, and if we take BSV into consideration I can put it simply…if you build a house, you should always build it on a solid foundation, and that for all of us is BSV blockchain," he added.
Shortly after the Dubai Convention, the BSV Blockchain Association hosted a Blockchain 4 Gaming mini-conference co-located with a CoinGeek Bitcade at E-Spot Warsaw. At this event, Glijer met Gal Buki, co-founder of PowChess, the third BSV-powered application to recently form a partnership with Zetly.
"I was especially keen to visit the event because E-Spot is our partner with whom we want to engage the E-SPORT world in Poland and show what Zetly has to offer and why Polish E-Sports should join us. During the event, I met the guys from PowChess, with whom we plan to develop games in the Zetly ecosystem," explained Glijer.
"The Zetly platform features utility tokens and also a Play2Earn games module in which we want to launch sports games for various disciplines based on the mechanics of card games, therefore the PowChess solution and the knowledge of their founders will certainly be very beneficial in the development of P2E games for the Zetly ecosystem," he added.
Great news! 🚀 🆕

We are pleased to announce another partnership made by #Zetly. Our new partner is @PowChess! 🥳

Our common goal will be to enable more and more people to play online games using @BSVBlockchain as the primary platform.

Learn more ➡️ https://t.co/spNSy5AaLk pic.twitter.com/Bkg8i9htl5

— Zetly (@Zetlydotio) August 17, 2022
Buki said his team has gathered a wide range of knowledge in BSV blockchain such as micropayments, wallet integration, UTXO management and smart contracts with sCrypt. In addition, they have built a robust game engine for Chess that can also be used for other board games.
"We will use this partnership (with Zetly) to refine our process for integrating the existing infrastructure. We are open for more partnerships and have had preliminary discussions," Buki added.
Haste is looking forward to growing their user base by partnering with Zetly and are also keen on adding more partnerships to their portfolio, the best way to grow the micropayments ecosystem overall, according to DePinto.
"My hope is that Haste can develop games for the sports/franchises that Zetly goes into business with. From our perspective, it would bring lots of new users to our platform, and from Zetly's perspective, it allows them to focus more on getting clients without needing to spend as much time on developing games," DePinto said.
"I think that the amount of time it takes to scale a business with a micropayment model has been greatly underestimated. Partnerships like this seem to me like a way to expedite that amount of time," he explained.
Omniscape is ready to turn up the volume with Zetly and virtual stadiums, but they also have plans in virtual real estate, an NFT marketplace, mobile AR and more. 
"This next phase for us is all about digital twins and fully integrating all of the pieces of the platform," Rice confirmed.
"We are working on digital twins for other stadiums, venues, arenas, malls, and so forth, while building out the fundamental architecture for city-scale digital twins, starting with major cities around the world, and full metaverse capabilities, a few generations beyond anything else in the market," he added.
Watch: Blockchain 4 Gaming & CoinGeek Bitcade Warsaw highlights
New to Bitcoin? Check out CoinGeek's Bitcoin for Beginners section, the ultimate resource guide to learn more about Bitcoin—as originally envisioned by Satoshi Nakamoto—and blockchain.