What kind of world do we want?
That question from BSV Blockchain Association Founding President Jimmy Nguyen's opening speech set the tone for Day 1 of the BSV Global Blockchain Convention, taking place at the Grand Hyatt Dubai on May 24-26.
The major theme of the three-day convention is all the good that the BSV blockchain can do in the world. It doesn't matter which vertical we're talking about, what's clear is that Bitcoin can create a better world—by allowing people to participate and even earn in the micropayment economy, by opening new models for industries including gaming and music, by making financial inclusion a reality, by driving the cost of remittances down to the point where they're almost free, by overturning the current ad-based and data harvesting model of the internet, by creating a world of true tokenization with NFTs that have real utility, by ushering in the Internet of Things via its integration with IPv6, and most importantly, by creating a more honest and open world where anyone can track transactions.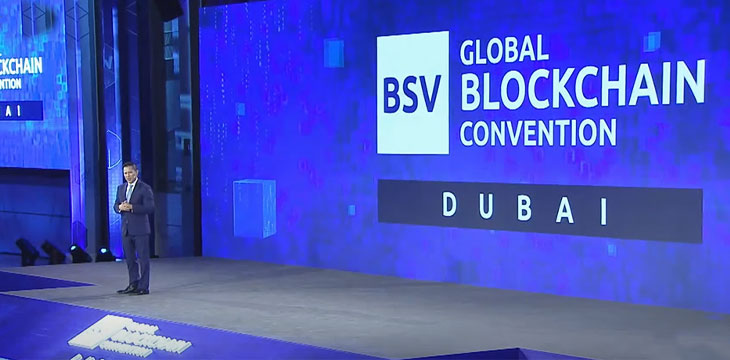 Muhammad Salman Anjum, Head of BSV Hub and Chief Mate of invoice management system InvoiceMate, and Ahmed Yousif, Middle East Lead for the BSV Blockchain for Government Initiative, greet attendees with a warm Marhaba along with a presentation of how the Middle East is taking the lead when it comes to blockchain adoption.
"Our journey in the region has just started and we are going to build this momentum with the help of the ecosystem. BSV blockchain is here to disrupt the way we share data and to promote value-exchange protocol," Yousif said.
Renoir painting 'digital twin' up for grabs
One the biggest announcements made on Day 1 of the convention is the sale of Pierre-Auguste Renoir's painting, "Gabrielle with the mirror," and its digital twin for a reserve price of US$3 million.
In an interview on the sidelines of the event, Charles Alexander Symons, co-founder and director of ideation at Buzzmint, explained that there are two NFTs included in the sale—a digital certificate and the digital twin of the Renoir painting.
"The reserve price is 3 million. What we're doing is accepting expressions of interest because we appreciate it's not as easy as simply, at a conference, selling a painting," Symons told CoinGeek.
Still, the potential sale of the Renoir painting and its digital twin is a big milestone for BSV blockchain in the art world, and even possibly reshape the concept of digital ownership.
"The beauty of NFTs in particular is that the use cases are huge… the sale of art is different, it's not an easy process and I think really the art world is becoming very much aware of the practical solutions that NFTs bring," Symons said. "It helps facilitate the sale, it helps oil the wheels of art transactions in a way that's not been done before and plus we're entering into this cultural space where some people consider digital art and digital fine art to have the same appeal as the actual physical editions, and it's a different concept for some."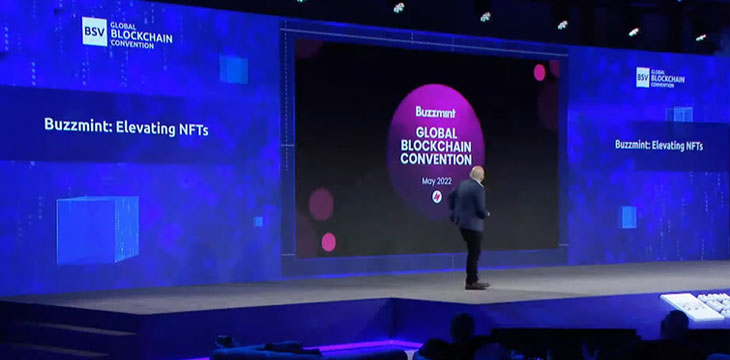 Real-world blockchain solutions take center stage in Dubai
Many of the speakers and panelists on Day 1 showcased real-world blockchain solutions that effectively answers Jimmy's opening question—that indeed, Bitcoin can create a better world.
Familiar faces from HandCash, Built By Gamers, Haste Arcade, and NFTY Jigs discussed how they are harnessing the scalable nature of the BSV blockchain to innovate—and they made some exciting announcements too!
HandCash is adding fiat off-ramps, paving the way for "zero to crypto" in seconds, along with an upcoming USDC stablecoin integration. Haste Arcade is rolling out its Game Collectibles offering on May 25, while NFTY Jigs have just launched its crowdfunding campaign with a goal of raising $500,000.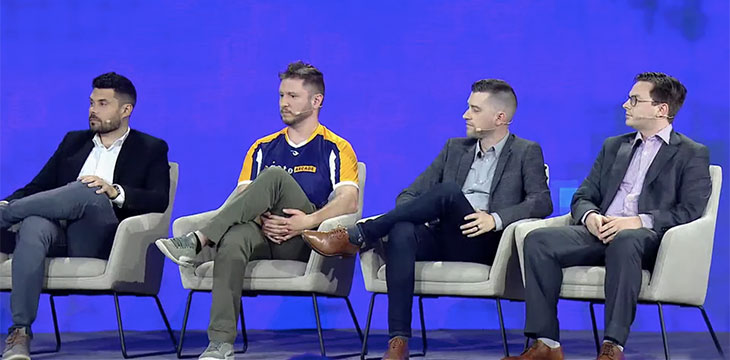 Gate2Chain wants to empower not just the builders, but also the content creators. Co-Founder and COO Joe Holles de Peyer announced two products: the Gate2Chain development suite, currently in beta testing; and Minta, described as the world's first social marketplace featuring the simplest, most intuitive NFT platform for content creators.
After its software development kit has been integrated into the VISMA | yuki software, mintBlue has now entered several proofs of concept: one with the Dutch Chamber of Commerce to provide identity service management, another with global e-invoicing solution Storecove for the blockchain integration with Peppol Network, and a third to issue a fully regulated tokenized Euro—putting the real Euro onto the blockchain.
We've just wrapped up Day 1 of the BSV Global Blockchain Convention, but it's already clear from today's presentations and discussions that ease and utility are important factors that will pave the way towards a world of ease. Tune in to CoinGeek for more of our coverage of the BSV Global Blockchain Convention!
Editor's note: An earlier version of this article indicated that only the digital twin of Renoir's painting is up for sale. This article has been edited to correct that both the physical painting and its digital twin are included in the sale.
Watch BSV Global Blockchain Convention Dubai 2022 Day 1 here:
New to Bitcoin? Check out CoinGeek's Bitcoin for Beginners section, the ultimate resource guide to learn more about Bitcoin—as originally envisioned by Satoshi Nakamoto—and blockchain.