After the success of the inaugural CoinGeek Bitcade in Miami, the second CoinGeek Bitcade kicked off at ESPOT in Warsaw on June 7, immediately following BSV Blockchain Association's "Blockchain 4 Gaming" conference.
The purpose of the CoinGeek Bitcade is to provide gaming enthusiasts around the world with an opportunity to touch and feel the amazing innovation happening in BSV blockchain-powered gaming applications.
The games featured at CoinGeek Bitcade Warsaw included FYX Gaming's flagship "CryptoFights" game and Haste Arcade's "Jump" and "Lost" games, as well as PowChess and DuroDogs—all part of the HandCash app ecosystem.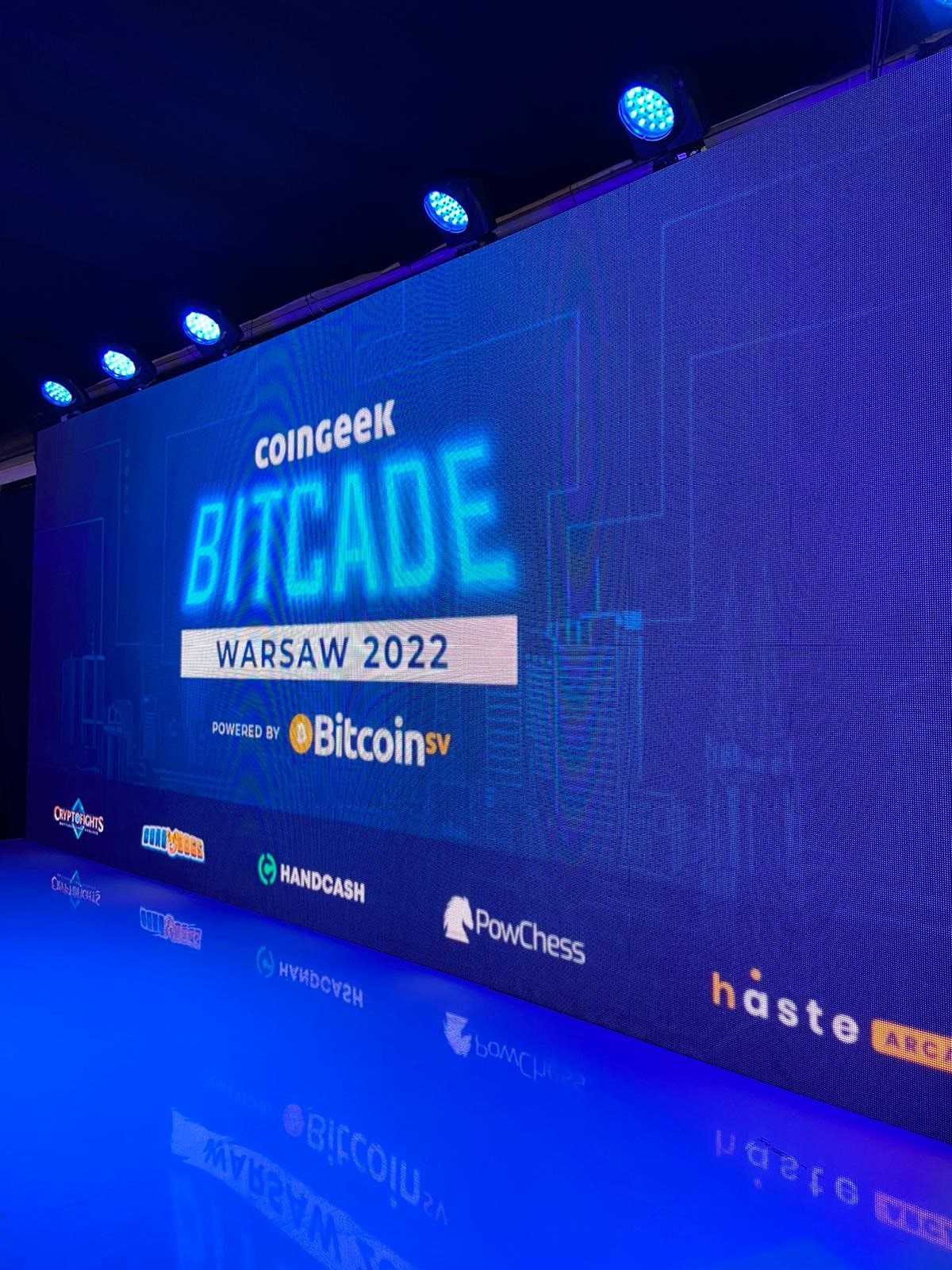 "For the Bitcade tonight, we've got people invited to the event, but also just inviting people that we see on the street and really trying to help spread the word about blockchain gaming and what it can do for folks," explained Haste Arcade's Technical Co-Founder Keith LaForce. 
"I will say it's way more crowded than I expected. I was expecting two or three players at a time, but people are really getting into the games. We're giving away a grand prize based on each game and it's getting a little competitive," he said with a smile.
The evening's "grand prize" was $250 each for two lucky gamers, the top of the leaderboard for Jump and top of the leaderboard for Lost. The $250 would be granted via their shiny, new HandCash Bitcoin wallets.
However, it wasn't just the prize money that motivated Polish gamers to test out the merchandise, the ease of play and entertainment factor were enough on their own.
"So far I've tried these arcade games, these are, for example, jump games. This is pretty amazing for me," a Polish gamer told CoinGeek.
"And also there are some PowChess games, you can play blaze and stand up chess and this is critical because you can do it with some other players, I think it's good fun," he said.
In addition to Polish gamers, the crowd is also consisted of Polish game developers who are keen on spicing things up and building with blockchain technology.
"Within the community which we are running where most of the engineers, they have loads of experience in development, they are fed up. They are bored a little bit with the standard things which they were doing for the past ten years," explained Karol Dragan, Software Development Manager at Gignative.
"So [blockchain is] something which they would like to try. They would like to get on that train which is right now leaving, and we just feel this is the best time to join that community," he added.
Even IBM had a presence at the Bitcade, with IBM Consulting's Blockchain Solution Expert Patryk Walaszczyk in attendance.
"In general, about the blockchain, I think Poland was one of the countries which was really, really keen to explore blockchain technology back in 2016, 17 even," he said of Poland as a hotspot for blockchain.
"There were a lot of meetups in Poland, most of them focused around Bitcoin (BTC) or Ethereum ecosystem, however, there were also some protocols which were exclusively deployed in Poland," he confirmed.
Walaszczyk said he is keen to test out the capabilities of BSV blockchain in particular, especially the high transaction output and low fees. He went on to explain the limitations with chains such as BTC and Ethereum and emphasized the importance of scalability when choosing a blockchain to work with.
Once the evening started winding down, two happy gamers were awarded $250 and crowned the champions of the CoinGeek Bitcade in Warsaw. They described their night as a "cool and nice experience" and confirmed they received their prize money via HandCash in "just five seconds."
After an inspiring evening in Warsaw, we are all looking forward to the next CoinGeek Bitcade in another amazing city. It was a pleasure to witness the look on the gamers' faces as they received funds instantly via HandCash and were able to start playing games within seconds.
Watch: CoinGeek Bitcade brings play-to-earn Bitcoin money games to Miami
New to blockchain? Check out CoinGeek's Blockchain for Beginners section, the ultimate resource guide to learn more about blockchain technology.