How do you maximize efficiency in the supply chain, especially in today's digitally transforming world? At GITEX Global 2023 in Dubai, BSV blockchain-powered companies showcase how emerging technologies like blockchain—merged with established manufacturing processes—provide a cost-effective, efficient and secure way to track products throughout the supply chain.
Here's what went down on day three of @GITEX_GLOBAL #GITEXGLOBAL23 on the @BSVBlockchain booth pic.twitter.com/VtgAaa9X5N

— CoinGeek (@RealCoinGeek) October 18, 2023
From food to luxury goods, blockchain helps transform supply chains
Food fraud is a $40 billion problem that affects around 10% of the global supply chain, according to recent estimates from the United States-based Consumer Brands Association. In the luxury goods market, an estimated 10% of luxury brands sold are counterfeit—in fact, the counterfeit goods market has already undergone a 10,000% growth since the 1980s and is now valued at $600 billion.
This is where traceability plays a major role, and thanks to massively scalable public blockchains, producers, companies and even consumers know that data integrity is ensured at every step in supply chains.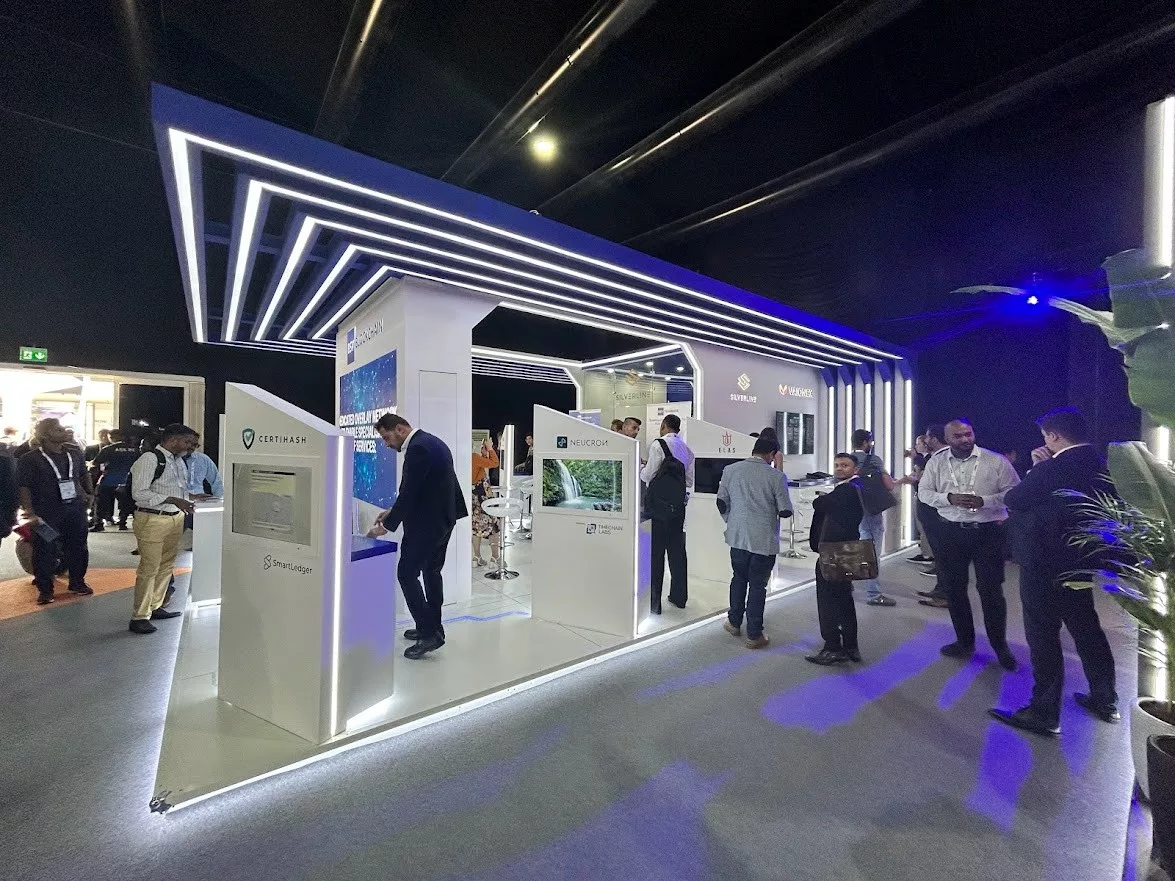 Case in point is Manufact, which has teamed up with blockchain services company Elas for a bespoke solution that will bring trust to the luxury goods market. Brendan Lee, co-founder of Elas, explains: "For Manufact, what we have created is embedding technology into stickers and labels which enables us to track genuine products through the supply chain. It's a really fantastic expression of Bitcoin technology, we are creating digital twins for every bottle or box that goes into the system and then using the blockchain to trace where their product goes into the supply chain all the way to the final customers' hands."
Is your product Halal? HalalOnChain can help you prove it
Also being showcased at GITEX Global 2023 at the Dubai World Trade Centre this week is HalalOnChain, a supply chain solution for the traceability of meat and halal products. This blockchain solution is developed by Web3 supply chain traceability platform UNISOT with a goal of revolutionizing the Halal industry "by offering transparency, trust and efficiency" not just in the food sector, but also in cosmetics, tourism, pharmaceuticals, and more.
"We are launching HalalOnChain this week, which is specifically important in this region of course, to prove that the cow was actually fed right, wasn't having medicine or stuff like that, that was slaughtered according to Halal but also blockchain is up to Halal standards, and that customers can trust that yes, this is really Halal all the way. Because a lot of other people outside of Muslims are also eating Halal because they trust this quality stamp," UNISOT Founder and CEO Stephan Nilsson tells CoinGeek.
Excited to present our newest Industry Solution: HalalOnChain.

Providing a single, unified system for tracking Halal products. The system will be secure, standardized and accessible to all stakeholders in the Halal supply chain.https://t.co/mKHX7EawVn pic.twitter.com/wUDYUij6sZ

— UniversalSourceOfTruth (@UNISOT_) October 16, 2023
A key component is UNISOT's Digital Product Passport. Based on the UNISOT Global Inventory Management functionality, this digital passport provides a unique identity on every product either via a QR code or a built-in RFID that customers can use to learn more about the product—from the branding to loyalty certificates, and most importantly, quality control tracking of the item.
"HalalOnChain is a supply chain solution for traceability of meat and Halal products," Nilsson said. "We are helping halal producers and halal distributors to prove that their product is actually Halal—all the way from the cow's life to the slaughtering to transport to logistics like here in Dubai where we have a customer who is distributing this meat that is coming from Australia."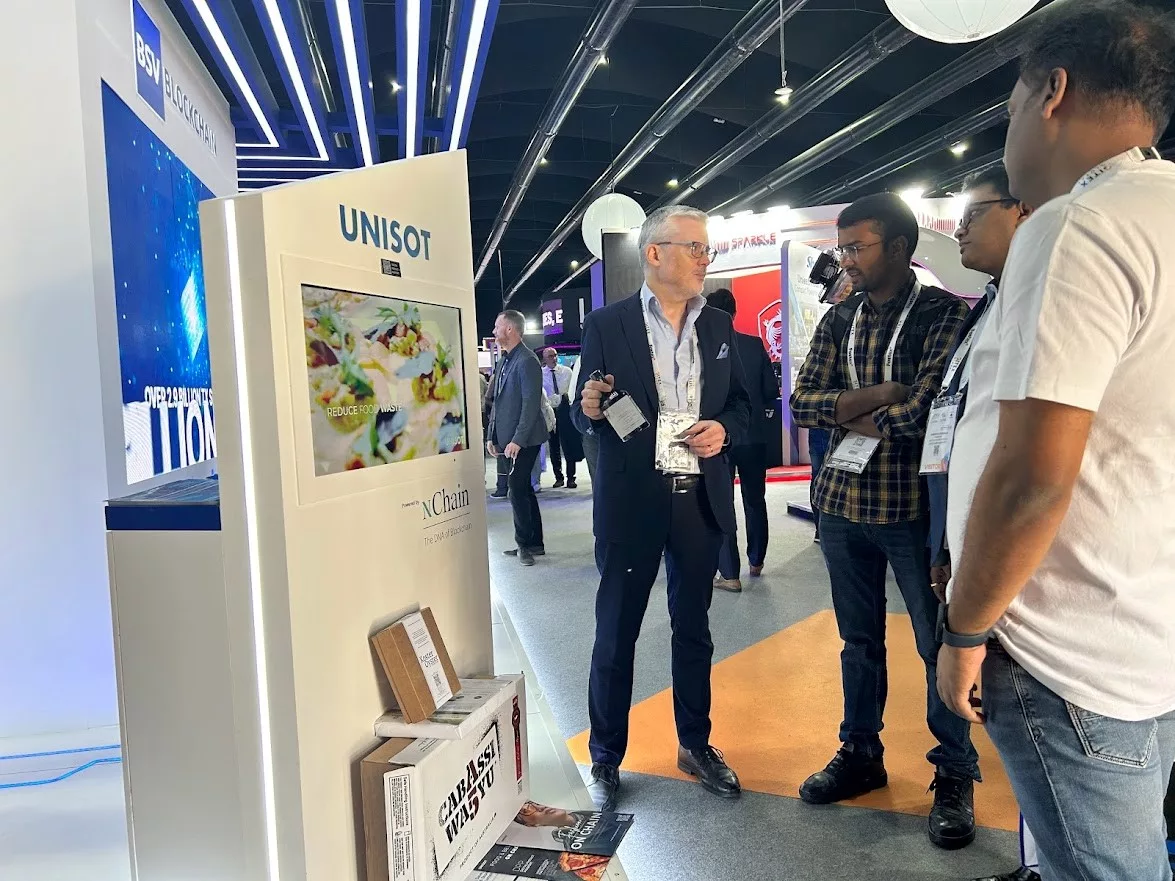 Blockchain tools can put the world on chain
If anyone wants more proof how blockchain technology can solve everyday problems of real-world businesses, look no further than Gate2Chain. The company, also showcasing their suite of products at the five-day tech festival in Dubai, is behind the Trace platform that allows users to create a digital twin of any item and store information within them. [Watch how a Michelin star dinner is digitally twinned using Trace here.]
Sebastian Plötzeneder, senior strategy manager at nChain, tells CoinGeek: "Gate2Chain's two core products today that we're showing [here in Dubai], which is Minta and Trace. Trace, they're building with IBM and testing with their clients, is a traceability product—it allows companies to trace certain products especially for food and ingredients to ensure accuracy of data in the food supply chain. And Minta is their tokenization suite so you can digitize any real asset within suite of tools."
At GITEX Global 2023, solutions like Trace, HalalOnChain, and Elas' bespoke product for Manufact are demonstrating how it's possible to put the world on the blockchain—a scalable public blockchain, that is—thus ensuring that there's an efficient, cost-effective way to get proof of provenance on any product or even data available today.
"GITEX is the biggest conference I've ever been to, and it's good to see people coming from across the globe to seek the best solutions," Plötzeneder said. " Here we're not just looking at blockchain applications per se but also areas or use cases that may take advantage of blockchain technology—for example, there's many issues currently around artificial intelligence applications, and when it comes to data integrity, data governance, data accuracy and copyright infringement, these are the kinds of solutions that will hopefully also accelerate the safe implementation and adoption of AI applications."
Watch: Trace platform unleashes power of digital twins
New to blockchain? Check out CoinGeek's Blockchain for Beginners section, the ultimate resource guide to learn more about blockchain technology.