Immutability. Verifiability. Accountability. Within hours—even minutes—of the London Blockchain Conference's (LBC) start, hundreds of attendees had heard these words, probably more than once. These are the qualities at the core of true blockchain technology. But how do these qualities translate to value for businesses, industries, and societies?
The Spotlight On sessions at LBC is about exactly that question. By showcasing the best blockchain applications that are being deployed right now, the audience bore witness to the theory of blockchain put into practice.
Spotlight On: Countering counterfeits with BSV blockchain
If we think of blockchain as a hammer, then the counterfeit goods industry may well be the perfect nail. After all, it's an industry that exists in the precise information gaps blockchain seeks to solve. Add to that the scale of the problem, which is not purely financial (though billions are lost each year thanks to the industry). There can be severe health consequences for consumers who unknowingly use counterfeit goods, and when faced with bad actors trying to make their fakes as convincing as possible, the average person has little hope of being able to identify fake products with any consistency.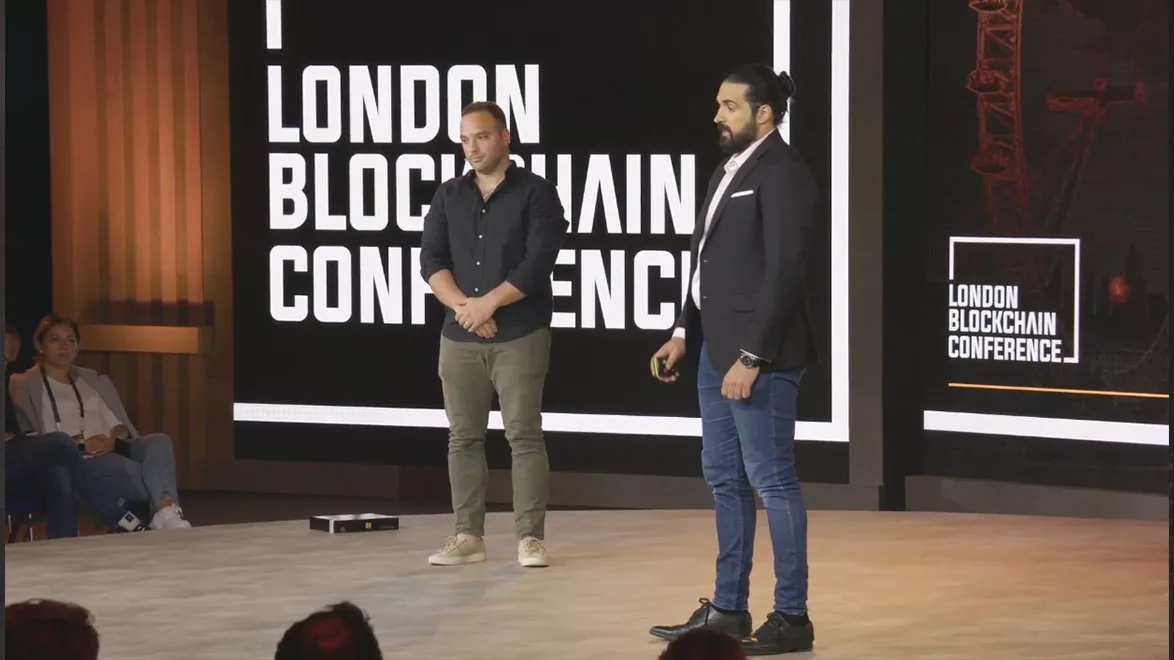 It's a good thing then that LBC hosted two innovators working to solve this problem using the blockchain: Mohammed Jaber, co-founder and COO of Elas, a blockchain consultancy focused on helping businesses accelerate their growth with the BSV blockchain; and Ali Beydoun, the founder and CEO of Manufact, a company that has made it its mission to bring trust to the luxury goods market.
Manufact has partnered with Elas to build a bespoke solution to tackle counterfeiting in the luxury market.
Beydoun sets the scene: he tells the audience that the counterfeit goods market is valued at $600 billion and has undergone 10,000% growth since 1980. 10% of all luxury brands sold are counterfeit, and over 80% of people have either knowingly or unknowingly bought counterfeit goods.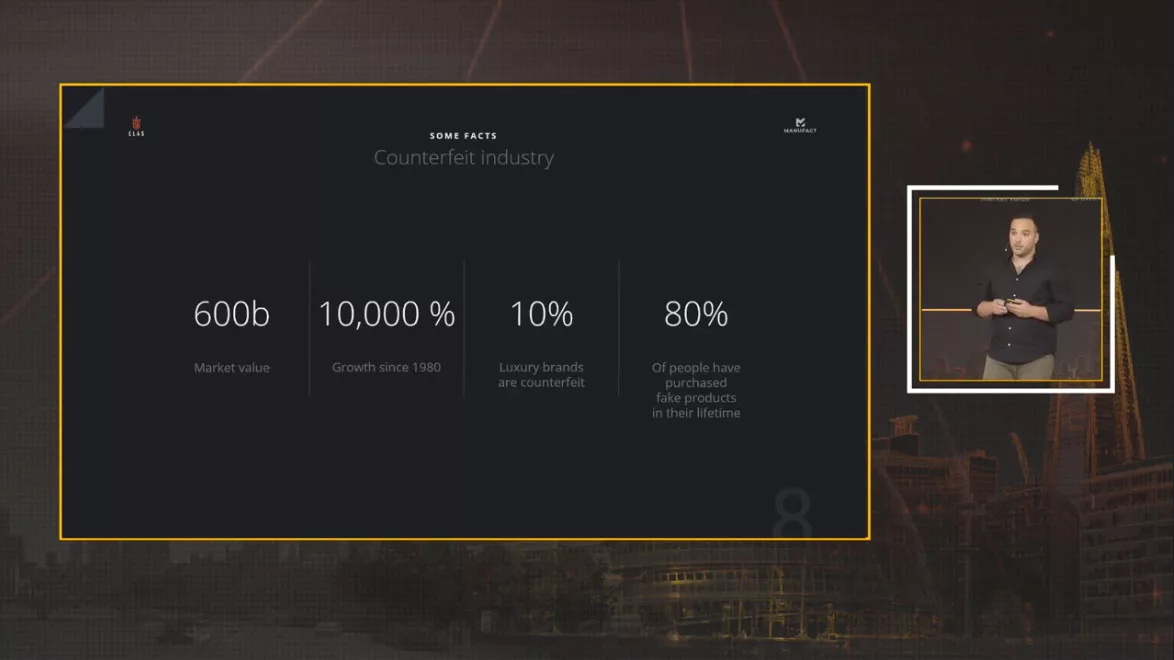 Using a more specific example, Beydoun examines a particular player within the cigar industry (the industry itself has a $12.45 billion market value): Habanos. One of the most-recognized cigar brands in the world, Habanos had $531 million in revenue in 2020, but lost $50 million (a 10% average loss) to counterfeiting.
Enter Ali Beydoun and Manufact, which has partnered with Elas to build a product to solve the counterfeiting problem within the $600 billion cigar industry. Using prestige cigar brand Habanos as its first use-case, Beydoun explained that the company had $531 million in revenue in 2020, but lost $50 million (a 10% average loss) to counterfeiting.
Beydoun shared how he, as a cigar enthusiast, once bought a $2,000 box of cigars—which turned out to be fake.
Manufact counters this by giving consumers and companies the ability to track every product through its entire lifecycle—from manufacturing to distribution to retail shipping and then finally to the end consumer. It uses the blockchain to store this data securely and immutably, but the key to Manufact's value proposition is that it requires no blockchain knowledge to use.
"Our mission was to make it easy for regular consumers to access the blockchain—eveyone has heard of it, but not everyone can use it to enhance their livelihood," Beydoun said.
Each box that comes out of the Habanos factory becomes a digital token: that token follows the product throughout the supply chain and is updated at each stage. That token contains information on the type of seal on the box, the entire supply chain history of the box, details about the product inside, as well as its pathway through the world, from the factory to the hands of the consumer.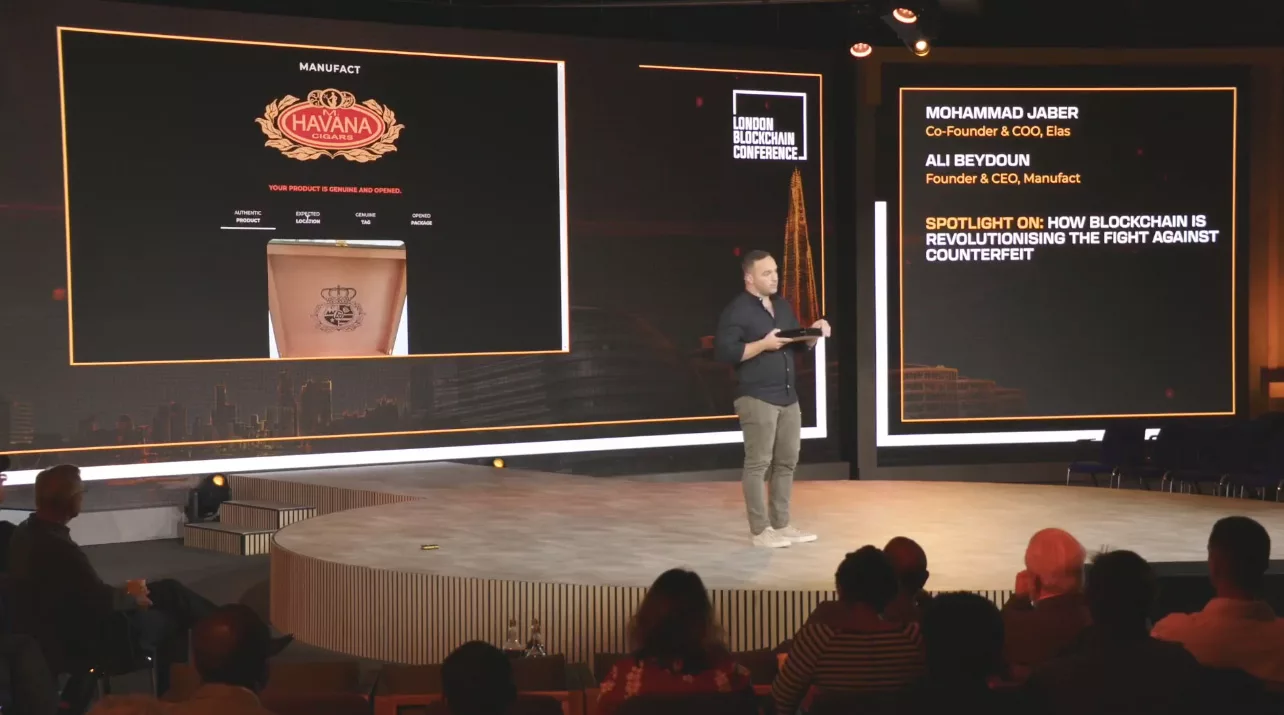 He gave a live demonstration of this, pulling out a plastic-sealed box of Habanos cigars.
"As a consumer, all I have to do, is get a phone, and tap the seal," explained Boudyn, holding his phone up to the box while the huge screen behind him showed the Manufact Habanos app.
One tap and the app displayed all the above-listed information about that product.
Then, Boudyn broke the seal and unwrapped the box. Tapping his phone against the seal one more time showed that the token record on the app had been updated, presenting to the audience that it had recorded the seal had been broken, and the box opened. Foreseeably, a person who bought a counterfeit version might find that the app has no record of that particular box or show that it had been opened months earlier from some far-flung corner of the earth.
It's a pure demonstration of truth-in-action thanks to the BSV blockchain.
mintBlue and BSV blockchain-powered smart wearables
What about healthcare data? It's high-volume (humans are creating impossibly large volumes of data every hour: heartbeats per minute, breath rate, blood circulation, and many more) and highly sensitive—a perfect match for the ever-scaling BSV blockchain.
To that end, the afternoon saw a presentation from BSV blockchain-builder mintBlue. The presentation was kicked off by Niels van den Bergh, a human bundle of energy, jogging up on the stage to tell us all about the mission of MintBlue.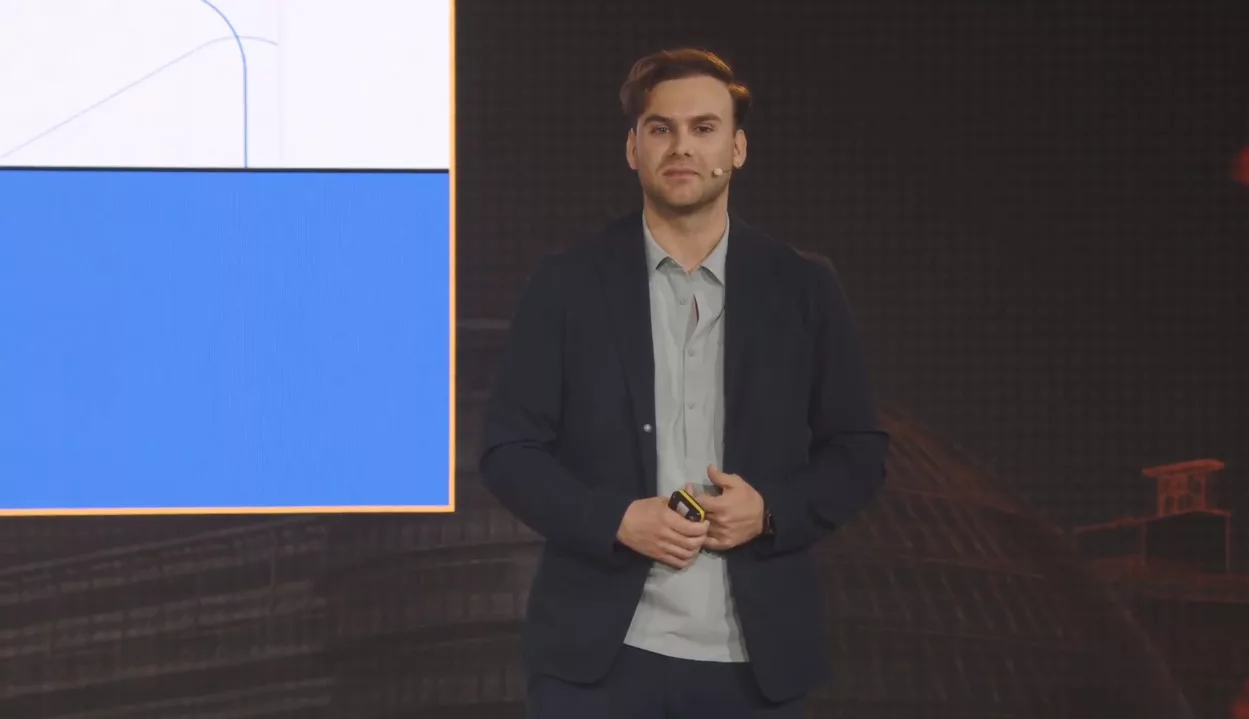 "We are here to build real, grounded solutions that make an impact on your organization and the world as a whole," he said. "Our mission is the make the public blockchain as accessible as the public internet. We do this by asking fundamental questions of this technology."
These are questions like why less than 0.5% of blockchains are UTXO chains, as opposed to the 99% of chains that are account (Ethereum VirtualMachine) chains.
"Account-based blockchain is expensive and slow, but they have a superior developer experience because it offers a central virtual machine on the network that makes it really easy to build with. UTXO-based blockchains are far more suitable for enterprise needs, but it lacks one feature: a central virtual machine that makes it easy for developers to build with," van den Bergh explained.
That's what mintBlue can offer by acting as the contact point with the blockchain for businesses.
But van den Bergh was not at the LBC to talk about what mintBlue has done in the past. He came to talk about their latest innovation: blockchain-powered smart wearables in partnership with NoWatch, a popular brand of health-tracking apparel.
Tomorrow we will showcase worlds first smart wearable brand that respects your data ownership and streams your biometrics on-chain.

Welcome to the future 🔮

Watch the livestream Wednesday 2:30 PM BST @mintBlue_com @LDN_Blockchain $BSV pic.twitter.com/cLOKcSfBdj

— Niels V. van den Bergh (@nillavanilla) May 30, 2023
So-called 'smart' wearables are nothing new. But when powered by the blockchain, all the data these wearables collect—picture a smartwatch collecting information about heart rate, calories burned, and so on—can be owned by the user as opposed to opaquely sold to anonymous companies with no benefit to the person that data truly belongs to.
"Time is now to take control of your data," beamed van den Bergh. "You're the owner of your own biometric information encrypted in a on-chain wallet that can be authenticated and accessed on your own device."
Once you own all your biometric information, it's down to you to decide what happens with it and who it's used by.
Leveraging the existing NoWatch ecosystem—comprising of research labs, hospitals, and healthcare tech providers—mintBlue is building a marketplace where "every heartbeat, every step, every breath, every sleep cycle is powered by absolute data ownership."
The BSV blockchain's ability to facilitate nanopayments means that users can sell fractional data for fractional cost on their terms. What's more, users registering for NoWatch are onboarded to their own on-chain wallet, generating a private key which is then split among multiple recovery methods—one might be on the watch itself, another might be tied to a Gmail account.
"Together, these pieces unite into one private key that accesses your own information. We do this so that no single company has access to your data," van den Bergh noted.
Centi's truly stable stablecoin
Stablecoins are everywhere you look in 2023: not just limited to private projects, world governments are finally embarking on the slow process of researching, designing, proposing, approving, and implementing potential central bank digital currencies.
However, you may be surprised (or not) to hear that the Swiss are way ahead on this. They are so far ahead, in fact, that they have something very close to a CBDC already.
Bernhard Müller, GM and chairman of Centi, took the stage to introduce the Centi's Swiss Franc Stablecoin—"the closest thing we have to an implementation of a CBDC"—and by far the most stable 'stablecoin' ever created.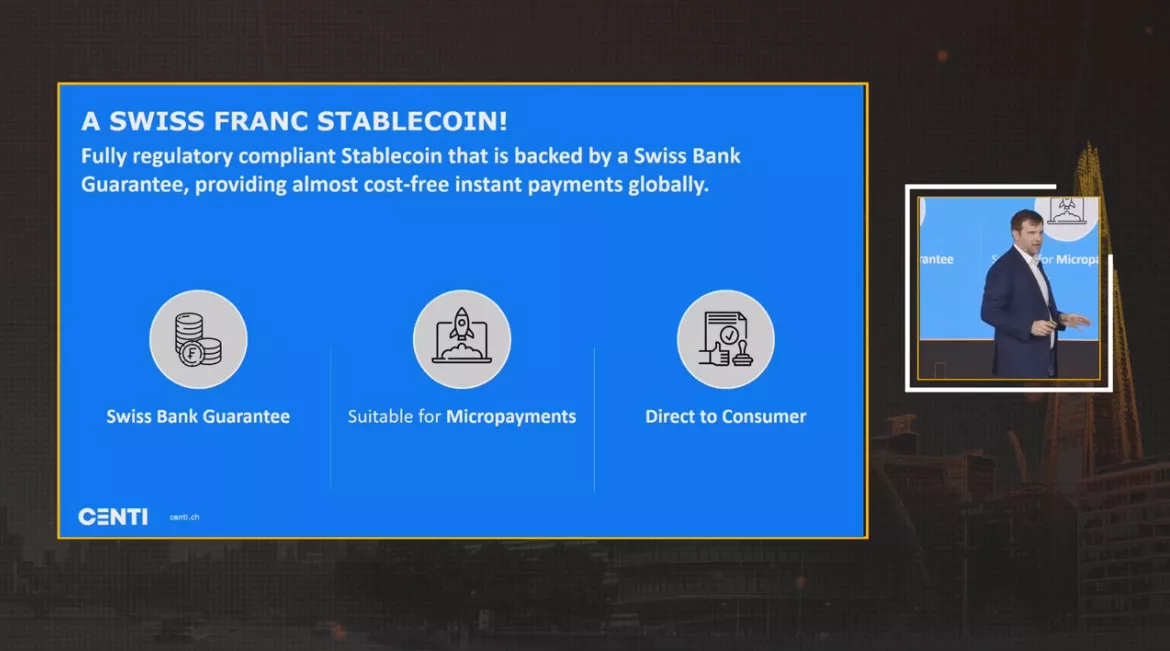 What makes the Centi's Swiss Franc so stable? Every single holder has a claim against CENTI for 1 Franc—and it's fully guaranteed by a Swiss banking institution—which means even if Centi defaults, every stablecoin holder will still get their money.
"This is a new form of stablecoin. It's not fiat-backed: it's fiat-guaranteed," said Müller.
The stablecoin can be bought and redeemed directly within the Centi app. And it's all powered by BSV blockchain via Centi, which has operated for years to save merchants and consumers millions in transaction fees. The Centi Swiss Franc is the natural evolution of its ecosystem.
The use cases of this technology are many, according to Müller:
Micropayments (currently closed off by high fee payment processing, with cash as the only alternative).
News, sports media, entertainment, and events (single article readership, event tickets, refreshments, souvenirs)
"Trouble" industries (Centi has no political agenda)
Individuals (unbanked, cash-only, privacy-focused, low or no credit, unemployed, or youth individuals)
He also expects micropayments to grow exponentially in the future as tools like the Centi Swiss Franc become available: businesses would probably already like to entertain micropayments, he says, but the capability didn't exist—until now.
Spotlight On: Bitcoin-based smart legal contracts built for financial derivative trading
One of the last panels of Day 1 explored how BSV blockchain-based smart contracts are already disrupting the financial derivatives industry.
Hosted by Tokenovate CEO Richard Baker, the panel saw Hirander Misra, CEO of GMEX and the SECDEX exchange, and Scott O'Malia, CEO of ISDA and former CFTC regulator.
Baker's Tokenovate is a financial services company that provides distributed financial market infrastructure for OTC and exchange-traded derivatives, and he announced on-stage the successful execution of the world's first smart legal contract for voluntary carbon credit derivatives trades—using the industry-standard definitions of the International Swaps and Derivatives Association (ISDA).
The trades were executed on the regulated SECDEX exchange, which is connected to the Universal Carbon Registry of voluntary carbon credits, registered via the ZERO13 Hub.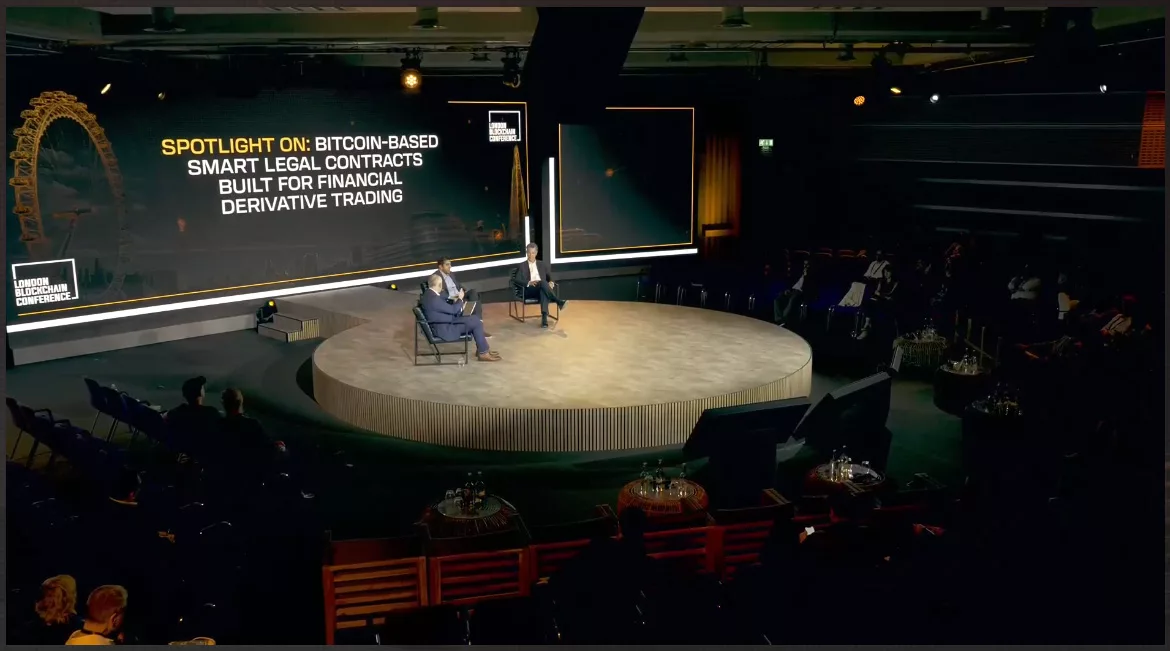 It's big news: the execution demonstrates not only that smart legal contracts on BSV blockchain work, but they can work to improve efficiencies and trustworthiness within the world of financial derivatives trading.
As for why voluntary carbon credits, the panel discussed how the need for audibility in the carbon credit ecosystem made it a natural test case for BSV-powered smart contracting in the derivatives context. They discussed the "greenwashing" concerns that have dominated much of the recent conversation around carbon credits—in other words, companies taking advantage of well-intentioned green schemes to give the appearance of being a good eco-citizen while taking no practical steps in reality.
"They've got to be transparent, they have to be auditable, they have to be clear: and we have to be able to document all of this," said Baker.
"We need a high level of confidence that you aren't going to get a press article saying, 'oh, these are the same credits that another company bought months ago!"' He added.
And making something like VCCs more convenient and more reliable to trade has added benefits in the green context: by enticing more companies to take advantage of VCCs, more money ends up being funneled to green projects via the VCC scheme.
Watch: Bringing Government and Enterprise onto the blockchain
New to blockchain? Check out CoinGeek's Blockchain for Beginners section, the ultimate resource guide to learn more about blockchain technology.