After months of anticipation, CoinGeek Live took place on September 30 to October 2. The virtual event brought many industry thought leaders together, from startup founders to Bitcoin developers to regulators. The experience was one of a kind, with captivating panels, enlightening conversations and a number of high-profile announcements.
One of my favorite companies in the Bitcoin ecosystem, Centbee, was the Day 1 sponsor. In their first live brief from their company office in Johannesburg, the company's founder Angus Brown and Lorien Gamaroff shared their journey with us, from how they got into Bitcoin and founded Centbee. In their second briefing, they introduced us to the team that has made it all happen and gave us some insight on what it takes to build a thriving Bitcoin business in Africa. Angus would return on Day 3 in a panel that discussed regulations and compliance in the digital currency industry.
Thanks to everyone who tuned in to watch our slot at @RealCoinGeek #CGLive! We had fun! #OneWorldOneChain pic.twitter.com/IV6NwAN3qZ

— Centbee (@Centbee) September 30, 2020
The first day also saw the three finalists in the Bitcoin SV Hackathon make their presentations as they squared off for the $100,000 in prize money. RepZip, a decentralized identity solution, emerged victorious, and deservedly so. I was rooting for—and voted for—STOTASK, which came in second (I like to think that my vote played a part).
There were several other speakers who really piqued my interest, including familiar faces like James Belding from Tokenized, Alex Agut from HandCash, Steve Shadders giving us updates on Bitcoin SV development and a panel discussion from some of the most innovative startups built on Bitcoin—Twetch, TonicPow and True Reviews.
Transmira CEO Robert Rice took the stage on Day 1 to talk about how his company is harnessing Bitcoin SV to create xperiential reality (XR), a blend of virtual and augmented realities. Transmira has developed an XR platform called Omniscape that's built on Bitcoin SV. During the event, we got to experience just how amazing Omniscape is with the CoinGeek Conference AR app.
Really cool xperiential reality with the @RealCoinGeek Conferences App. Get yours now and earn some Bitcoin before Day 3 of #CoinGeekLive ends pic.twitter.com/1knQTBa6kJ

— Steve Kaaru (@SteveKaaru) October 2, 2020
The app was one of the highlights of CoinGeek Live, allowing us, the audience, to be actively engaged. By simply scanning the space around you, you could spot 3D objects which you could then collect and earn BSV directly onto your wallet. You could also vote for your favorite project on the BSV Hackathon, and evidently, most of the voters were intrigued by RepZip.
As we later got to learn from Transmira, the app was an instant hit during the event, shooting up into the top 20 most used BSV applications. The users spent an average of 9 minutes daily on the app, three times longer than an average Twitter user. CoinGeek Live was the first time anywhere a 3D item in augmented reality was worth real money.
Russell Perry and Peter Bainbridge-Clayton, the two founders of Kompany took the stage on day 3 to talk about how they are using BSV to tokenize KYC and KYB. Kompany is a very significant reminder to the world that only BSV can scale massively for enterprise use, and watching the two founders recount their struggles with Ethereum served as a powerful reminder of how far ahead BSV is.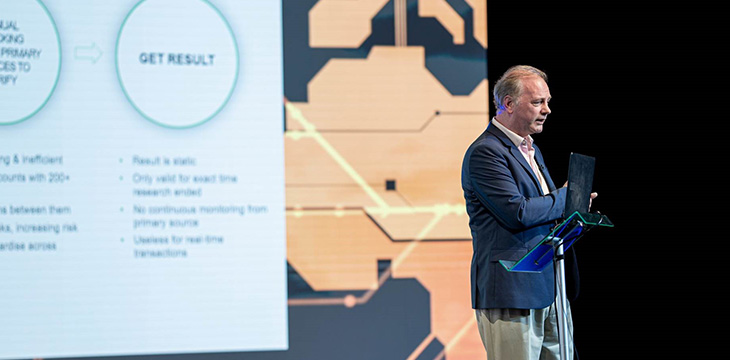 CoinGeek Conferences are never complete without Dr. Craig Wright, and like always, he didn't disappoint. While he took to the stage on each of the three days, my favorite session was the fireside chat with Jimmy when he let us in on the concept of Bitcoin as a timestamp server.
All in all, CoinGeek Live was the best conference yet, showing that despite the physical separation brought about by the pandemic, the Bitcoin community remains as united and motivated as always.
Watch CoinGeek Live Day 1.
Watch CoinGeek Live Day 2.
Watch CoinGeek Live Day 3.
New to Bitcoin? Check out CoinGeek's Bitcoin for Beginners section, the ultimate resource guide to learn more about Bitcoin—as originally envisioned by Satoshi Nakamoto—and blockchain.