The Bitcoin Association 2020 Bitcoin SV Hackathon has been the largest ever for the organization, both in terms of prize money and participation. The event's coding phase is now completed and the judging is almost done. The record talent pool consisted of 418 individual entrants from 75 countries, representing 42 new Bitcoin projects, all of whom are now anticipating who will make the finalists' list.
The judging panel will announce the three finalists on September 2, 2020. Finalists will present their pitches to decide ultimate winners at the CoinGeek Live event in October, which is coming live from New York's Manhattan Center and the Kennington Studio in London.
The prize pool is US$100,000, paid in Bitcoin SV (BSV) to the three finalists: $50,000 for first, $30,000 for second, and $20,000 for third. Ordinarily a 48-hour coding race, the third event switched to an 8 week coding phase with mainly online collaboration (local teams could still meet face-to-face if that was possible).
Developer interest in #BSV continues to grow. @BitcoinAssn's 3rd #BSVHackathon numbers:
– 418 participants (most ever)
– 75 countries
– 42 projects submitted

READ here: https://t.co/imwBgk0op7
Results soon!

Thanks @nChainGlobal for its considerable work on this event pic.twitter.com/p8sBhyfMqS

— Jimmy Nguyen (@JimmyWinSV) August 31, 2020
The Hackathon, sponsored and organized by the Bitcoin Association, seeks to discover new Bitcoin development talent as well as showcase the blockchain's capabilities. Entrants were encouraged to work on projects that utilize BSV's biggest advantages at their core: unbounded scalability, interoperability with outside data sources, and high-volume transactions using micropayments.
"What we wanted to do with this edition of the Hackathon was really focus the competitors on utilising the unique capabilities of the Bitcoin SV blockchain to create new opportunities for efficiency and interconnectivity," said Jimmy Nguyen, Founding President of Bitcoin Association.
"With the longer coding phase of this Hackathon, we've seen that competitors have had more time to refine their ideas and develop some really innovative solutions within the bounds of the theme."
The third Hackathon's online format was forced by various travel and socializing restrictions currently in place around the world. However that may have worked to its advantage, giving more people the opportunity to join in—and for some, a lot of extra hours at home to focus on Bitcoin development. With employment schedules and social lives equally disrupted, many have seized the change try something new.
Who joined in, and used what
The Bitcoin Association said U.S. supplied the largest number of entrants, followed by Nigeria and India. Individuals and project team members also joined in from places like Iran, New Zealand, Chile, and Azerbaijan. Of the record 418 entrants, 201 worked on solo projects while 217 were members of teams.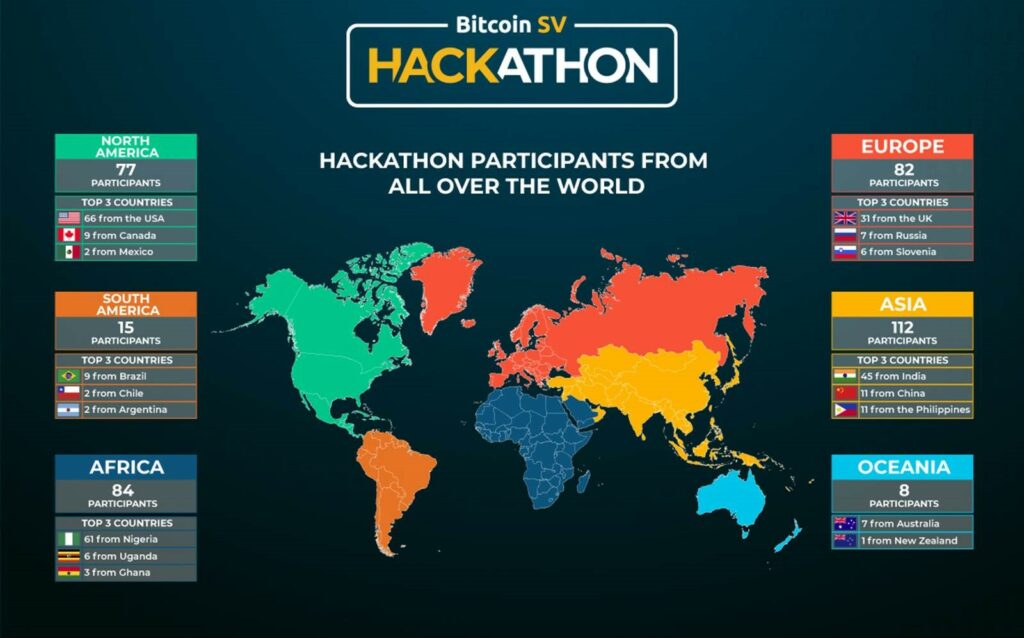 The number of participants versus number of countries represented shows a lack of face-to-face collaboration wasn't a huge issue. Though in-person conversations are still the best way to conduct any sort of business or collaborative project, they also come with a set of limitations. Those unable to travel often find themselves missing opportunities or worse, remaining undiscovered.
There was also talent and experience diversity to match the geographic. "Full stack developer" was participants' most-cited job experience, but there was considerable representation from other parts of the ecosystem as well: entrepreneurs, front-end and back-end developers, product managers, and designers. There were also 26 data scientists, reflecting BSV's big-data focus.
Given its popularity in the IT development industry, JavaScript was the most common language of choice for entrants. Python came a close second, with Java, Node.js, HTML5, React, C/C++, PHP and HTML also on the board.
The Hackathon rules state that projects must be complete to the demonstration stage, meaning their core functionalities must work and show they can be developed further. Projects that find new and novel ways to utilize the Bitcoin blockchain will get priority. Other elements are important too, like market positioning, potential for investment returns.
As well as the prize pool—and perhaps even more so—finalists will also be lobbying for attention and investment capital from venture capitalists scouting at the event for new opportunities. Past finalists and winners include BitPing (as UpTimeSV), TonicPow, Hive, Codugh, and BitQ&A.
CoinGeek Live participants, online or in-person, will be able to watch the finalists' pitches by registering for a conference ticket, which are free. The event itself takes place from September 30 to October 2, 2020. Sign up to join the event today.
New to Bitcoin? Check out CoinGeek's Bitcoin for Beginners section, the ultimate resource guide to learn more about Bitcoin—as originally envisioned by Satoshi Nakamoto—and blockchain.