Of the many witnesses introduced to testify in Kleiman v Wright, Royal Australian Air Force (RAAF) Wing Commander Donald Lynam is easily the most impressive.
Donald Joseph Lynam is Dr. Craig Wright's maternal uncle. A former Wing Commander of the RAAF, he was a high-ranking officer in the Service: his is the seventh highest rank available in the RAAF and is more or less equivalent to a Lieutenant Colonel in the U.S. Armed Forces.
He had a decorated career—a career he started in 1957 and which would eventually earn him the prestigious honour of being appointed to the Order of Australia, the highest recognition of achievement and service available in the country.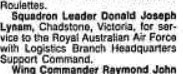 Source: "Queen's Birthday Honours List – The Order of Australia," The Canberra Times, Monday, June 10, 1985.
So, when someone like Donald Lynam talks, people tend to listen seriously.
Which means that when the jury heard him say on Wednesday that Dr. Wright sent him an advance copy of the Bitcoin white paper months before its publication in 2008, it was something of a bombshell.
"I had no doubts in my mind whatsoever that he was the sole creative author," he swore.
Retired Wing Commander Donald Lynam
Outside of the morning he spent being deposed in April of 2020, Donald Lynam seems unconcerned with Dr. Wright's legal battles or the current status of Bitcoin. He said he had only a "superficial understanding" of the Kleiman lawsuit, and though he felt that Dr. Wright viewed him as a role model, he says their relationship wasn't much closer than you'd expect between uncle and nephew.
Indeed, Lynam has no hesitation in offering his honest appraisals of his nephew.
Describing a former colleague, Lynam said "he was a fellow very much like Craig Wright… very few social skills, but he had a magic memory and an incredible brain."
Despite not being especially close, however, Donald Lynam's status as a role model to Dr. Wright meant that Wright would regularly share work with his uncle.
"He would send me papers that he was preparing and writing, and he would send them usually in an early form and then in the finished form.
"I never really knew whether he wanted me to work as a wordsmith for him and go through and correct his expression and layout, but I was always happy with that."
It was in this context that Dr. Wright had excitedly talked about a universal token system that he was in the process of creating for the casino Lasseters in 2007. This meant that when Lynam was handed an early version of the Satoshi Nakamoto white paper in 2008, he took it to be the natural flow-on from that project.
"I think the determination of the actual name was still floating at the point I got the white paper, but it was clearly to be a digital monetary system.
"I don't think the paper was headed 'Bitcoin', but I have no doubt in my mind that that was the precursor, because it had the same content as the paper that came out – or very similar content."
Even here, Lynam's honesty extended to his retelling of the first time he heard about the Bitcoin project from Dr. Wright.
"Craig sent me a copy for my review, but it was far too technical for me and also was poorly written."
But perhaps even more revealingly than testifying that he was given the white paper by Wright before it had been released is that Dr. Wright also discussed the intended Satoshi Nakamoto pseudonym in relatively minute detail.
"He said he felt that since it was a monetary system, it was important—and he didn't know exactly where it would go, but it was important to protect the privacy of himself and his family.
"But then he said 'Satoshi Nakamoto.' That was a bit of a surprise, but it didn't amaze me because of his attachment to all things Japanese."
Lynam says he asked Wright why that name in particular. The response was that it was a reference to Japanese philosopher Tominaga Nakamoto, who Wright called the equivalent to Adam Smith, the Scottish economist who authored "The Wealth of Nations," a book concerned with the power of incentive and reward. As for the first name, Satoshi means some variation of "intelligent learning" in Japanese.
Lynam eventually saw the tidied version of the white paper when it released later in the year, and when Bitcoin went live in 2009, Lynam says he ran one of Bitcoin's earliest nodes for Wright on his home computer. Lynam's testimony here is highly specific. After all, his computer at the time was especially well-suited for it, and it meant that Wright sent him detailed instructions on how to get it set up in 2009. By 2011, he says he could see that his machine was no longer contributing, and that's when he ceased the node.
Between his sporadic collisions with Wright's work on Bitcoin, it's clear from his testimony that Don Lynam is a man who has gone on living his life. He doesn't pay attention to digital assets and the in-fighting they seem to entail. For him, his testimony is simply memories of his relationship with his brilliant nephew.
"I have no doubts in my mind whatsoever that he was the sole creative author [of the Satsohi white paper]. That is not saying that other people don't contribute to the open source software… but he's the sole creative author… and I still have not seen anything of substance to shake me in that belief."
Dr. Wright's grandfather worked with General McArthur
Don Lynam isn't the only military hero in the family. Far from it.
Ronald Lynam was Donald's father and grandfather to Craig. As accomplished as Don is, Ronald might have been ever more impressive.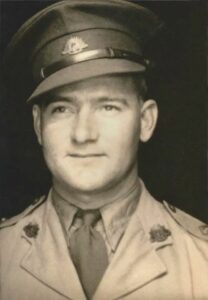 Source: Lisa N. Edwards Tumblr
According to Don and records secured by Wright's sister, Ronald Lynam joined the Australian Army at the start of World War II. Though it meant leaving behind a successful radio repair business in rural Queensland, his sense of duty to his country was such that he felt compelled to enlist.
Though Ronald Lynam would eventually achieve the rank of Major, he initially joined the signals division (Donald says that his father was, among many other things, a cryptographic expert), Lynam Senior would go on to join an Allied intelligence group.
As one of the earliest senior radio and electrical engineers in Australia, Ronald Lynam developed the early warning radar being used along the Queensland coast during the war.
He was also a part of the famous Bletchley Park codebreakers, the headquarters of Allied codebreakers in Britain most often associated with the great Alan Turing.
His cryptographic expertise made him of use to the team of famous Allied war leader General McArthur, which involved following McArthur into the Philippines. A significant part of his work with McArthur in Asia was code-breaking Japanese communications—work which Donald says was instrumental in winning the pivotal Battle of the Coral Sea, the first major victory by Allied forces in their fight against Japan.
In the war, the Allied intelligence team had gotten so good at breaking Japanese codes that they were intercepting, decrypting and translating their communications within hours of them being transmitted.
In fact, so reliable was their system that they were able to disseminate information to Allied bases in the Pacific, and watch leaked information propagate throughout the Japanese military in almost real-time.
This is how the U.S. forces were alerted to a planned invasion on an Australian territory in and around New Guinea. Intercepted communications allowed the Allies to react quickly and intercept the invading force in a battle many credited with being a turning point in the Pacific theatre.
According to Don, Ronald Lynam was a part of it all. And as a cryptography expert with war stories thrilling enough to put on the silver screen (though Don is quick to point out that it took decades before his father was permitted to speak about any of his work) the late Ronald Lynam's influence on Dr. Wright is obvious.
"He was almost a machine himself," testified Don Lynam of his father. "With his brain ticking over with all of his plans and the things he wanted to build and do and so on, but with Craig he could sit down and they would open up and talk to one another for hours."
In a psychological evaluation of Dr. Wright, Dr. Ami Klin said that Wright's grandfather "was extremely bright, isolated and immersed in his narrow interests and projects, and with whom Dr. Wright spent a great deal of time throughout his childhood, and who was one of the most important relationships in Dr. Wright's life until his death approximately 10 years ago."
Donald Lynam swore as much in his deposition.
"I think that my father, Craig's grandfather, had a great influence on him."
It also seems that Ronald Lynam's exploits overseas meant that Dr. Wright was exposed to various Asian cultures throughout his childhood. Ronald would bring gifts for Wright from all over the world—including Japanese currency dating from their occupation of the Philippines, which Donald says Wright was obsessed with.
Is the Satoshi Nakamoto pseudonym making sense yet?
From WW2 code-breaking to Satoshi Nakamoto
The Lynams are a highly accomplished military family. The stories of both Ronald Lynam and his son Donald are fascinating by themselves and touch on World War II codebreaking, General MacArthur, and royal honorifics.
According to the retired Wing Commander Donald Lynam's sworn testimony, it is this background which produced the Satoshi Nakamoto that would bring Bitcoin to the world.
Indeed, in many ways his testimony fills in many of the blanks in the Bitcoin story—many of which no one had even considered needing filling. But the testimony explains a lot: the reason for Satoshi's secrecy, source of Satoshi's obsession with cryptography, the reasoning behind the Satoshi pseudonym and an explanation for the affinity with Asian cultures.
After all, this makes sense. To Donald Lynam there is no Satoshi Nakamoto—there's only his nephew, Dr. Craig Wright.
Check out all of the CoinGeek special reports on the Kleiman v Wright YouTube playlist.
New to Bitcoin? Check out CoinGeek's Bitcoin for Beginners section, the ultimate resource guide to learn more about Bitcoin—as originally envisioned by Satoshi Nakamoto—and blockchain.