By the end of the after-party, my ears were ringing, and my eyes had been inundated with flames and lasers. They may never recover. My new reality includes a world where Craig Wright is capable of burning a hole in the dance floor after arriving in a blue, glowing DeLorean—but I can never go back in time to prove it!
But that was about 1:00 – or maybe 3:00 – on Saturday morning. 
Day two of CoinGeek London Conference was an important day for the history of Bitcoin SV. It would be wrong not to first mention that Dr. Wright wore the most fashionable suit of the day: a militaristic, Mandarin collar in opaque black with precision tailoring. It looked incredible and signaled his posture of confidence in the vision going forward. On stage, he spoke authoritatively about scaling the Bitcoin Metanet with a focus on identity and the incentives-based internet that eliminates fake news and most of the incentives to commit fraud. 
As always, these things sound lofty, but the newly (and quietly) rebranded nChain underpinned the hype by announcing that they had nearly doubled the number of staff in the last year, according to CEO David Washburn. That staff, many of whom were present in the crowd, have been working very hard in development, quality assurance and testing, and they were very happy to meet the external community.
I spoke personally with a number of them, and was fascinated to get insights into what it is like working at the largest patent-holding company in the bitcoin economy. Notably, they were frothing with excitement about the tech and seemed to really like working with "Dan and Steve"—Connolly and Shadders, respectively. They also had lots of superlatives to say about Dr. Owen Vaughn, which is a name you may not immediately recognize, but who is doing a massive amount of research alongside Dr. Craig Wright on a daily basis. 
Side Note: I always wondered what nChain was really like inside. After meeting the unsung members of their team, I am thoroughly impressed. In fact, I pity the competition on other blockchains, and it seems they are paying attention too, as I noticed several faces that a sharp eye may recognize from 2017 era Ethereum conferences. Shhhhhhh!! 
Everyone wants to be a Twetch-killer
Well, not everyone, but the "top" pitches that we heard after lunch seemed too focused on getting funded with buzz words and pitch decks, and did not have the kind of focus on business acumen and revenue generation that a strong investor would be looking for. No names will be named, but when the pitch focuses on being a "Twetch-killer," it sounds like a hell of a good reason to invest in Twetch instead—which is probably why they are not asking for money. 
Another presentation was a business pitched by the brother of the founder because the real founder was too busy to show up, and they "look the same anyways." Come on now! 
Pitch Day presentations illustrated all the more reason to re-watch Jack Liu's debut of Output Capital one more time. 
Bright spots
Speaking of Twetch, CEO Josh Petty revealed that not only is he comfortable on social media, but he can also command a stage! After auctioning off the abandoned u/28 ID, he artfully poked fun at Facebook, Instagram and Twitter in a presentation that seemed funny, but bore the weight of changing the world. Book-ended by many presentations that sounded more serious, Petty reminded everyone that most of the world exists on social media—which is a business sector making billions of dollars per year off of data that we freely give out. 
https://twitter.com/coinyeezy/status/1231039592649961472?s=20
Twetch changes everything, and since everyone lives on social media, this might have been the most important presentation of the conference, depending on your time preference. Either way, some fun was poked at the people who have blocked the frog, but most of the crowd took the green pill anyways! 
Connor Murray also shined brightly with his presentation on True Reviews. Utilizing tools from Brenton Gunning's "Run," Connor gave a professional presentation that explained the value of the truth as a business decision-maker in an industry wrought with fraudulent reviews. This is an exciting space to watch, and Connor showed that he is particularly good at showing us why.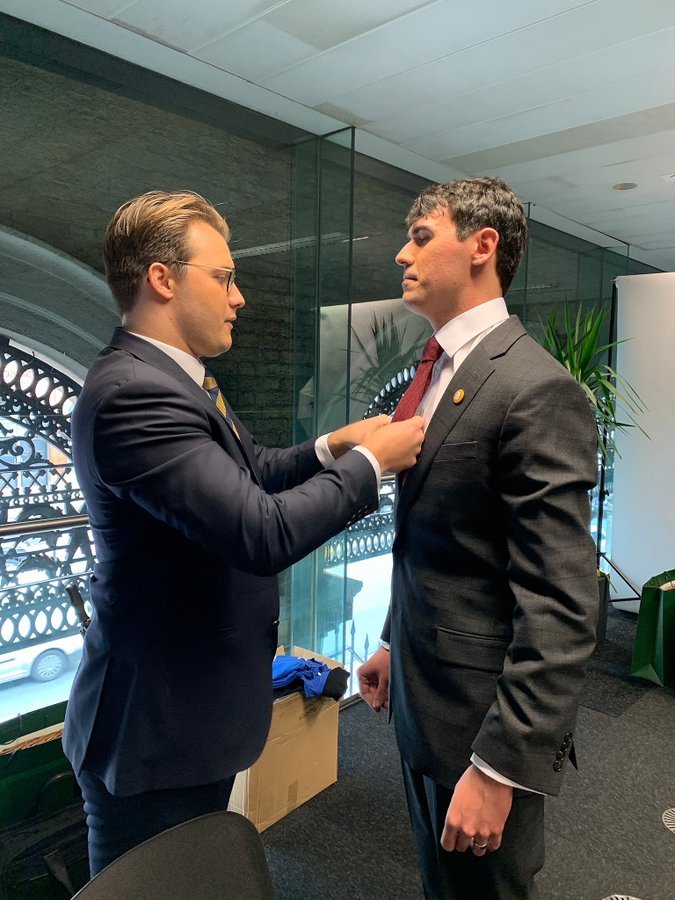 Ian Grigg, with the most colorful slide show of the event, gave some inspiring context on AI—while wearing the second best outfit of any presenter on day two! And then, George Gilder let us know that he really, really, really does not like the idea of the fixed supply of Bitcoin, as he challenged Dr. Craig Wright to justify some of the economic theory that went into the fundamental design of bitcoin. This was a fun moment because Craig could not hide the look on his face. On the one hand, he was smiling because of the challenge, but he clearly wanted to "win" on the point, as well, because of the importance of burying the pervasive "digital gold" narrative of bitcoin. This talk was incredibly fun, as both men respected each other, and clearly enjoyed pressing one another on the finer points!
What about big business? 
Each of these presentations deserve their own article, but UNISOT's debut of SeafoodChain and the whole segment on from PDX, EHRdata and Deadalos were incredible illustrations on the need for a global, immutable public record to track everything from sea-to-table halibut as well as drugs and patient records for the simplification and trustworthiness of an incredible amount of business moving forward. A special applause to Jan-Axel and Stephan from UNISOT for surviving the riskiest of all tactics: a live demo! Live on the BSV ledger, both men passed chain of custody for a simple package back and forth seamlessly. Congratulations, gentlemen! 
We also heard about Swiss bank research into tokenized fiat from a Swiss National Bank banker, and an interesting conversation about Bitcoin venture capital. A shoutout to Jackson Laskey from Unbounded Capital, who was clearly the youngest on stage, but commanded the room with powerful, and a bit contrarian, insights of the unique proposition of investing in bitcoin start-ups. Rounding out the day, we also saw presentations from Maxthon browser, the Bayesian BSV Hedge Fund and then another Jimmy took the stage. 
A tale of rustled Jimmies 
How many significant men named "Jimmy" exist in the Bitcoin SV economy? Well, we did not add a fresh one at CoinGeek Conference, as Jimmy Wales (Founder of Bomis.com and a little site called Wikipedia) was unimpressed and unconvinced with Bitcoin, and nothing was going to convince him. But good riddance! Wikipedia is a great idea, but it is not perfect, and that's ok. After some ruffled feathers on Twitter, a lot of people were looking for a knock-down, drag-out brawl.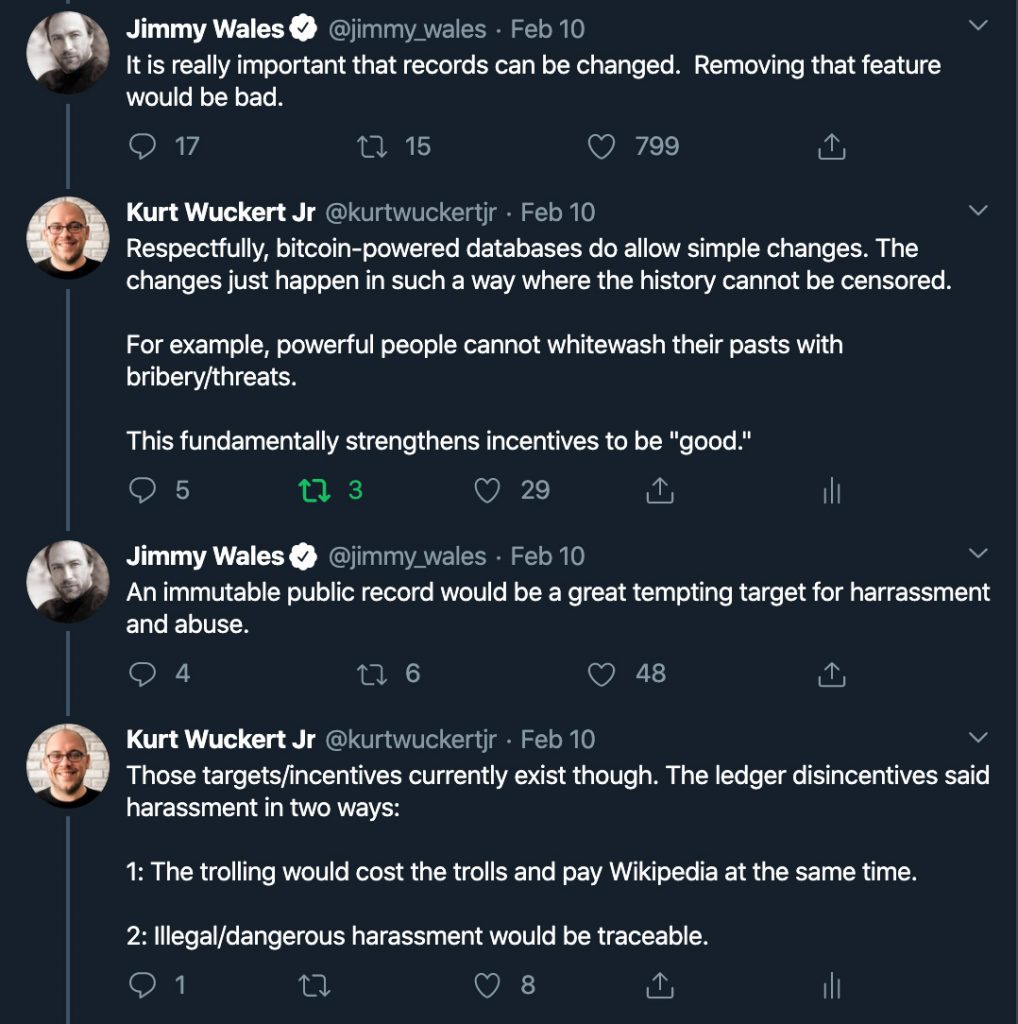 Craig has a secret move he employs against the Achilles tendon, or so we have been told! But it was quite civil. They discussed the varying editorial roles and systems that Wikipedia has created, and Craig explained the nature of tracking of trolls and criminals on-chain. They also touched on Bitcoin simply for payments, and Jimmy said that in testing, revenue went down because Wikipedia's users are too easily distracted by the opportunity to research bitcoin – rather than using it for payments. Ultimately, Wales' personal business model benefits from a little bit of censorship, which, of course, leads to the occasional controversy (like the time Wales edited the Jeffrey Epstein Wikipedia page to add a fresh reference in 2019). We know that men like Wales have "God Mode" access to their platforms, and since Wikipedia owns your data, the occasional, convenient edit is probably crucial for some powerful public figures, and if that is not the case, why not put it all on chain? Curious… 
As the Metanet proves itself more and more as a store of valuable data, men like Jimmy Wales may come crawling back, but only after they have made their fortunes in the dark. Until then, remember "money is time," so spend it on things that have eternal value—like the eternal ledger of everything. 
About that party…
While most were mingling on the dance floor, there were some exciting personal interactions going on among the cliques that formed over the last few months. We believe in the fixed protocol, competing for total victory and having a good time. On a personal note, I spent a good amount of time hanging out with the guys from RelayX, Bitping, Twetch, True Reviews, and a few new friends from CoinGeek as well. The party was very cool though, and it was an incredible sight to see!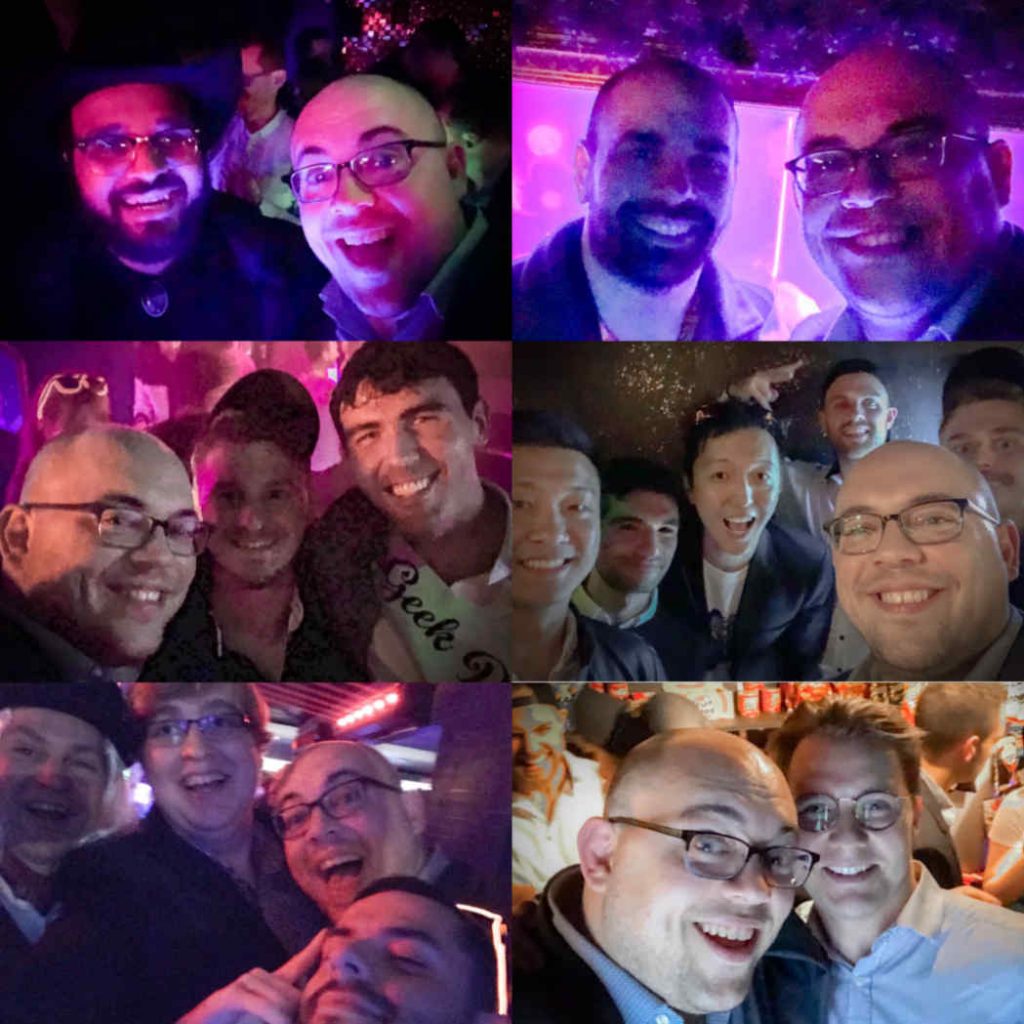 With the thumping beats and fire dancers in the background, we were largely discussing family values and business—with drinks in hand, of course. After a few snapshot goodbyes, I was off to tell the stories of CoinGeek London 2020!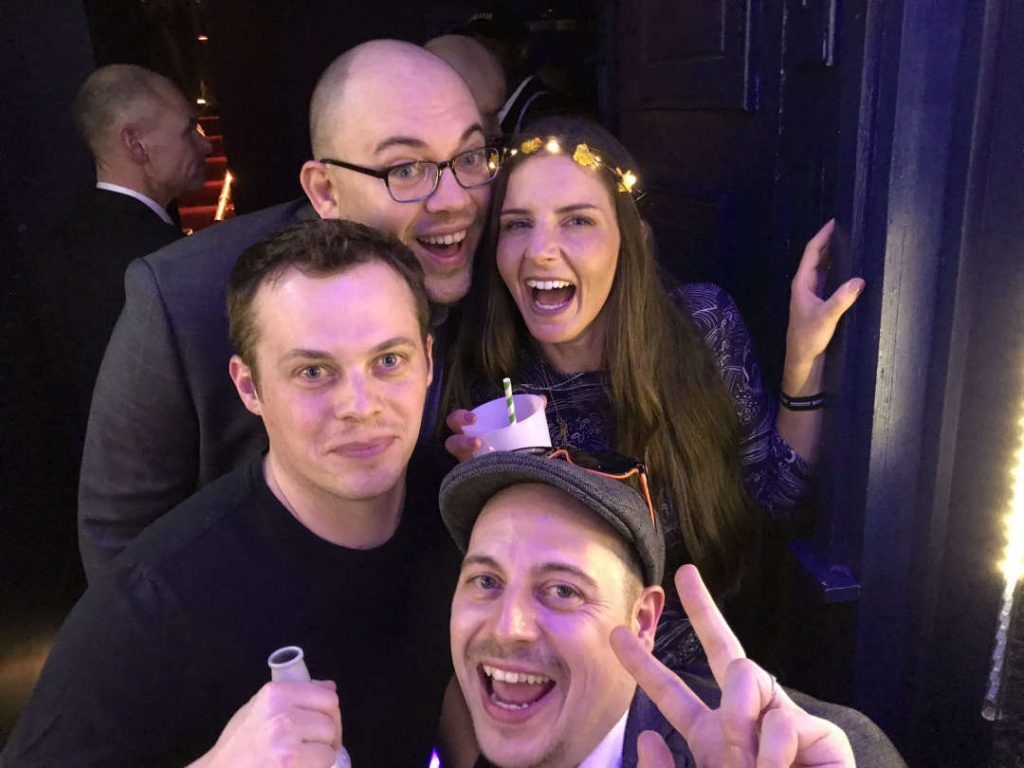 New to Bitcoin? Check out CoinGeek's Bitcoin for Beginners section, the ultimate resource guide to learn more about Bitcoin—as originally envisioned by Satoshi Nakamoto—and blockchain.