There's a bug on the internet, and it's pervasive—so much so that the internet is missing micropayments. The time to fix this bug has come, and the solution lies in Bitcoin SV (BSV), said Jack Liu. The founder of RelayX and FloatSV took to the stage at the CoinGeek London Conference to talk about powering real-time micropayments with BSV.
Every minute spent online should have micropayments attached to them. As the number of Internet users has grown in the past two decades, huge conglomerates have ensured that only they get to benefit. The content creators and the browsers are just used as pawns to generate income for the tech giants.
"Every app should be a Bitcoin app," Liu told the audience. And while the growing number of Bitcoin users goes a long way in making this possible, it's not enough. The way to make this a reality is by making it easier to build a Bitcoin app than any other app. This is definitely possible, Liu stated, noting that developers at CambrianSV were able to develop apps in one weekend.
Liu announced that he's launching Output Capital. The firm will invest in startups that are built on Bitcoin and are making it easier to onboard the world to the digital currency. Output Capital will be a different type of VC firm. For one, it won't be interested in getting a stake in your firm. Instead, it will generate its income from Bitcoin transaction outputs. It will approve investment in just 72 hours and just like Bitcoin, its stake in the business will keep halving.
"We believe in this idea of an internet built on Bitcoin so much so … we are going to invest in those application built on BitcoinSV "
@liujackc, Creator of @relayxio & @floatsvcom

Watch #CGLondon live stream here⬇️:https://t.co/S42XrtRASC pic.twitter.com/sYGVTNkhuc

— CoinGeek (@RealCoinGeek) February 20, 2020
When Liu started out with RelayX, he strived to learn from the best in both the Bitcoin and fiat worlds, including HandCash and PayPal. In this regard, he has always sought to keep improving as these other platforms do, he stated, revealing an all-new user interface. The simplified interface gets rid of popular buttons such as the send field, the balance and the transaction history.
"We don't need 1,000 wallets, we need 1,000 interfaces," he said.
RelayX users will be able to authorize any other Bitcoin app to display your balance, as well as make payments in any fiat currency of their choice. RelayX will also allow users to make payments to any other blockchain. This means users will be able to pay merchants who accept other cryptos such as BTC and ETH using Bitcoins from their RelayX wallet seamlessly.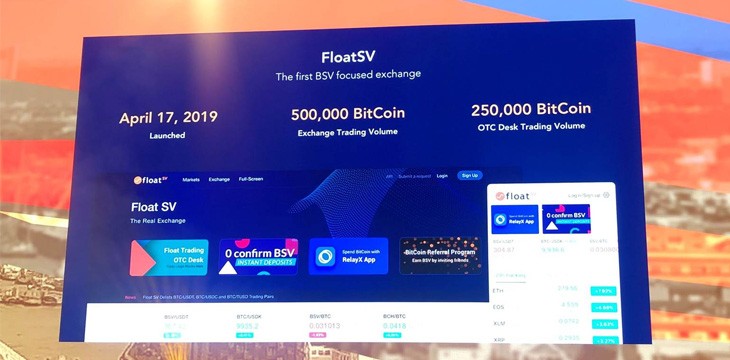 Liu also gave an update on the progress of the other products. FloatSV has been doing remarkably well and in the past 10 months, it has processed 500,000 Bitcoins for its users. Its over-the-counter platform, which caters mostly to institutional users, has processed over 250,000 Bitcoins.
New to Bitcoin? Check out CoinGeek's Bitcoin for Beginners section, the ultimate resource guide to learn more about Bitcoin—as originally envisioned by Satoshi Nakamoto—and blockchain.