The Bitcoin SV (BSV) blockchain has promised to be a fertile, digital soil for anyone to build on it. How do you know whether a farmland really grows something? You visit the farmland; you check it out by yourself. You go there and look at what is coming out of the soil.
We can do that with the BSV blockchain and simply verify whether something is happening there or not. Is there even digital farmland available? Is anyone sowing?
BSV blockchain metrics: Gigabyte blocks confirmed
In 2022 alone, BSV blockchain has had plenty of four gigabyte blocks mined—full of transactions: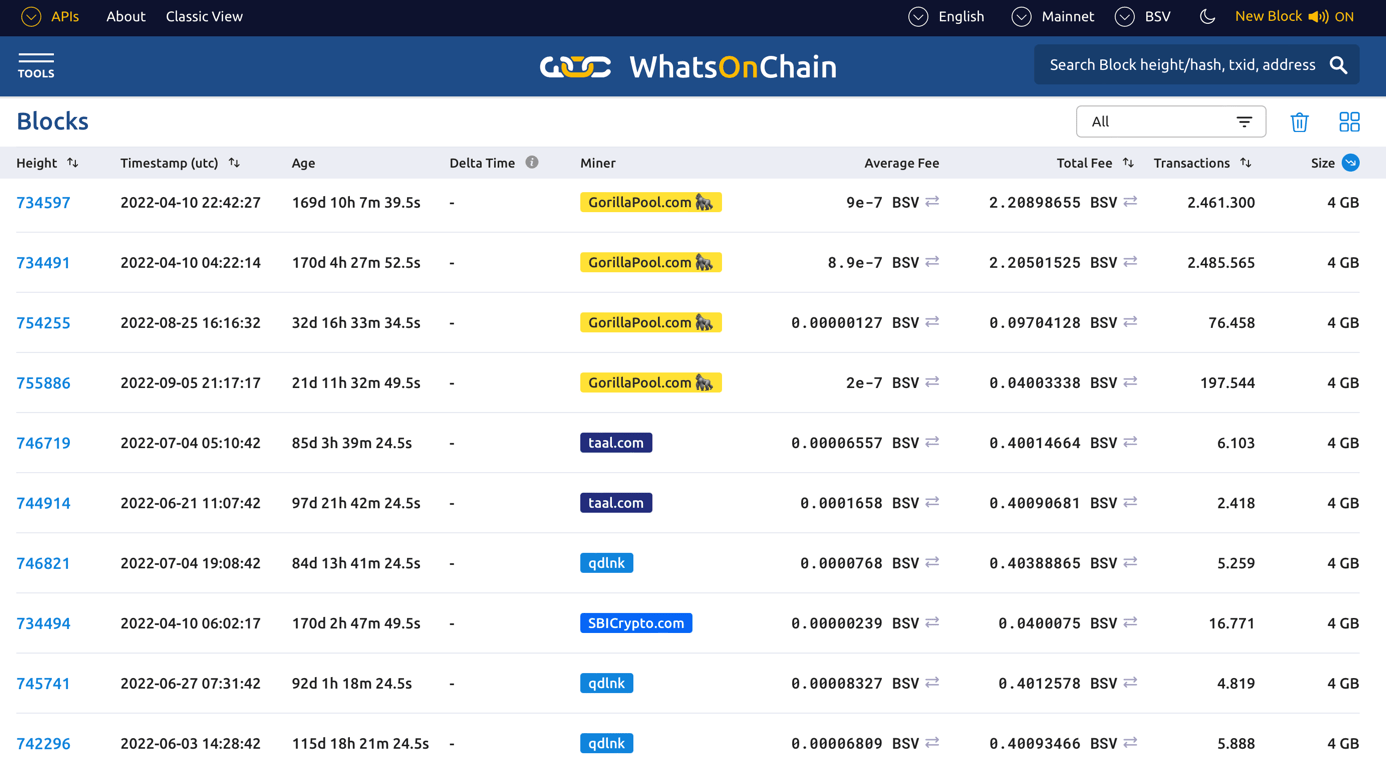 Furthermore, not only is the block size astonishing but also the fact that different miners are working on BSV. As can be seen above, it was GorillaPool, TAAL (CSE: TAAL) (FWB: 9SQ1) (OTC: TAALF), qdlink, and SBI Crypto that were mining these huge blocks. There is no centralization of miners in BSV, as any miner can join and leave at any time.
Even today, we consistently see big blocks being mined on the BSV blockchain:

Digital soil is ready to sow onto—who is sowing, and what is growing?
Now let us have a look at what is inside these blocks: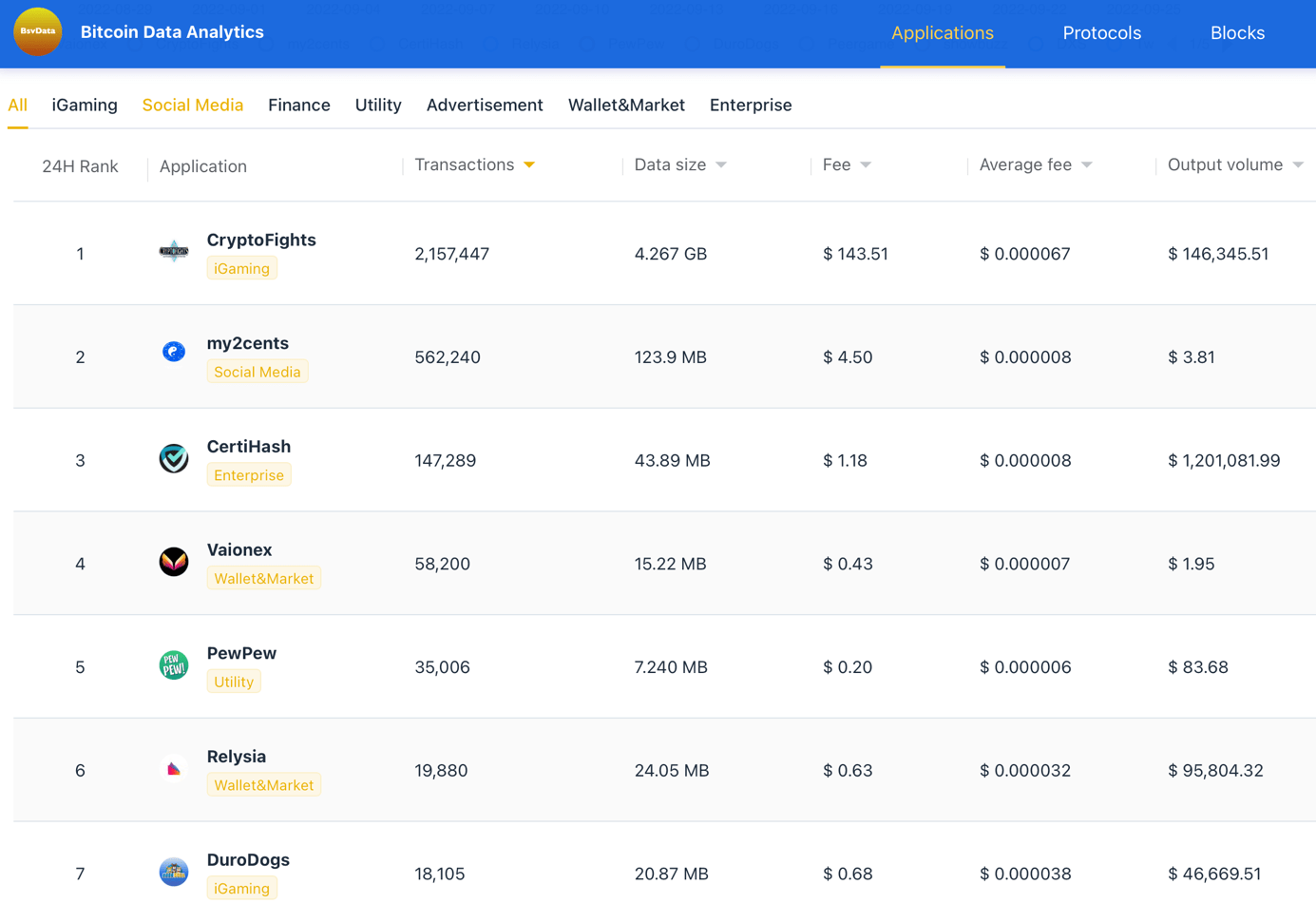 We find that CryptoFights, my2cents, Certihash, Vaionex, and plenty more apps are using the BSV blockchain to have their transactions processed. It is worth checking out www.bsvdata.com regularly to get an idea of what is happening on BSV daily. 
However, these statistics are not showing everything on BSV, though—for example, BSV dedicated wallet and Metanet gateway HandCash is not being tracked there (I suppose for technical reasons). Given the enormous number of users HandCash is offering services to, it is safe to assume HandCash would also be among the top 10 applications.
The above is the 24-hour data. Yes, in one single day—and the list goes on by the way: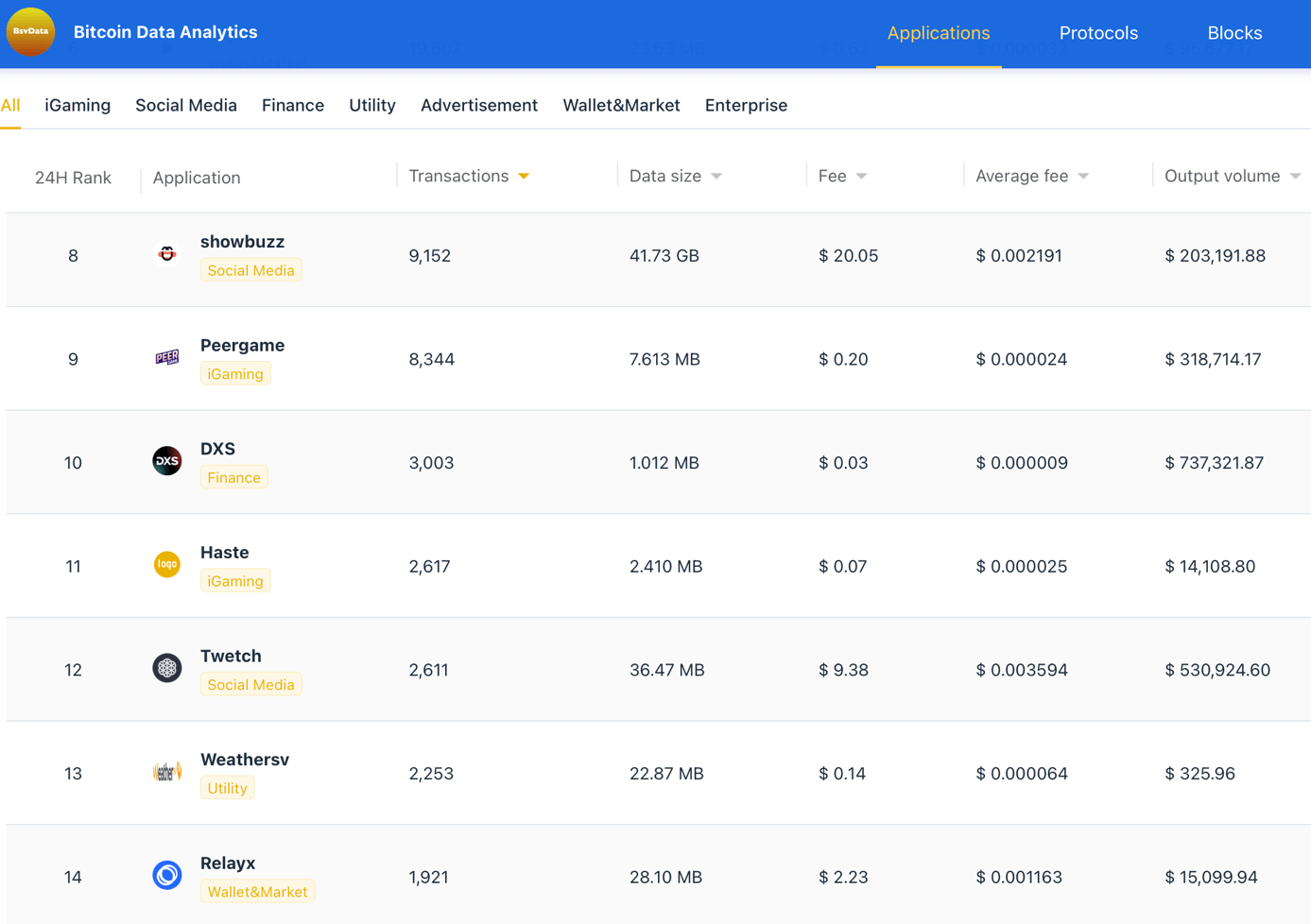 Other digital asset ecosystems have a hard time finding 'farmers'
Other digital assets and digital ecosystems such as BTC and BCH, who falsely claim to be Bitcoin, show a different set of attributes:

As of now, BTC has most of the hash rate, which does not mean much is happening on BTC. As BTC itself cannot be used for microtransactions due to high transactional fees and small block sizes, its whole purpose seems to be a speculative asset to gamble with.
On the other hand, BCH has no metrics to take seriously as of now, which is why we said BSV is brutally dominating BCH long ago. If you want a fruitful blockchain, you better look for transactions because transactions are human interactions, as in economic activity.
Bitcoin inventor Dr. Craig Wright stated in his article The Vision for Bitcoin:
I have a vision of a system that scales to billions of transactions a second.
I have a vision of a system open to anyone globally.
I have a vision of a system that costs no more than a thousandth of a cent for a standard transaction of 250 byte, no matter where you are in the world and no matter what you are doing.
I have a vision of a system that is completely traceable and works within the existing legal structures.
As of recently, Dr. Wright has been busy explaining the benefits of a combination of BSV and IPv6, which he is supported in this effort by Latif Ladid, the President of the IPv6 Forum. Ladid is actively promoting the integration of IPv6 with the BSV blockchain and points out that only an unbounded, low-cost network protocol such as BSV can serve as a ledger for an IPv6 world.
BSV blockchain and the harvest to come
There is so much happening on and with BSV right now. For example, Vaionex implemented BSV payments into Counter-Strike. BSV wallet CentBee enables BSV payments to African bank accounts and more. The Bitcoin Association for BSV launches its Blockchain Innovation Programme encouraging people to become Bitcoin developers. 
Famous economist George Gilder described Bitcoin SV (BSV) as the epitome of the information economy, publicly supported Dr. Craig Wright, and also said:
Satoshi's vision is now manifest in a level of transactions that dwarves the level of transactions of BTC. Everybody is focused on market cap of Bitcoin (…), but you get ahead by inventing new things, using money as a measuring stick for your own achievements. And Bitcoin SV is now taking off in the transactional field.
The BSV blockchain is open to miners, developers, and users. I consider the BSV blockchain as gigabyte soil; you can sow digitally and grow digital stuff on it. BTC's whole digital gold narrative crumbles if one considers BSV's measurable growth. What do you prefer: so-called digital gold or real digital soil? Guess what happens after sowing on soil – the harvest.
Watch: The BSV Global Blockchain Convention presentation, BSV Blockchain: A World of Good
New to blockchain? Check out CoinGeek's Blockchain for Beginners section, the ultimate resource guide to learn more about blockchain technology.