Fabriik's Weave widget and API, along with the new FabriikX curated token marketplace, are set to open a whole new world of integrated services on BSV. Chief Visionary Officer Roy Bernhard spoke this week at the CoinGeek New York event to tell the audience how their world was about to change.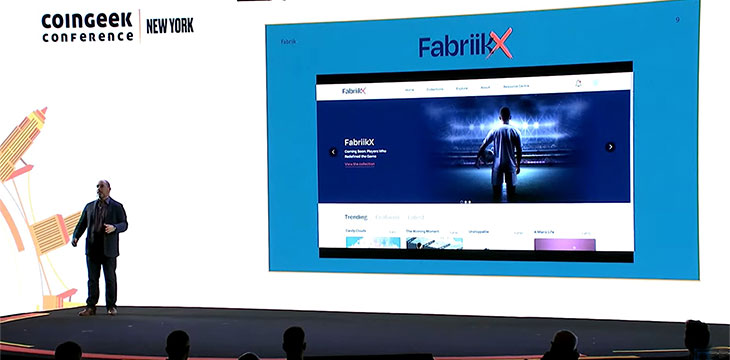 Moving away from his charts and technical detail-style presentations at the previous CoinGeek event, Bernhard switched to visionary mode. He painted a verbal picture of a future where someone could go out for a casual dinner while simultaneously doing commercial deals and making money, in a world enhanced by VR/AR technology and seamless integration of services.
"Seamless" is the key here, especially to anyone who might balk at the idea of closing real estate deals and trading assets while enjoying a bowl of noodles. The point is to enable people to have an idea and actually turn it into a profitable reality almost instantly. Think of it as the digital equivalent of writing inspiration down on a paper napkin, only you don't have to dig out the napkin later to start executing the plan.
The new Weave service, which combines a trading widget and simple API, "offers a simple, swift, and seamless exchange experience" that allows players in games, bidders in auction markets, and a host of other digital services to swap assets without having to leave the experience.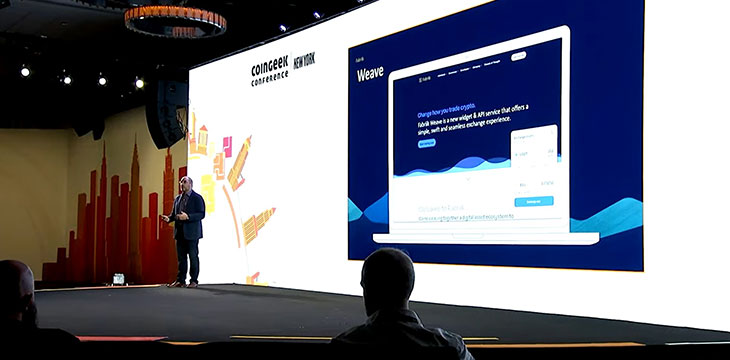 Bernhard described it as taking Fabriik's professional products and services, like its Core Trading API, and presenting it in a more consumer-friendly way. It allows businesses to integrate a simple, configurable, asset-to-asset exchange with the front-end design of their existing site.
He presented short video greetings from two of Fabriik's current partners that are definitely not known for financial services: Robert Rice of AR/VR developers Transmira, and Adam Kling of FYX Gaming. 
Kling said the Weave API would soon provide BSV liquidity in-app. Players would be able to enter a game with almost any kind of asset and swap it for whatever they needed (e.g., a game token or currency) without leaving their game. "BSV has really low fees and our customers are going to love it," he said.
Bernhard also referred to the FabriikX NFT marketplace, which is offering curation as its key selling point. It's too easy to get lost in the mess of mass-produced, often low-quality NFT offerings on markets like OpenSea, and newcomers will be looking for some direction to make their choices.
Fabriik supports the ability for everyone to create their own NFTs, but "we're at a pivotal point in the world where what people really need is a curated experience," he added. The company would be engaging with its high-profile contacts in the industry: athletes, artists and other celebrities, to form a better idea of what the public wants.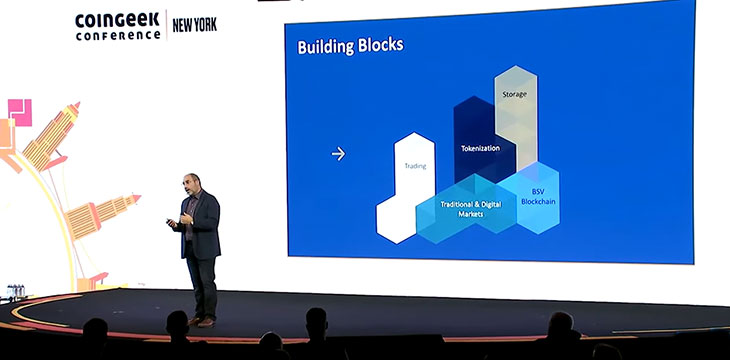 "BSV has allowed us to dream big and do amazing things," Bernhard said, and promised many more new products coming from Fabriik over the coming months. The interconnected world of nano transactions and NFT-based business he described can only happen if people "build those building blocks" and make everything future-proof.
Fabriik is in the business of building those blocks and forming the right partnerships to make them all work together smoothly. Living and working on BSV is about to get easier and faster for all using it—whether they know they're using Bitcoin or not.
Watch CoinGeek New York 2021 Day 3 here:
New to Bitcoin? Check out CoinGeek's Bitcoin for Beginners section, the ultimate resource guide to learn more about Bitcoin—as originally envisioned by Satoshi Nakamoto—and blockchain.