One of the most exciting implementations of the BSV blockchain is in iGaming, esports, and gaming in general. Right now, these types of transactions make up more than 90% of daily transactions on BSV.
On day one of the CoinGeek New York conference, some important people in the esports and gaming industries got together for a panel on the future of this sector, including: David Case, CTO of FYX Gaming, the firm behind CryptoFights; Daniel Cossi, President of the World eSports Consortium; Tyler Farnsworth, CMO of Built By Gamers; and Henry James, CEO of Espo.
How the BSV blockchain can increase transparency in eSports
Case kicked off the panel with an important point for the eSports industry; the BSV blockchain can increase transparency and enable a level of auditability never before seen in gaming of any kind.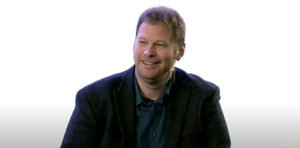 Speaking about his experiences with CryptoFights on BSV so far, he spoke about the ability to look at data stored on the public blockchain and glean insights from it.
This tied in nicely with a point made later in the panel; that one of the key problems faced in esports and iGaming, in general, is that nobody can see what's going on under the hood. For example, there have been scandals over the years in which players have accused poker sites and esports tournament organizers of fixing games. The BSV blockchain can put an end to this once and for all by providing a publicly visible, immutable record of everything that happens behind the scenes in games and tournaments.
Why FYX Gaming had to abandon Ethereum
One of the subjects that came up repeatedly in the panel, and which was noted by virtually all of the panelists, was the difficulties they've had with Ethereum and how unsuitable it would be for the use cases they're working on. For example, Farnsworth noted that his plans to issue utility NFTs would simply be infeasible due to Ethereum's notoriously high fees.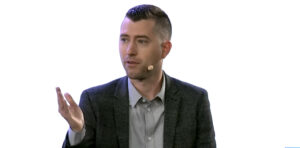 The panelist with perhaps the most experience on this subject was David Case. He detailed how, when building CryptoFights, the firm has been initially lured in by how easy programming on Ethereum is. However, they quickly discovered that due to Ethereum's in-built scaling issues, they would overwhelm Ethereum with a relatively small number of transactions.
Noting that using layer 2 solutions only complicates things in the long run, Case and the team at FYX Gaming realized that Bitcoin's UTXO model makes it far superior when it comes to scaling. Later in the panel, Case said that he believed there was no upper limit to what BSV could do for the company in terms of transactions.
This segment holds an incredibly important message for would-be application developers; while your competitors lose time by building on dead-end technology that will never scale, you can gain an advantage by looking past the politics of "crypto" and building on a technically superior blockchain that works today.
NFTs in esports – how can they change things?
One of the common themes throughout the panel was the need in the eSports industry to improve fan engagement. James and Farnsworth both mentioned how their respective companies were working together on a fan engagement platform that would reward fans with anything from micropayments to NFTs for activities such as watching, betting on, or participating in esports tournaments.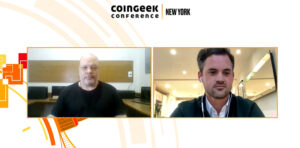 Farnsworth made a particularly important point during this segment; that so far, most people are thinking too small when it comes to NFTs. While most are thinking of them as assets of some kind, Farnsworth envisages a world of utility NFTs, given as rewards for certain achievements such as winning an esports game, which can then be redeemed for real-world rewards. In the example he used, an NFT could be used to redeem a 2-for-1 deal or a year's supply of pizza at Domino's. This not only rewards fans but gives the sponsors and advertisers a way to directly link their marketing efforts to new revenue.
Brazil, China, and beyond
Cossi has a unique overview of what's going on in esports. As the president of the World eSports Consortium, he highlighted his organization's ambition to integrate blockchain into its operations.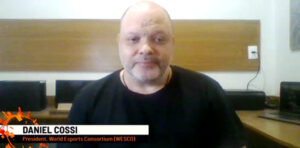 He repeatedly emphasized Brazil and China when sharing his insights. Noting the rapid growth of esports in general, he emphasized these two places repeatedly as areas of focus for the World eSports Consortium.
With young, rapidly growing populations, these are likely to be the focus of many eSports endeavors in the future. As both countries have clearly signaled they will not tolerate the lawlessness in the digital currency space today, BSV, with its emphasis on abiding by regulations, is in a great position to serve the needs of developers who want to focus on these markets.
The need for scalability – why BSV is the solution
Farnsworth opened this segment of the panel with a concrete demonstration of why BSV is the best blockchain for eSports. He explained how he personally had just received over 50 payments to his HandCash wallet thanks to his placement on the leaderboard in Haste Arcade. He emphasized that this would "simply be cost-prohibitive" on other blockchains.
Explaining how esports is growing at a rapid pace, a trend only exacerbated by the pandemic, he emphasized how the esports industry has to be able to scale today. This sentiment was echoed by James, who noted that many of his competitors are new to the party and haven't yet realized why scalability is important.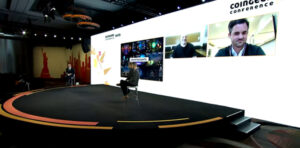 Cossi spoke about the particular interest of Africans in loyalty programs related to gaming. Noting the need to keep transaction costs at a minimum to facilitate this and to allow for as much interaction as possible, he perfectly illustrated why BSV, with its fees of fractions of a cent, is the only realistic option for serious operators.
Speaking from experience, David Case praised FYX Gaming's experience with BSV so far, stating that he "doesn't see an end to what it's going to be able to support for us" and noting that the company planned to grow significantly after its initial success with CryptoFights.
Watch CoinGeek New York 2021 Day 1 here:
New to blockchain? Check out CoinGeek's Blockchain for Beginners section, the ultimate resource guide to learn more about blockchain technology.