As the world becomes ever more connected digitally, the Metaverse is becoming an increasingly important sphere of our digital lives. At CoinGeek New York, one of the people pioneering this bold new world offered a peek into what the digital future will be. Robert Rice, the founder and CEO of Transmira, talked about augmented, virtual and experiential realities and debuted a live 3D body scanner.
"Metaverse is this idea of all the things that are around us—augmented reality, virtual reality, big data, Internet of Things, blockchain – this whole world of data that surrounds us in a way that's more like three-dimensional and the way to interact with it," Rice said.
Rice, whose company built XR Metaverse platform Omniscape, joined CoinGeek's Patrick Thompson on Day 1 of CoinGeek New York.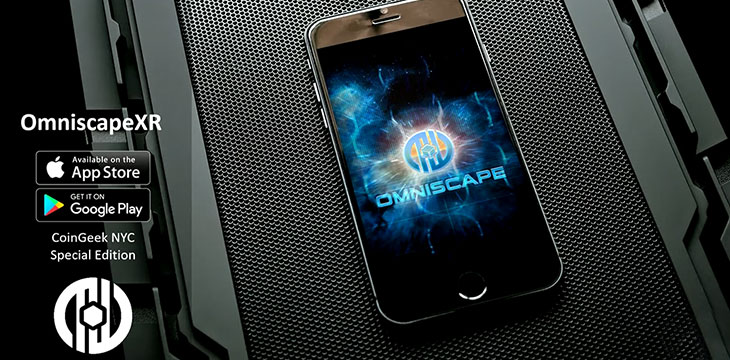 The Metaverse is still in its infancy days, Rice believes. However, already, it has shown just what is possible, with games like Fortnite giving a sneak preview into what the future holds.
Omniscape is a pioneer in the field, building "the backend ecosystem and the foundation, plus the client-side stuff to bring it all together." The platform already has a mobile app for augmented reality and a desktop app for VR, but it's working on linking all these together to give its users a whole new world of possibilities virtually.
3D body scanner, digital twin, funding and more
Rice has been a regular at CoinGeek Conferences and was one of the speakers at CoinGeek Zurich. Since then, he and his team have been busy working on new features for Omniscape, raising funds for expansion and working on commercial applications for their platform, he told CoinGeek TV.
In September, the company announced that it had opened a multi-million-dollar seed funding round. It has attracted commitments from prominent investors including Ventek Ventures and Ayre Ventures as well as a number of family offices. 
This funding has allowed the company to build new features and expand, Rice revealed. "It has acted like an accelerant on our development roadmap. Even in the last two months or so, we've got a slew of new features," he said.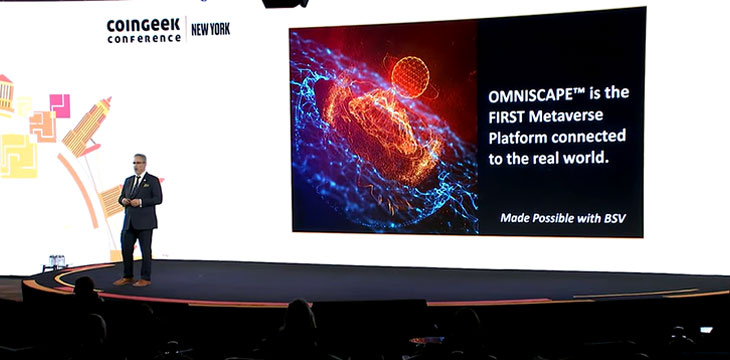 One of these 'cool new features' is the 3D body scanner that the company debuted at the conference. The scanner uses several cameras and infrared scanners to come up with a super-high resolution scan of a person, resulting in a "photo-realistic, almost 1:1 scale 3D copy of a person." Transmira then rigs the 3D copy for animations.
In the near future, it intends to incorporate these copies into its app, making this a user's online identity. "You can protect it and use it to represent yourself."
One of those who took to the scanner was Dr. Craig Wright, with his 'super-realistic 3D copy' attracting a lot of attention from many of the attendees at the event.
What would Satoshi say to being put on chain forever? Satoshi was scanned by @OmniscapeXr at #CGNewYork with their awesome body scanner! pic.twitter.com/nmzApVvLIM

— CoinGeek (@RealCoinGeek) October 6, 2021
All these developments in AR and VR are being geared towards further enhancing digital twins—which in Omniscape's case are 3D 1:1 copies of anything on a virtual platform. Once data from IoT is integrated, it opens up new possibilities, Rice said.
Digital twins are becoming quite critical to people's online experience, especially in an era where physical movement is restricted by the COVID-19 pandemic.
"We're starting to see a lot of disruption in different types of business and revenue models. There's a lot going on with this idea of a digital economy. […] In five years, you'll see job offerings for Metaverse developers, or Metaverse artists or full time avatar fashion designers."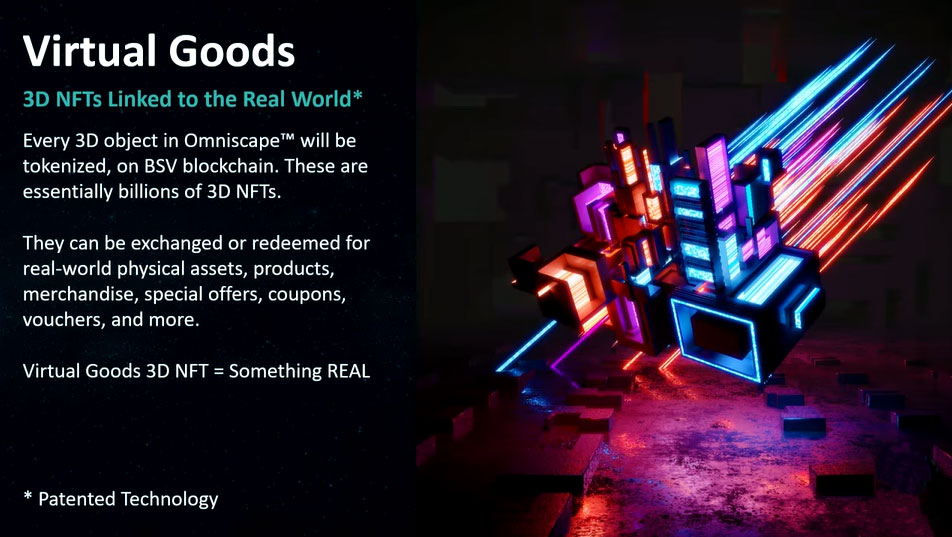 Omniscape is growing at a rapid pace, with Rice telling CoinGeek TV that "we're moving so fast and getting so much momentum and traffic that we're having a hard time keeping up with our own scale." 
At the moment, Rice and his team are working to fine-tune its virtual real estate features before launching it to the users. They'll then go into crunch mode, working on new features to keep the users engaged and excited as they work towards the long-term goal of bringing the Metaverse to the world.
Watch CoinGeek New York 2021 Day 1 here:
New to Bitcoin? Check out CoinGeek's Bitcoin for Beginners section, the ultimate resource guide to learn more about Bitcoin—as originally envisioned by Satoshi Nakamoto—and blockchain.