Nigeria leads the world in digital asset awareness at 99%, a new study has revealed. The study, conducted in 15 countries across all continents, also found that 2 in 3 respondents want to own their data, while 80% want more control over their online identity.
The study by Consensys and London-based market research firm YouGov aimed to investigate people's perceptions of Web3, NFTs, digital assets, the blockchain, and the metaverse. The two companies surveyed over 15,000 respondents aged 18-65 in 15 countries across the Americas, Asia, Europe, and Africa.
Should you own your digital data? 🤔

Read our Global Survey on Crypto and Web3 to see what more than 15,000 others think 💡#ShiftCtrl

🔗https://t.co/K0fQLuNnZR pic.twitter.com/HQe8bjrsrt

— Consensys (@Consensys) June 30, 2023
92% of the respondents revealed they were aware of 'crypto,' the report says. At 99% awareness, Nigeria topped the list, with South Africa and Brazil hitting 98%. Japan had the least awareness at 83%.
The "future of money" was the most popular at 16% of the main concepts they associate with 'crypt.' This is despite the largest 'crypto' projects failing as currencies.
BTC, with a market cap of $600 billion, is still stuck on its 1MB block size cap, which can only process seven transactions per second (TPS)—Visa (NASDAQ: V) can hit 24,000 TPS while Mastercard (NASDAQ: MA) does 5,000. Meanwhile, BSV blockchain is building on Satoshi Nakamoto's vision of a peer-to-peer electronic cash system, setting a record in May at 86 million transactions a day and has shown it can currently handle over 50,000 TPS.
Aside from digital asset awareness, the study proved that people are looking at blockchain technology to solve perennial data challenges. 83% of the respondents said that data privacy is important to them, with Japan polling the lowest at 64%.
Two-thirds of the respondents want to own the data they generate on the internet, the study revealed. Blockchain technology is enabling data ownership, with new applications springing up that are switching away from the Silicon Valley data silo model. However, this new data ownership model is only possible on a blockchain network that scales massively, like the BSV blockchain.
While most respondents were aware of digital currencies, Web3 is not as popular, the study found. Only 24% of respondents globally are aware of the concept of Web3. The U.S., India, and Nigeria ranked highest, with at least half the respondents being aware of Web3.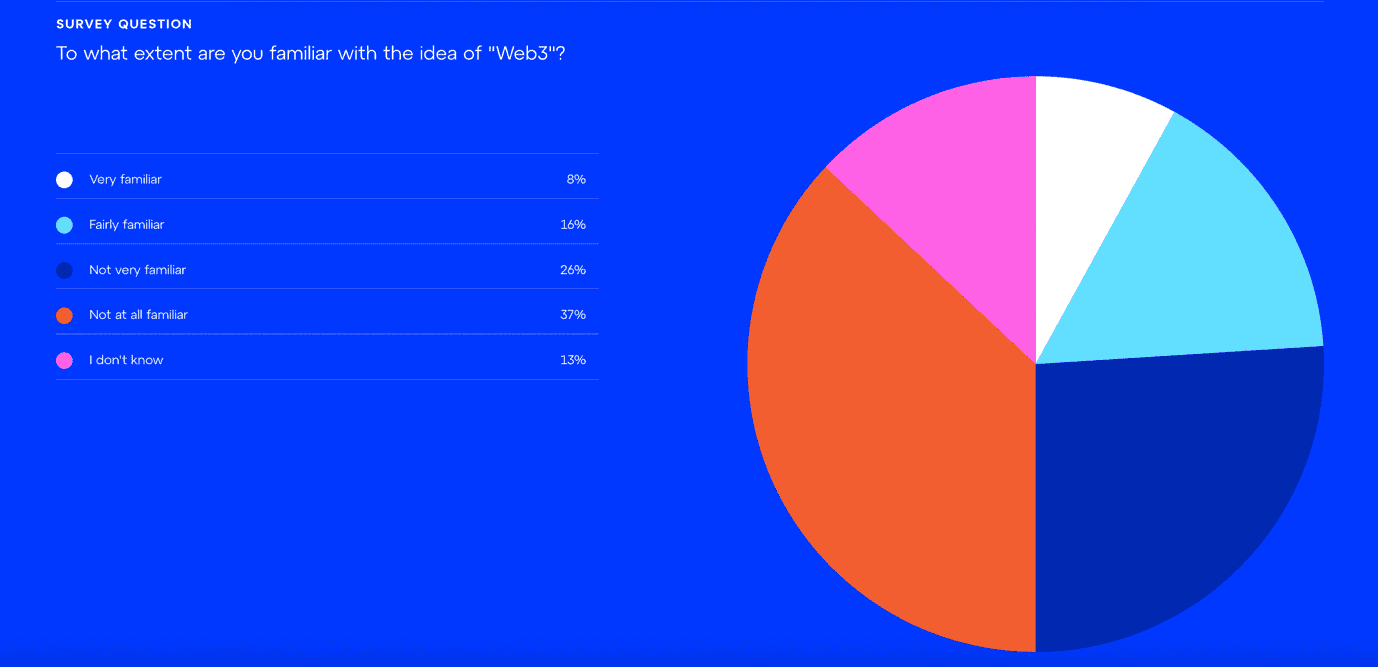 The study further found that last year's 'crypto contagion,' in which some of the largest companies collapsed, had a major impact on people's trust in the industry. The strongest impact was in South Korea and Nigeria, where 94% and 89%, respectively, say the events had a heavy impact. France, India, Germany, and South Africa were the least affected.
CoinGeek Conversations with Jack Liu: Bitcoin removes power from money—and that's liberating
New to blockchain? Check out CoinGeek's Blockchain for Beginners section, the ultimate resource guide to learn more about blockchain technology.