The BSV blockchain keeps scaling as promised, breaking record after record for daily on-chain transactions. Vaionex has generated over 86 million transactions on BSV, proving once again that the blockchain has no problem handling any and all transactions thrown at it.
On Thursday, 73.4 million daily transactions were processed on BSV, which came out to 560,940 per block or 854 per second on average. This generated over 16 bitcoins in mining fees at an average fee of $0.000009, according to BSVData.

That number rose to 86.4 million as of press time.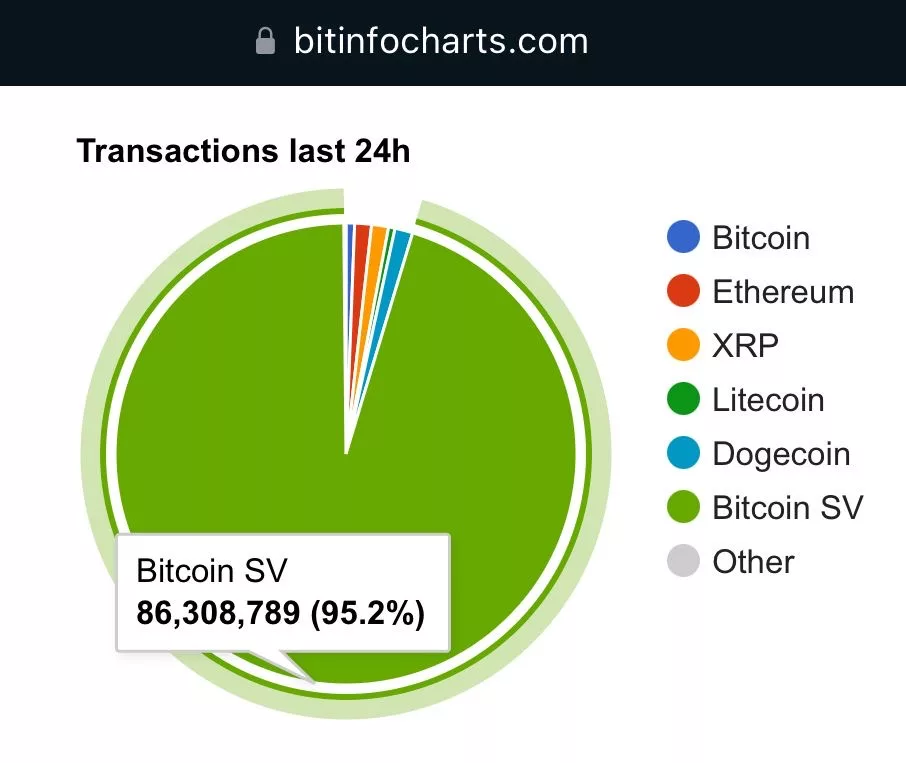 Clearly, BSV is the ultimate utility blockchain. With 80% of the transactions being submitted through the TAAL API, this historic day proves that both TAAL's software and the BSV blockchain itself are working as intended and are capable of scaling unboundedly.
To break the 100m transactions, we need to sustain 1200 tx/s for 24h. We are getting very close. Inviting anyone in the #BSV ecosystem to join forces with us to see what the network can do. pic.twitter.com/6uirL6y7Dj

— Rob (@Rob_GCC) May 26, 2023
TAAL – More than just a miner
While TAAL is exclusively focused on Bitcoin and is heavily focused on transaction processing on the BSV blockchain, it is more than just a miner. The company offers value-added blockchain services, including custom transaction processing solutions and digital asset tokenization with the STAS protocol.
"The network and the infrastructure run by the transaction processors or miners have clearly demonstrated the great robustness achieved to this day. They have processed over 85 million transactions in 24 hours on their regular productions systems, and without any disruptions," Frank Dickob, provisioning director at Bitcoin Association, said in a statement. "We believe that there is still room for growth and innovation, as we are working on developing the next generation of key services that will unlock the potential for even greater transaction volumes. Together, we will continue to build upon this success and drive the adoption of BSV as a robust, affordable, scalable, and secure blockchain solution."
As governments and enterprises wake up to the massive utility and revolutionary change blockchain technology can bring to the world, TAAL is well-positioned to serve their needs. Unlike other blockchain services companies perpetually stuck in 'it will be ready in 18 months' mode, record-breaking days like yesterday prove that both TAAL and the BSV blockchain can deliver scalable solutions today.
"Again, TAAL has demonstrated that our infrastructure is available, stable, and ready for the scaling of the BSV network. The new record of transactions processed to the chain within 24 hours was 'business as usual' for us. We are in fact able to handle much larger amounts of transactions. TAAL is fully committed to support the BSV ecosystem and ensuring the transaction processing capabilities," Lars Jorgensen, CEO of TAAL, said. "The massive scalability on the BSV  network is a reality, and this was today demonstrated once more. Transaction fees are miniscule and real-life use cases will only be limited by imagination."
Learn more about utility blockchains at the London Blockchain Conference
While this record-breaking number of transactions showcases the scalability of the BSV blockchain, the competition between utility blockchains and the companies building solutions on them is still very much on.
From May 31 to June 2, the London Blockchain Conference, which is the biggest blockchain conference in the world, will focus on how scalable blockchains can positively impact the world. Developers, entrepreneurs, and representatives from governments and enterprises seeking blockchain solutions are more than welcome to attend. In fact, everybody is welcome, regardless of what blockchain(s) you might be working on currently.
The London Blockchain Conference will not focus on the prices of tokens or on digital currency speculation. Instead, it will show the world how blockchain technology can be used to revolutionize industries such as supply chains and logistics, finance, cybersecurity, and many others.
If you're interested in these ideas or have something to say, register for your free ticket today. We hope to see you there!
Watch: Benefits of using Blockchain as a Service discussed at CoinGeek Zurich
New to blockchain? Check out CoinGeek's Blockchain for Beginners section, the ultimate resource guide to learn more about blockchain technology.