The internet of money should not cost $0.05 per transaction. It's kind of absurd. – Vitalik Buterin, 2014.
One of the most promising applications of blockchain technology is casino gaming. However, so far, blockchain-based casino and betting applications haven't been able to reach their full potential due to being built on unscalable networks.
King Tiger Casino, a blockchain casino app owned by FunFair Technologies, recently announced that it was temporarily shutting down due to congestion on Ethereum. This follows the recent Stoner Cats debacle on Ethereum in which a relatively minor NFT project caused gas fees to skyrocket and hundreds of thousands of dollars' worth of transactions to fail, leaving users out of pocket.
Why did King Tiger Casino close its doors?
To clarify, King Tiger Casino's closure is only temporary due to congestion on Ethereum. It also announced that it was on the lookout for "new solutions" to host new features and games for its users.
The announcement went further and said that Ethereum network congestion made it "impossible to run our games in the current format." Once again, developers are coming up against reality as Ethereum fails to scale and deliver on its scaling promises.
King Tiger Casino did emphasize that users' funds would not be affected by its temporary closure and that they could either leave the funds in their wallets or move them at will.
London hard fork does nothing to improve Ethereum
After much hype and anticipation, Ethereum's London hard fork has done nothing other than pump the price of the ETH token. This upgrade will burn ETH tokens with every transaction and will make Ethereum deflationary, but so far, that has done nothing other than increase gas fees for users. Developers claim that gas fees should stabilize in time, but there are plenty of sceptics who doubt that.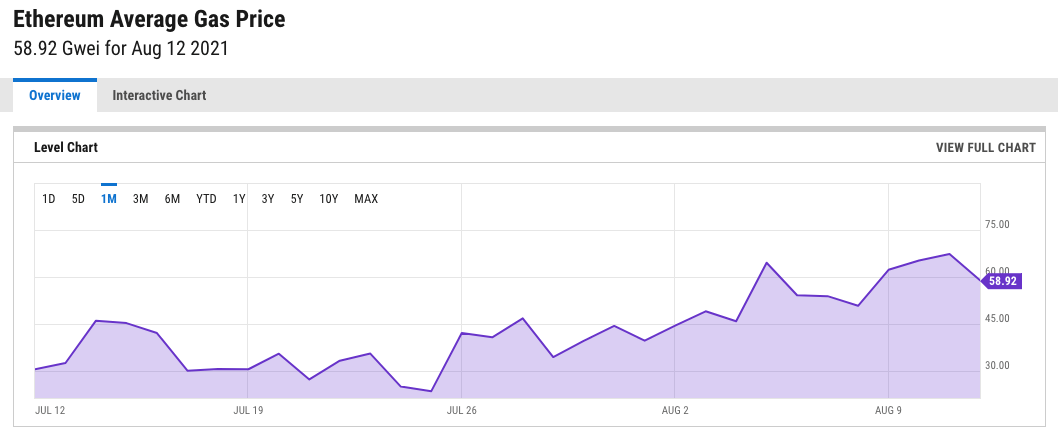 With Ethereum 2.0 always just around the corner, developers like those behind King Tiger Casino are beginning to realize that running applications at scale on Ethereum isn't going to be a reality anytime soon. Dissenting voices have argued that even ETH 2.0 won't solve Ethereum's inherent issues and that the changes will mostly be cosmetic in nature.
The future of proof-of-stake is uncertain
Aside from its renowned scaling problems, Ethereum could face even greater problems due to its decision to change to a proof of stake consensus mechanism. POS supporters recently experienced a wave of panic as the Biden administration backed an amendment to its Infrastructure Bill that could leave proof of stake protocols dead in the water in the United States.
How long can developers wait before they throw in the towel and realize that Ethereum just isn't what they thought it was? Many forward-thinking developers are already moving.
Learn how Fyx Gaming gave up on Ethereum and built on BSV.
King Tiger Casino should look at Peergame
In its search for solutions to its current scaling problems, FunFair Technologies would do well to consider moving across to BSV enterprise blockchain.
Popular BSV casino app Peergame routinely does tens of thousands of daily transactions and has yet to hit a bottleneck. It recently experienced a surge in demand as the popular blockchain game CryptoFights went viral, yet no transaction issues were experienced, and fees remained at fractions of a penny.

Utilizing the BSV token to run games like roulette, baccarat, and dice on-chain, Peergame's average fee per transaction remains at $0.00033. This is the mean fee currently, with Peergame experiencing over 20,000 transactions daily.
Ethereum won't scale and can't compete
As the digital currency and blockchain industries mature and serious participants enter the space, they'll be looking for solutions that scale to run their applications successfully today. Since BSV enterprise blockchain scales past 50,000 transactions per second with much larger volumes on the horizon, hype machines like Ethereum will begin to fade into insignificance.
The ETH token will likely continue to soar in value for a while as gamblers drive its price ever higher in anticipation of greater fools buying it from them later. Yet, in the long game, serious developers will have no choice but to abandon Ethereum and move on. As the King Tiger Casino statement shows, Ethereum doesn't have what it takes to run blockchain applications at scale.
Watch: CoinGeek Zurich panel, Casino & iGaming on Blockchain
New to Bitcoin? Check out CoinGeek's Bitcoin for Beginners section, the ultimate resource guide to learn more about Bitcoin—as originally envisioned by Satoshi Nakamoto—and blockchain.