At CoinGeek, we've been trying to expose the attack on Bitcoin by financial incumbents for many years. Our Chief Bitcoin Historian Kurt Wuckert Jr. has done excellent work exposing Mastercard's virtual takeover of BTC (links below), and it seems that the message is finally starting to get through.
On social media and in various forums, digital currency users have begun to notice and express concerns about connections between some prominent projects and financial organizations they view with suspicion, such as the World Economic Forum (WEF). These connections are real, but the truth is, these people are only scratching the surface with their findings.
Who is really behind the curtain of projects like BTC and Ethereum, and what is their agenda? Let's look at some of the connections and see what conclusions we can draw.
Strange connections between industry higher-ups, the WEF, and affiliated organizations
Ethereum's Aya Miyaguchi is the most obvious example of a large industry player linked directly to the WEF. The Executive Director of the Ethereum Foundation started her career at Kraken in 2013. Six short years later, in 2019, she was appointed to the WEF's Blockchain Global Council. This is perhaps the best-known example of an outright connection between the industry and the WEF.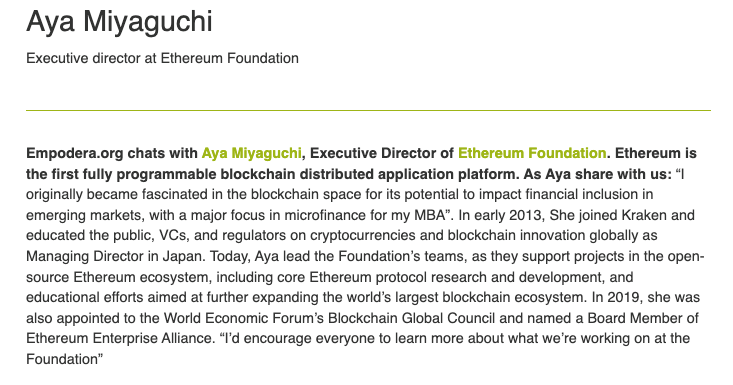 Digging a little deeper, we find that Sheila Warren, the WEF's head of Data, Blockchain, and Digital Assets, recently became the CEO of the Crypto Council for Innovation (CCI). The CCI is an "alliance of crypto-friendly firms aimed at supporting lawmakers on crypto and blockchain regulations." In other words, the CCI is an influence-peddling machine with a WEF higher-up at its head. Other CCI board members include people like Coinbase co-founder Fred Ehrsam.
We're honored to announce @sheila_warren as the new CEO of CCI. Sheila will lead us in demonstrating and communicating the transformational promise of crypto to policymakers, regulators, and people around the globe. #FutureofInnovationhttps://t.co/ETGcYGp8SK

— Crypto Council for Innovation (@crypto_council) January 31, 2022
In one recent interview, Warren said that she's looking forward to helping realize the potential of digital currencies and making them accessible to all regardless of their economic privilege. This term 'economic privilege' is often associated with Marxist thinkers, and indeed, the WEF has been wondering if Capitalism might need a little Marxism going forward. Warren also serves on the Board of the World Bank and co-hosts the Money Reimagined show on the CoinDesk network.
But wait, there's more! A quick look at the Crypto Council for Innovation's Twitter feed reveals that Gemini recently joined, and their website states that CCI supporters include Coinbase, Fidelity Digital Assets, Jack Dorsey's Block (formerly Square), Andreesen Horowitz, Ribbit Capital, and Paradigm.
Thrilled that @Gemini has joined us at @crypto_council. Welcome! 🚀 https://t.co/fEYIkIQklt

— Sheila Warren (@sheila_warren) February 24, 2022
So here we have direct and indirect connections between the World Economic Forum and The World Bank via Sheila Warren, The Ethereum Foundation and Kraken via Aya Miyaguchi, and players like Coinbase, Block, Gemini, CoinDesk, and various VC firms via the Crypto Council for Innovation which just happens to be headed up by the same Sheila Warren. And yet these very same people and companies brand themselves as the leaders of a disruptive industry out to upend the incumbents and liberate the people from financial bondage. This illusion is only possible if the majority of industry participants remain ignorant of who's really pulling the strings and calling the shots.
If you want to dig deeper and find out who's behind BTC and projects like the Lightning Network, I recommend reading Kurt's excellent work exploring the Mastercard Bitcoin Conspiracy. You'll find many of the same brands and names mentioned in the article. Is it obvious yet what this industry is and who the men and women behind the curtain really are? 
If you think this all sounds like a crazy conspiracy theory, then I challenge you to prove any of it wrong.
The takeover of the industry is complete and irreversible, but Satoshi's Bitcoin is alive and well
For those who are just learning this information, it may come as somewhat of a shock. However, for those of us who have been researching and paying attention to anything beyond the price of tokens, it's been obvious for years now that the digital currency industry is not what it makes itself out to be.
Far from being a revolutionary industry that will challenge the financial incumbents and usher in a new era of innovation, privacy, and freedom, the industry was bought off and paid for by those very incumbents long ago. What was released as a peer-to-peer electronic cash system capable of truly disrupting the global payments industry and much more was hijacked, kneecapped, and sold as a harmless investment asset incapable of doing anything other than being stashed away in digital vaults. Those who stand to lose everything if this revolutionary technology succeeds are still trying to defame and sabotage Satoshi Nakamoto and steal his intellectual property.
Yet, with all their financial power and connections, there's nothing they can do to stop the inevitable success of Satoshi's creation. The truth is that Bitcoin doesn't need people like Sheila Warren to influence or steer anything. It doesn't require the WEF's meddling and influence campaigns to succeed. Satoshi didn't spend decades designing Bitcoin only for Mastercard-backed VC firms to build layer two solutions to make it scale. These people are welcome to build on the Bitcoin protocol like everyone else, but their influence and meddling are not necessary or welcome. Bitcoin was delivered as a finished project, fully legally compliant, and ready to go on day one. It remains that way today as BSV.
Wake up and start building on Bitcoin
The raw truth is that 'crypto' is irredeemably compromised. All the key players are in it together to protect financial incumbents like Block and fee-generating machines like Coinbase. After all, if Bitcoin does everything better, including complex smart contracts, then there's no need for altcoins, and so by extension, there's no need for centralized exchanges, and the gravy train grinds to a halt.
Despite all of this meddling by incumbents and financially elite global organizations, Satoshi's Bitcoin lives on. It has been restored as BSV, and it will eat every other player in the industry alive in the coming decade. 
If the connections revealed in this piece are disturbing to you, I urge you to keep digging, learn the true history of Bitcoin, and realize the potential of this magnificent invention to change the world. Wake up, leave BTC and other altcoins behind, and embrace Satoshi's original Bitcoin.
Follow CoinGeek's Crypto Crime Cartel series, which delves into the stream of groups—a from BitMEX to Binance, Bitcoin.com, Blockstream, ShapeShift, Coinbase, Ripple, Ethereum, 
FTX and Tether—who have co-opted the digital asset revolution and turned the industry into a minefield for naïve (and even experienced) players in the market.
New to blockchain? Check out CoinGeek's Blockchain for Beginners section, the ultimate resource guide to learn more about blockchain technology.