Does Bitcoin have intrinsic value? Is BTC or the BSV blockchain the way to go? At the CoinGeek conference in New York, a panel with four experts dealt with these questions, moderated by Bitcoin Association Founding President Jimmy Nguyen.
The panelists include:
George Gilder – Economist, Writer, Investor and Technology Visionary
Dr. Craig Wright – Inventor of Bitcoin, Chief Scientist at nChain
Prof. Eswar Prasad – Tolani Senior Prof. of Trade Policy & Prof. of Economics, Cornell University
Rafael LaVerde – Economic Analyst, The Crypto Vigilante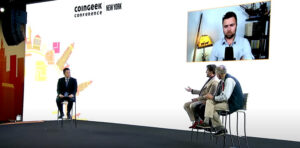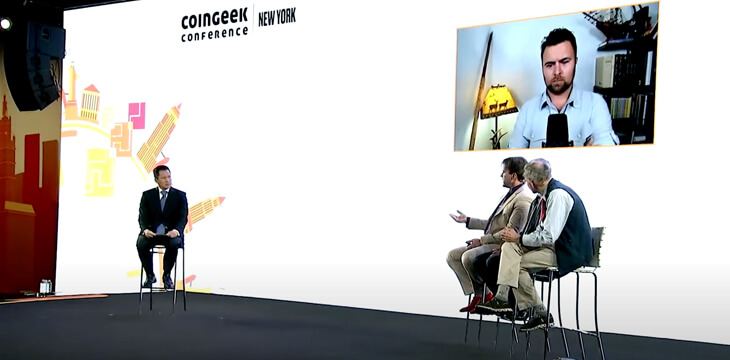 Panelists' comments on Dr. Wright's keynote speech
The panel started with discussing Dr. Wright's keynote speech on Bitcoin as an informational commodity. Gilder states that Dr. Wright is on point by categorizing Bitcoin as a commodity and that Bitcoin was not primarily made to be held by speculators—waiting for price appreciation, but designed to serve in the information economy. 
"Wealth is knowledge, growth is learning, and money is time. Craig understands: it is about time!" Gilder says in reference to Dr. Wright's other keynote speech on time as a personal experience. 
Prof. Prasad, who recently published a book titled "The future of money – how the digital revolution is transforming currencies and finance," states that he has other opinions on Bitcoin and digital money compared to his fellow panelists. Concerning Dr. Wright's keynote speech on Bitcoin as an informational commodity, Prasad says the real value of Bitcoin as money is within the architecture it might provide. 
However, Prasad is of the opinion that eventually governmental money systems are a better store of value than private money systems due to the fact that governments have a monopoly on charging taxes and defining legal tenders.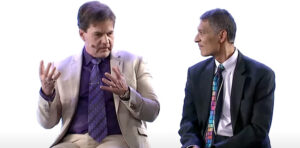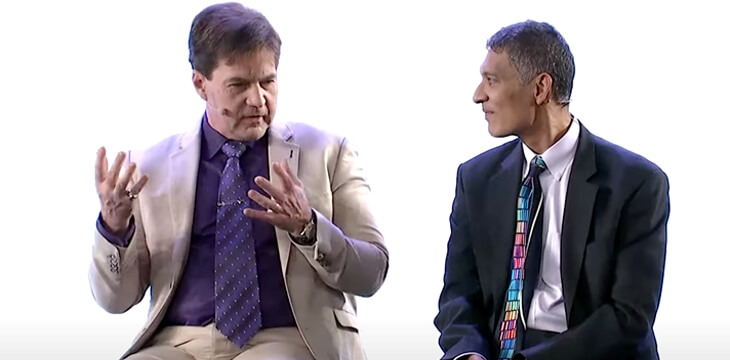 LaVerde on the other hand is passionate about Bitcoin and has no doubt it is a more useful money than any governmental cash could ever be. 
"When I speak about Bitcoin, I speak about Bitcoin in its original design at scale, I'm speaking about the Bitcoin I fell in love with (…). Right now: BSV," LaVerde says. For him, it feels like Bitcoin is finally waking up via the BSV blockchain. 
What is a store of value? Is BTC a ponzi scheme? BSV the way to go
Moderator Nguyen asks Dr. Wright whether there is value in BTC or not, hinting at the fact that BTC looks like a ponzi scheme in comparison to BSV. 
Dr. Wright responds with how criminals are trying to use BTC, thinking their money in BTC is safe and cannot be seized by law enforcement—which is wrong. Bitcoin is seizable, which will be proven very soon in a court case that Dr. Wright himself is involved.
"When I go to court in Florida, it is basically game over for everyone who thinks Bitcoin can't be seized. I have made sure of that. And it is going to happen. No one is moving a coin via key, but I guarantee they are being moved," Dr. Wright said in his keynote speech on Bitcoin as an informational commodity.
Concerning BTC, Gilder says there is a crucial law in capitalism, which is: you can only keep what you are willing to give away. If we take BTC's mantra of "HODL" into consideration, we understand what Gilder is hinting at. BTC speculators only want to hold their BTC and never give them away—money needs to be saved and spent though; else it cannot be money. 
"The right Bitcoin, the open-ended Bitcoin that Bitcoin SV defines (…) is creating a new economy," Gilder states. Worth watching is Gilder's own keynote speech at the CoinGeek conference in New York, where he describes the BSV blockchain as the epitome of the information economy. 
"You don't have enough scalability on the BTC network," Prasad says and raises the question where demand for BTC comes from. He thinks it is—similar to gold—the belief of the investors that it maintains its value, and this belief in BTC is built on shaky grounds.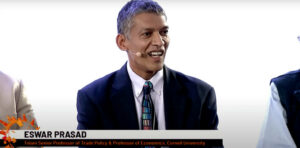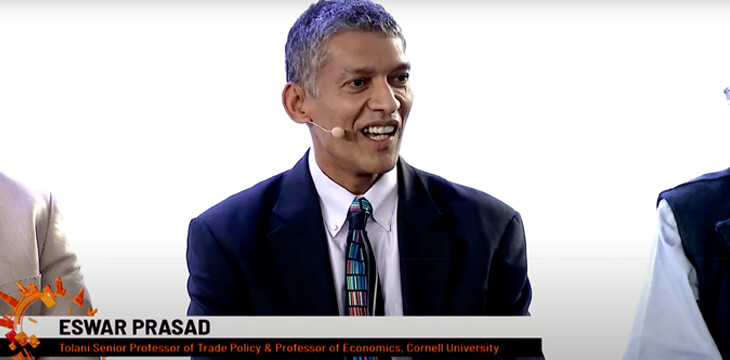 "BTC is not actually Bitcoin," Dr. Wright adds. "It is a copy that has been passing off as Bitcoin since 2017." We highly recommend reading Dr. Wright's article on how BTC is passing off as Bitcoin. 
Important aspects of Bitcoin discussed
Gilder makes an important point about Bitcoin on the panel: "What Bitcoin enables is if the government comes to you and challenges your story, and says you're embezzling, says you're avoiding taxes, makes such a claim, you have an immutable ledger (…). It allows you as an individual to have attestation for your behavior."
Some argue that Bitcoin and blockchain allow for a surveillance state, which indeed can be considered a danger. However, Gilder's comment makes clear that the evidence trails work in both ways—from governments to citizens, and from citizens to governments.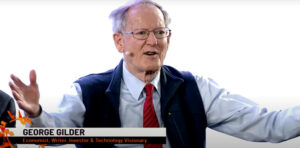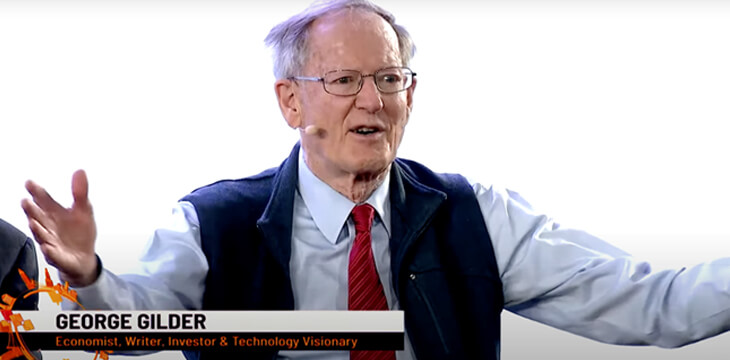 "Dr. Wright is correct. Bitcoin was never meant to be a privacy coin. Bitcoin is a transparent ledger. It is an honesty machine (…). Bitcoin was created—in its original design—to be a transparent global ledger to keep everyone accountable. I like to emphasize even keeping bureaucrats and governments accountable," LaVerde adds. 
Bitcoin as a tool in the current world crisis
Gilder is speaking out vividly about our world in crisis: "It's the central bank hacking currency—constantly. The biggest industry in the world is (…) currency trading. 8 trillion dollars a day (…) at the hands of central banks around the world."
"What El Salvador is doing is similar to what current despots in many countries are trying to do, which is: trying to get away from the U.S. dollar," Prasad says concerning the state implementation of BTC in El Salvador. 
The panelists agreed that BTC is not helping the residents of El Salvador.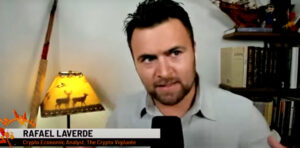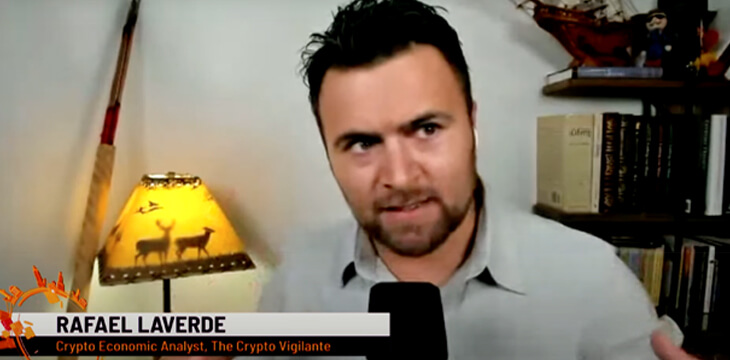 "Now we ended up having this really weird thing—I call it "cripple coin", which is BTC. Or Bitcoin Cash (BCH), which is another version of cripple coin. But Bitcoin in its original design addresses a way bigger issue (…). Honestly: I think Bitcoin was divinely inspired," LaVerde says.
"Well, I have a doctorate in theology," Dr. Wright states.
Watch CoinGeek New York 2021 Day 3 here:
New to Bitcoin? Check out CoinGeek's Bitcoin for Beginners section, the ultimate resource guide to learn more about Bitcoin—as originally envisioned by Satoshi Nakamoto—and blockchain.