The original Bitcoin, as in the BSV blockchain, is able to serve as a ledger for an informational ecosystem. At the current BSV Global Blockchain Convention in Dubai, mintBlue CEO Niels van den Bergh presented three major steps to further unleash Bitcoin SV's potential.
"So while the whole world is investing and speculating in crypto Ponzi tokens, we are all here together to build real-world solutions with blockchain technology," van den Bergh started his presentation.
mintBlue's CEO is known to deliver on his promises
van den Bergh is not exaggerating. We remember van den Bergh announcing mintBlue's partnership with VISMA / yuki to secure invoice processing using the BSV blockchain last year. Back then, there were already over 500.000 invoices published on the ultra low cost, fast and secure BSV blockchain.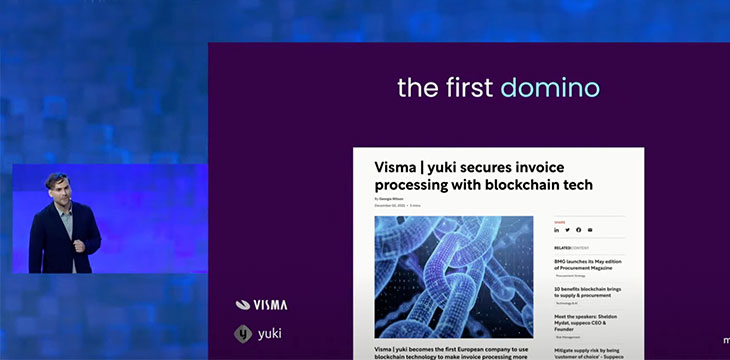 Now at the BSV Global Blockchain Convention, van den Bergh again had amazing news for the adoption of Bitcoin SV. In the introduction, he explained how the internet we know today works on a technical level: The internet today runs on a protocol called TCP/IP (IPv4 and IPv6), which basically allows network participants to send information from point A to point B.
van den Bergh pointed out that at the early stage of today's internet, data was read, written, stored, and processed in centralized points (web 1.0) and then developed into a network that allowed users to read and write data themselves while the storing and processing of data was still centralized (web 2.0). We are living in this web 2.0 version of the internet at the moment, where we all—for example—are able to put data into social media accounts easily, but the data is not in our hands as the social media platforms are managing it.
"The data still lives within the central entity (…). So what you see happening now is that these platforms start competing with their own user base. This is the dark side of the platform economy," van den Bergh said.
BSV blockchain as the infrastructure for Web3
By utilizing the BSV blockchain, we start getting into an enhanced internet that not only allows us to read and write data in a decentralized manner, but also store and process data in a decentralized way (web 3.0). So users could become the platform themselves and not only create or receive content.
van den Bergh describes this as a peer-to-peer internet without a central entity exploiting value from the users while dictating the terms of use. The team at mintBlue is already implementing BSV blockchain-driven software to make this peer-to-peer internet a reality, as has been proven by the VISMA / yuki usage of Bitcoin SV for invoice processing.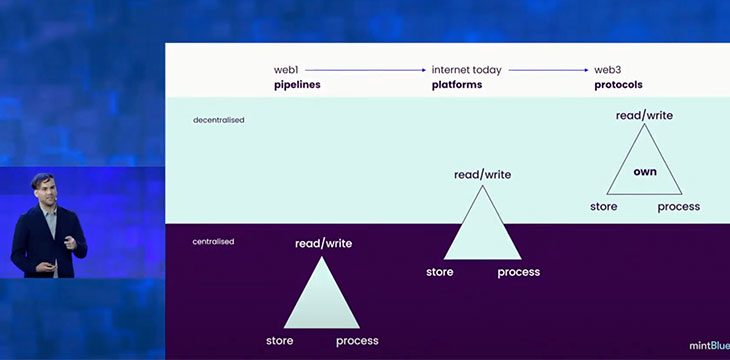 "But yuki was alone," van den Bergh said. "It is like being alone on the internet. It only works if you have multiple people connected. So for yuki to really push out this accounting solution we built, there was one puzzle piece missing. One tiny little thing in this solution that potentially could revolutionize this industry: identity," he added.
Identity is key to the informational Bitcoin economy
Concerning identity on the blockchain, van den Bergh explained that the data on the blockchain is tamper-proof but—as of yet—not trustworthy. One can trust that the data is the same, but not that it is of true origin. In order to solve this obstacle, van den Bergh suggests that blockchain data has to be connected to an outside blockchain identity.
On the topic of Bitcoin and identity, it is worth pointing out that Bitcoin inventor Dr. Craig Wright himself stated in his article Bitcoin and Tax:
"The Bitcoin white paper talked about the necessity of firewalling identity from the chain. Doing so does not remove the ability to identify individuals, but it is rather done in a manner that is not public," he said.
So van den Bergh is spot on. There is no problem with Bitcoin and identity, but identity is not to be found within Bitcoin or on the blockchain itself. van den Bergh mentioned that for mintBlue, it is crucial to have the identity connected to the yuki invoices that are being processed on the BSV blockchain.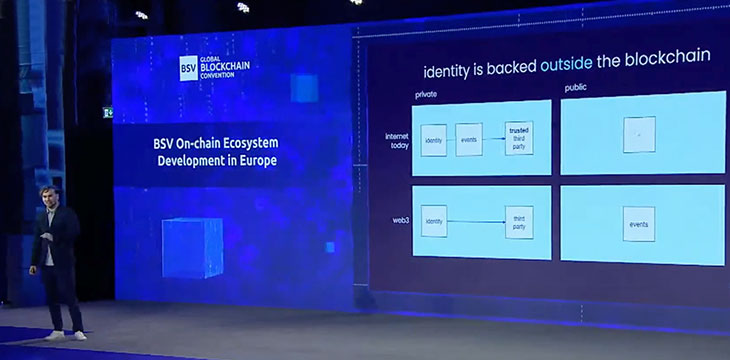 "But we as mintBlue could not provide this identity solution ourselves. Why not? Because NFT invoicing—that is the name of the product for the accounting industry—is a public protocol. So that means that anybody in the world, any country, any continent, any government should be able to pick this up as a building block and integrate it into their own system. So if mintBlue would be the identity provider, it would become a centralized solution, and that is not what we want," van den Bergh said.
mintBlue's identity concept for blockchain-based data processing
Instead of a centralized identity solution, mintBlue wants the identity problem solved by every company, organization, and government. However, this does not mean mintBlue cannot assist these entities in doing so, and van den Bergh was enthusiastic to announce that mintBlue is already on it.
"I am very happy to announce: we are doing a proof of concept development with the Dutch Chamber of Commerce to provide identity services to the companies publishing the invoices on the blockchain. Now we can trust the content of the invoices, because a national public entity is verifying the identity for us—and this can be replicated into multiple countries and continents," van den Bergh said.
To be honest: this is huge news. It is what Bitcoin creator Dr. Craig Wright hinted at discussing Bitcoin and identity multiple times already—as can be seen here, for example. If we have an identity outside of the blockchain secured but connected to it, Bitcoin shows its full potential.
Invoice processing by mintBlue's Bitcoin SV driven software
van den Bergh went on to explain that Peppol, a renowned network that has 800.000 companies worldwide connected concerning sending and receiving invoices, has caught mintBlue's attention to distribute the BSV blockchain-driven invoice processing solution.
"I am happy to share that we are developing a proof of concept with storecove, the largest Peppol access point provider in the Netherlands. What we are doing with storecove is, we are integrating the blockchain into the Peppol client. And because storecove already serves 80% of all the companies in the Netherlands, it can be immediately distributed and updated all over the Peppol network," van den Bergh said.
What mintBlue is doing here is creating an on-chain ecosystem, utilizing the BSV blockchain to profit from very low transactional fees and scaling capabilities.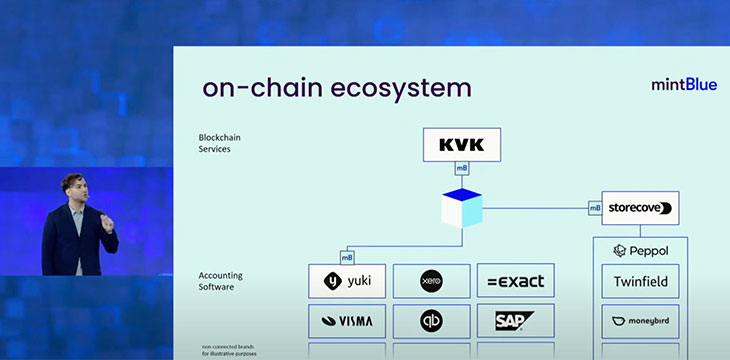 "But why would all these companies adopt this protocol?" van den Bergh asked. With Bitcoin SV as in the BSV blockchain and mintBlue's solution, entrepreneurs can get paid instantly when the invoice is authentic, accountants can save hundreds of working hours, and companies can achieve extra revenues.
Tokenized euro on the BSV blockchain 
van den Bergh showed that with mintBlue's invoice processing solution, companies are able to upload invoices encrypted to the BSV blockchain, and other companies are then able to decrypt these invoices to load it into their own bookkeeping system by simply paying a fraction of a cent in Bitcoin SV.
"The issue, however, is that these companies do not want to get paid in Bitcoin. They do not want to get paid in satoshis. They want the euro, at least where I come from," van den Bergh said. "So I am happy to announce: as a final and last proof of concept development of the evening, we are doing a fully regulated tokenized euro onto the blockchain. We are partnering with a licensed e-money institute under oversight of the Central Bank of the Netherlands," he revealed.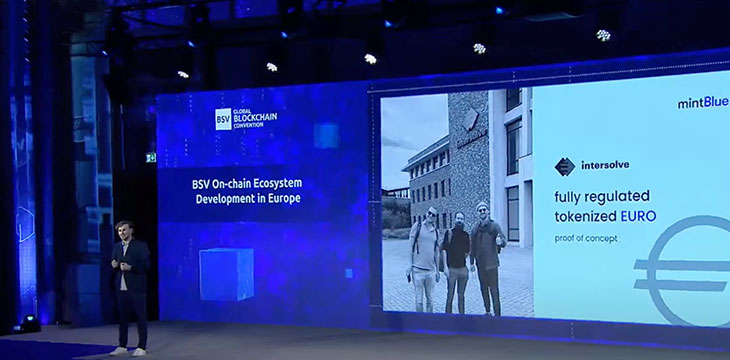 According to van den Bergh, this project is not aiming at a so-called stablecoin. It is about a real tokenized euro on the BSV blockchain. With all of this, we would have the ingredients for a true informational ecosystem on Bitcoin SV: the data processing, the identity, and the money.
Let us not forget that famous economist George Gilder called Bitcoin SV the epitome of information economy at the CoinGeek Conference in New York last year. With mintBlue's CEO van den Bergh, we see all of it coming to life.
Watch the BSV Global Blockchain Convention Dubai 2022 Day 1 here:
New to Bitcoin? Check out CoinGeek's Bitcoin for Beginners section, the ultimate resource guide to learn more about Bitcoin—as originally envisioned by Satoshi Nakamoto—and blockchain.