"I'm here to announce that BSV—your favorite protocol—has taken the lead in blockchain adoption in Europe," Niels van den Bergh said as he opened his presentation titled "Integrating Business Apps with BSV Blockchain: Europe's First Large-Scale Adoption" on Day 2 of the CoinGeek Conference in New York.
What an intro! But who is van den Bergh, and in what way is Bitcoin SV leading blockchain adoption in Europe as he claimed?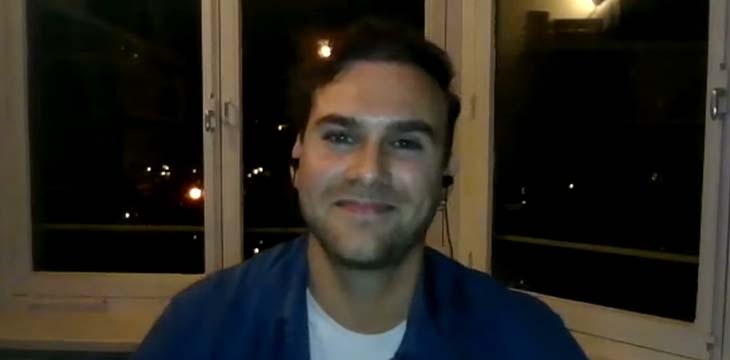 Van den Bergh is the CEO of mintBlue, an infrastructure provider that allows any company to integrate applications with the blockchain with ease. Van den Bergh got into Bitcoin when he did protocol research for startup innovation programs by Google Launchpad and other renowned companies.
However, van den Bergh is not a new face in Bitcoin SV at all. In 2019, he published a remarkable article about the BSV Metanet on his personal website.
"Private storage space, that only you can access with your digital identity, paid for whenever you use it through micropayments could all stimulate the technological innovation that the market is seeking, while also offering a more sustainable way of doing business," van den Bergh wrote in his Metanet article, referring to the BSV blockchain as the solution.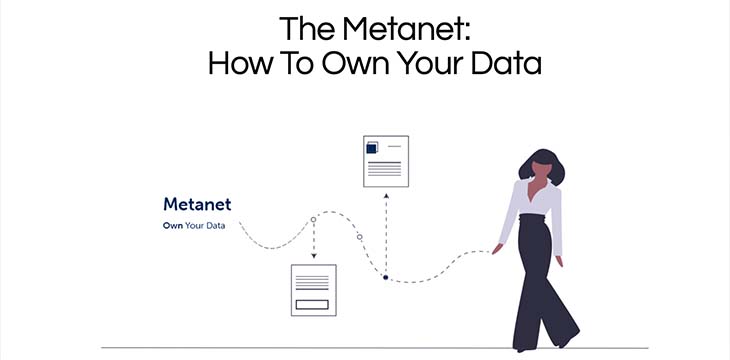 At the CoinGeek conference in New York, van den Bergh shared the mission of mintBlue: making blockchain integration easy to use for developers, for entrepreneurs, and for businesses.
According to a study done by Deloitte, 80% of corporations plan to make use of blockchain technology in the next five years but are facing barriers such as lack of skill and understanding, security and privacy concerns, as well as difficulties with adapting their legacy systems. This is where mintBlue comes into play.
"At mintBlue, we help overcome these barriers. By creating off the shelf, ready made API services that organizations can just plug into their own systems," van den Bergh said.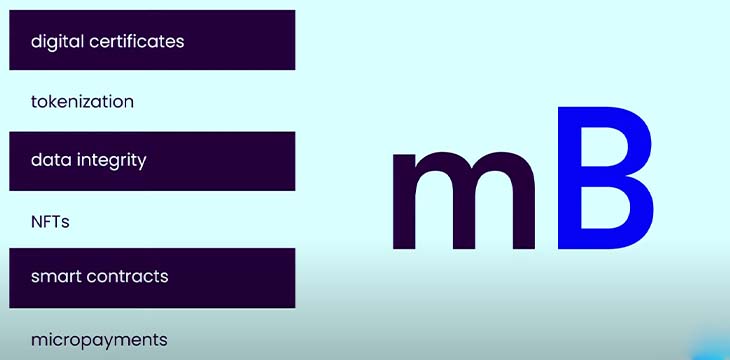 But what about the large European adoption of Bitcoin SV now? 
MintBlue's client yuki was recently acquired by the Visma Group, a software as a service solution for accounting offices, each serving hundreds of companies every day. However, yuki had a problem: invoice data gets lost easily.
"yuki came up with a solution. Their innovation department thought: what if we would automatically publish a digital invoice twin on the blockchain whenever a user sends out an invoice through our platform? This would prove the authenticity of the invoice and it would allow any receiving party to get the digital invoice without relying on any external parties," van den Bergh explained.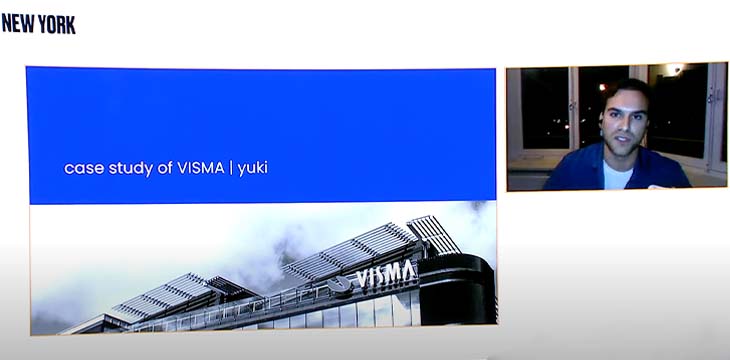 But putting millions of invoices on a blockchain may lead to scaling issues. Especially taking the poor scaling capabilities of most of the public blockchains such as BTC, Ethereum and others into consideration. It also is a question of cost per transaction using any public blockchain.
Bitcoin SV, as in the BSV blockchain, has the capabilities for limitless scaling and ultra-low transaction fees. And this is why van den Bergh, mintBlue and yuki came together to use BSV.
"At mintBlue, we use the original Bitcoin protocol, because we want one chain to do it all. We want a solution to be fast and lean," van den Bergh said and calculated that with Bitcoin SV it only costs around US$0.00168 per invoice to be put onto the BSV blockchain. Which is a fraction of the cost that other blockchain solutions would offer.
Using Bitcoin SV is literally a revolution for invoice processing.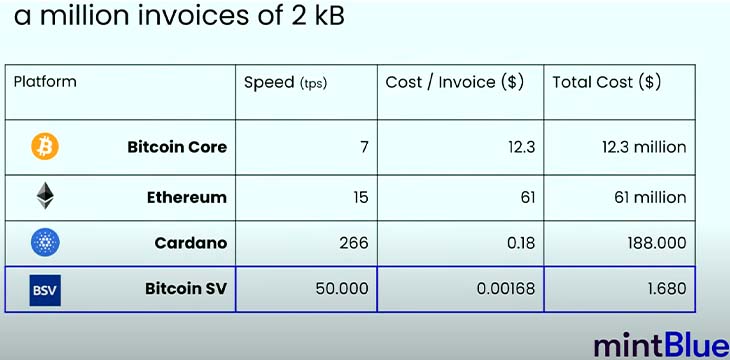 "So this was a no-brainer, and we started building it. Now every time when a user of the yuki platform sends out an invoice, automatically its digital twin is published on the blockchain. Now the receiving company can get the invoice, either scan QR code or upload it into their own accounting software (…). So now you see how two companies can have a single entity invoice between them," van den Bergh said. He added that there have already been over 500.000 invoices published via yuki on the BSV blockchain.
There we go with a large-scale adoption of Bitcoin SV.
Van den Bergh's solution for yuki is exactly what famous economist and writer George Gilder talked about in his keynote speech at the CoinGeek conference in New York:
"Bitcoin SV now has more transactions and more activity than BTC (…) What makes Satoshi's blockchain so superior to all the others is: it has blasted away the limits!" Gilder said and called BSV the epitome of the information economy.
Watch CoinGeek New York 2021 Day 2 here:
New to blockchain? Check out CoinGeek's Blockchain for Beginners section, the ultimate resource guide to learn more about blockchain technology.