Bitcoin is an electronic cash system that can be used for payments, but also for data processing in general. With the unique data processing capabilities of the BSV blockchain, businesses of all kinds can get more efficient in everything data-driven.
At the BSV Global Blockchain Convention in Dubai, a panel of four experts and entrepreneurs came together to discuss how blockchain re-invents business as a whole. The panel was moderated by Patrick Prinz, CEO of Monetix and Managing Director at BSV Blockchain Association. The panelists include: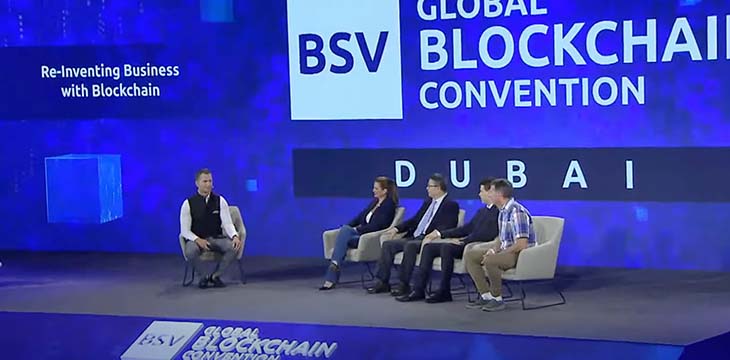 Enterprise data processing: Shared ledger and Bitcoin as infrastructure
"Why do we have financial and general ledgers at all, the accounting systems per se? As they were developing in the 1980s, there were some theories out there that said: Why can't we in a shared database world bring together the financial data that we need and produce the perspectives that people need? The problem behind that is machine capacity. It takes a lot to bring all that data together, and do everything that we need to (…). The legacy systems are very efficient, but they are not open to a lot of change," Twitchell said.
Blockchain attracted Twitchell because of its opportunity to share ledgers in the enterprise space, which changes the economics of the current database situation. With sharealedger.org, Twitchell created a non-profit organization that invites anyone to discuss shared ledger technologies to determine their benefits, costs, and execution.
According to Twitchell, the BSV blockchain is a perfect fit because of its enterprise focus and efficiency. The efficiency comes with the ultra low-cost transaction fees on Bitcoin SV.
"I think it is a very important message that I want the audience to take away: The BSV blockchain is infrastructure, is technology, so it should be about efficiency," Prinz commented concerning Twitchell's statements.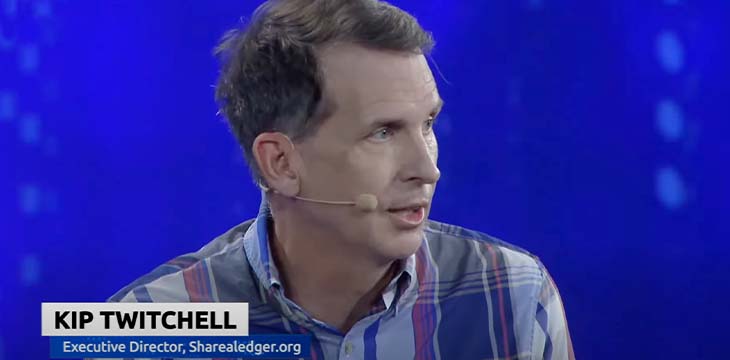 Accounting is becoming ultra-efficient by utilizing the BSV blockchain
The re-invention of businesses with the BSV blockchain does not only come down to low cost and fast transactions. It is not an exaggeration to state that the whole accounting industry is being disrupted by the BSV blockchain right now. At the BSV Global Blockchain Convention, we heard of mintBlue's invoice processing solutions, as well as the Bitcoin-driven invoice management by InvoiceMate.
At the panel, Sunde introduced Abendum, a company that utilizes the BSV blockchain to revolutionize accounting. "In one sentence, triple-entry accounting is a way to extract the current accounting ledgers onto the blockchain and make them verifiable. This way auditors can have all the evidence on the chain and that will make their life much easier", Sunde said.
A year ago at the CoinGeek Conference in Zurich, Sunde presented Abendum for the first time as a Bitcoin-based triple-entry accounting firm and joined a panel that discussed the evolution of accounting from single-entry to triple-entry accounting. Interestingly, Bitcoin inventor Dr. Craig Wright was an accountant himself and discussed Bitcoin and accounting with us in detail, as can be seen here.
Dr. Wright pointed out that Bitcoin, as in the BSV blockchain, could make accounting much more secure and efficient at the same time. So with Abendum, Sunde is set to bring Bitcoin creator Dr. Wright's vision of Bitcoin as an accounting ledger and data processing tool to life.
Furthermore, Sunde announced that Abendum has recently been working with the Norwegian financial regulator concerning auditing solutions with the BSV blockchain that are ISO-standard compliant.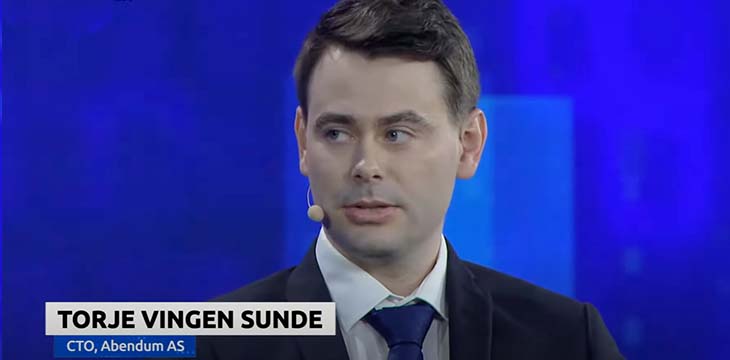 Moderator Prinz then asked a good question to the panel: Is there any industry or business area that will not be impacted by the blockchain as a data processing tool? The panelists went silent for a second.
Virtual firms as a product, but in need of a shared ledger
Gao gave a quick glimpse into his work at Toolots Inc., an e-commerce platform that enables manufacturers to create virtual companies. With Toolots' virtual firm product, companies no longer have to introduce a middle man like a distributor to act cross-borders. Gao compares this virtual firm product with virtual machines that are used to emulate computer programs. The more than 1,000 virtual firms managed by Toolots need a shared ledger, which is possible to implement with the BSV blockchain, Gao explained.
ZeMing M. Gao became well-known within the Bitcoin SV sphere with his remarkable articles concerning the economic aspects of the BSV blockchain—the written works of Gao are published on his own website, on CoinGeek, and in the book "Bitcoin and Beyond." Interestingly, Gao was first introduced to BTC, but could not resonate with BTC's anti-government ideology. Later on, Gao recognized that Bitcoin SV is the original Bitcoin, works within existing laws, and is a perfect data and payment processing tool, which eventually caught Gao's full attention.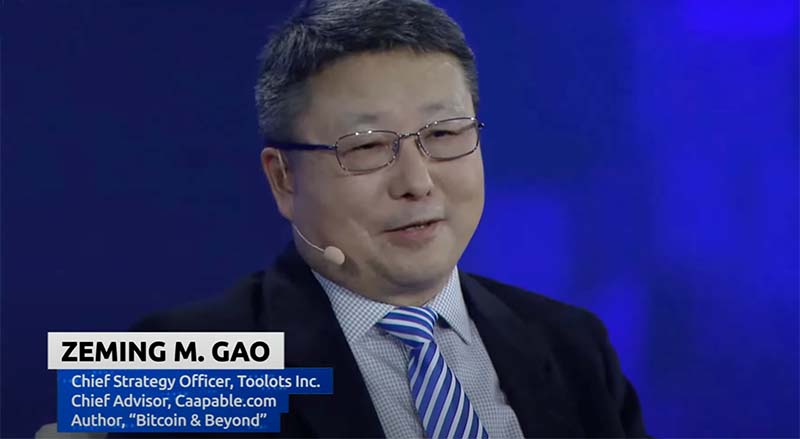 According to Barany, many entrepreneurs and investors are looking at blockchain as a topic and tool. Still, so far, no blockchain project was fast enough, low cost enough, or professional enough for them to actually utilize it.
"BSV's technology is solid," Barany said. "I don't know what it is about the BSV community, but what I've learned is that they are welcoming, and once they open their doors to their companies, you become a part of that community and start developing together," she said.
BSV blockchain for data integrity and users in full control of their data
Barany is convinced that the next few years will be extremely exciting as the BSV blockchain opens up new opportunities for enterprises to create never seen before business models. For Barany and her businesses, data integrity is key. As with the dating platform Clear Sparrow, Barany and her team are handling confidential information of the customers, such as health records, identities, and criminal records.
According to Barany, the BSV blockchain allows the user to be at the center of the data processing. With that, companies can pay users directly for their data, while the users remain in full control concerning the extent of the data that is shared.
"If we make money, they make money. And that is a fair economy," Barany said. Clear Sparrow's concept is in line with Dr. Wright's vision to replace the inefficient and intransparent business model of the current Silicon Valley internet with a BSV blockchain-driven internet. Prinz rightly added that users are being held hostage by platforms since users currently do not control their own online data.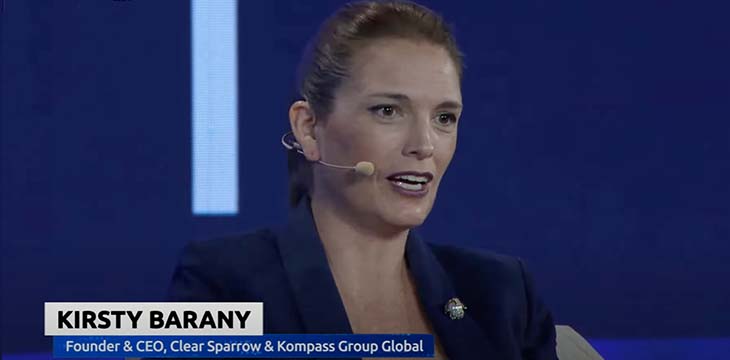 BSV blockchain as a technology shift for enterprises
The panel also discussed the adoption curve of blockchain utilization in various industries. As Kip pointed out, there is no straightforward way to a full adoption right away. It needs a migration path first. Sunde sees a lot of distractions for businesses by the old systems that are being used, which at the same time offers him and Abendum great opportunities to step into the gap in the market.
Gao said he and his team have no final timeline set for mass adoption to occur, but enterprise adoption and even consumer adoption of blockchain technology have obstacles to overcome due to misconceptions.
"There are few times in your life where something will come up—a technology, a shift—that will open new doors. And I think we are in the middle of it right now," Barany said, encouraging entrepreneurs to embrace the unique moment that the original Bitcoin, as in the BSV blockchain, creates.
Watch the BSV Global Blockchain Convention Dubai 2022 Day 1 here:
Watch the BSV Global Blockchain Convention Dubai 2022 Day 2 here:
Watch the BSV Global Blockchain Convention Dubai 2022 Day 3 here:
New to blockchain? Check out CoinGeek's Blockchain for Beginners section, the ultimate resource guide to learn more about blockchain technology.