Invoices are the most common business documents globally, and yet, businesses, small and large, still face a myriad of challenges in invoice management. Muhammad Anjum believes that blockchain technology can change this, and as he shared on the second day of the BSV Global Blockchain Convention, he's doing it all on the massively scaling BSV blockchain.
Anjum is the chief mate at InvoiceMate, an invoice management company that serves a client's needs all the way from invoice generation to settlement and recording. In his presentation, Anjum, who is also the head of the BSV Hub in Dubai, talked about the challenges that businesses face with their invoices, how he's solving them, and his big ambitions for the future.
As simple a document as an invoice is, it's critical for any business. Despite this, challenges abound, including duplication, invoice loss or damage, insecurities in the review and approval processes, and a lot of fraud. This makes even big financial institutions shy away from invoice financing, lucrative as it is.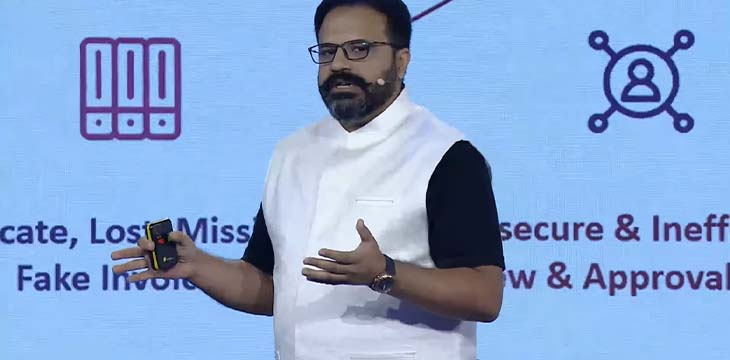 InvoiceMate puts every process of the invoice journey on chain, from invoice creation to payment and financing. Each step of the invoice journey gets assigned a unique digital fingerprint through NFTs, and it's all put on the BSV blockchain.
Anjum told the audience that he chose the BSV blockchain "because for a real use case, you need a real blockchain." BSV has proven it can handle vast amounts of data while keeping the transaction fees low, unlike some like Solana, which has buckled under pressure, and others like Ethereum, where fees skyrocket when usage increases. Anjum understands just how far ahead BSV is, having started with private ledgers before migrating to BSV.
"[BSV] is helping businesses to do things on blockchain at low cost, high throughput, and above all, its energy-efficient proof of work blockchain is the best," he said.
For the past year, InvoiceMate has been focused on business clients, many of them corporations. However, it has now developed a plug-and-play lite version for its retail clients, which anyone can access through an app and start invoicing on the blockchain.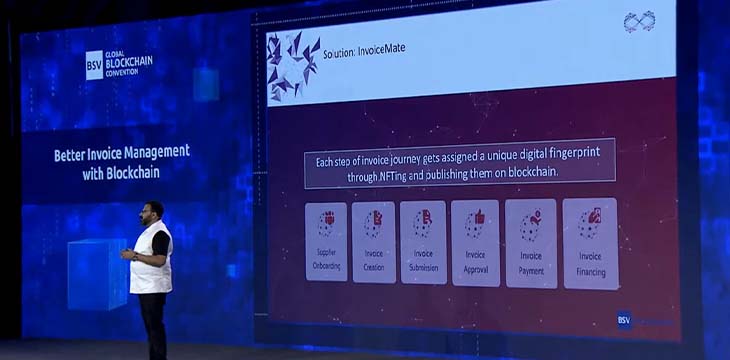 Know your invoice and why it matters
In the business world, know-your-customer and know-your-business are critical to the compliance requirements. Anjum has introduced know-your-invoice (KYI), and as he told the audience, it's just as uniquely important in today's world.
Dealing with invoices is tricky for most financial institutions as they can be altered, manipulated, and even under or overcharged. But with all the invoicing details available on the blockchain, "you get the complete visibility in real-time without any fraud."
Aside from eradicating fraud, KYI allows users to risk profile their clients. One can easily pull up all invoicing and payment details tied to a user as the blockchain is immutable. KYI also affords users real-time settlement and tracking of transactions as well as process automation that eventually makes the process paperless and cuts costs.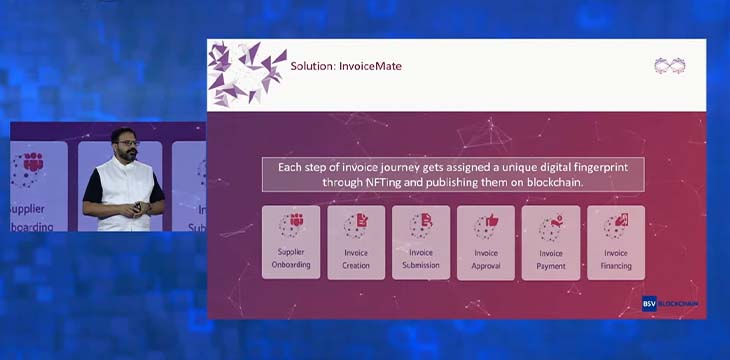 As an added bonus, InvoiceMate allows its users to source invoice financing from the digital asset sector, tapping into a $1 trillion market beyond the legacy banking system.
Born in Pakistan and now residing in Dubai, Anjum fully understands the Islamic payments and financial system—and it's much more stringent than anywhere else in the world, he said. Aside from observing the conventional financial laws, Islamic firms have to be Shariah compliant. InvoiceMate is building an ecosystem that provides liquidity to SMEs that can't get financing from traditional institutions, all while being shariah compliant, he said.
Anjum has big goals for InvoiceMate, he revealed. By the third quarter of the year, he intends to make the platform a full accounting system powered by the BSV blockchain and, by the end of next year, make it an enterprise resource planning (ERP) software company, all on-chain.
Watch the BSV Global Blockchain Convention Dubai 2022 Day 1 here:
Watch the BSV Global Blockchain Convention Dubai 2022 Day 2 here:
Watch the BSV Global Blockchain Convention Dubai 2022 Day 3 here:
New to Bitcoin? Check out CoinGeek's Bitcoin for Beginners section, the ultimate resource guide to learn more about Bitcoin—as originally envisioned by Satoshi Nakamoto—and blockchain.