TDXP is a derivatives trading platform built on Bitcoin SV. Users can access the site via their Money Button or RelayX wallets and immediately start trading with no sign-up or KYC required.
Out of many innovations the application has, perhaps the most disruptive is waiving the need to deposit funds to start trading. TDXP only takes custody upon the execution of the trade and leverages the instant transaction capability of Bitcoin to do so. Gone is the need to wait multiple business days on a traditional broker or tens of confirmations of some alternative blockchain for a cryptocurrency exchange to execute a trade.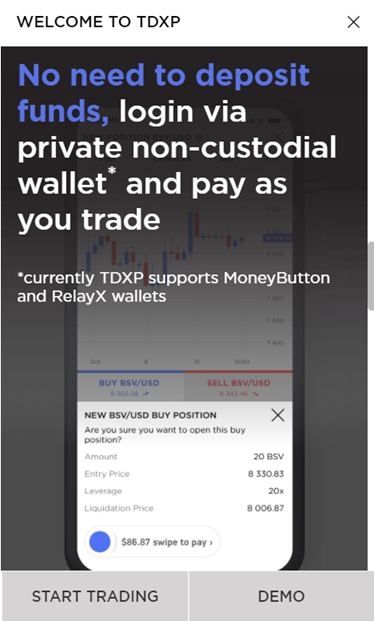 Conversely, withdrawals from trades are also executed instantly. If one wishes to take profits from an open trade the value is immediately sent back to the user's wallet. Furthermore, TDXP leverages the micropayment feature of Bitcoin by allowing customers to make a trade for as little as a penny!
Thanks to the microtransaction abilities of #bitcoin - newbies are able to take the extraordinary measure of using @money_button & @relayxio on @TDXPapp to place a $0.01 trading position.

Minimise your risk at https://t.co/Hev8K47MRA

$0.01 😉$bsv $btc #trading pic.twitter.com/LTSBZZVynN

— DXSapp (formerly TDXP) (@DXSapp) November 19, 2020
Imagine shorting BTC with 20x leverage for only $0.01.
Typically exchanges enforce deposit minimums pricing out many potential customers. Lowering the barrier to entry provides exposure to publicly traded markets for those with even with small amounts of Bitcoin.
Many markets are available on TDXP, including the major U.S. stock indices, precious metals, individual stocks, top cryptocurrencies, and forex. As a U.S. citizen and not being able to trade on the app, I still receive utility from its slick live feed of all the markets I am interested in.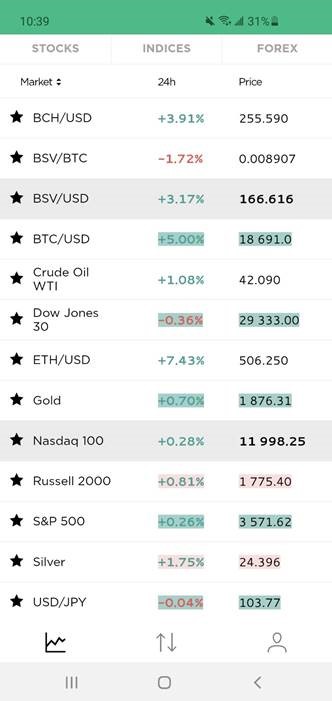 Just realized I can use @20275 / @TDXPapp as the go-to view for markets I've always wanted.

— Joshua Henslee (@cryptoAcorns) November 19, 2020
Each of the above features already make TDXP an impressive application but the most interesting feature of all is its liquidity mechanism. Investors can provide liquidity to the trading pool by paying from their MB or RelayX wallets.
Head over to https://t.co/jPGYvNaqy3 & have a look at our liquidity offer.

As a novel decentralised trading platform, we are offering liquidity investment. Easy to do, click on 'provide liquidity'

This isn't risk free however – dm me any questions please. pic.twitter.com/iCHltLVh0R

— DXSapp (formerly TDXP) (@DXSapp) November 10, 2020
The incentive for doing so is that these investors can earn from a percentage (3%) of the trading losses from TDXP every 8 hours. As a simple example, investors can make up to a 1000% (10x) return on an initial 1 BSV investment should TDXP scale as an exchange. As of 11/20, TDXP has already had over 1,270 BSV provided.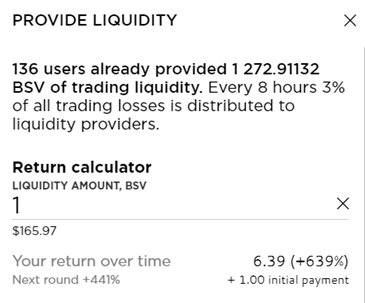 This pool of money is used to pay traders when they win and pay investors when they lose. Not only does this provide an incentive for investors to boost the exchange but establishes TDXP as a transparent exchange. Users can only provide liquidity via BSV—couple this with the fact that each trade entry and exit are recorded on-chain and anyone can validate the true trading volume and current pool amounts independently themselves from the ledger.
We know that most centralized cryptocurrency exchanges engage in wash trading, muddying the picture of a digital currencies' true trading volume. TDXP's accountable approach will give confidence to its investors and users of its true activity, helping them make more informed decisions. Of course, accountability works both ways—investors could choose to pull their funds should TDXP's volume decline, threatening their ROI.
To bring more users in, TDXP could provide a simple feature to export and share trades on Twetch for example. Additionally, to give users more confidence in compliance they could build an export of trades to tax preparation software. Although since trades are on-chain anyone could build this function and sell for a fee…
Overall TDXP is an amazing application that truly understands the transparency, accountability and payment capabilities of Bitcoin. I am extremely impressed with what they have accomplished thus far and look forward to growth in the future.
See also: CoinGeek Live panel on The Future of Exchanges & Trading in a Tokenized World
New to Bitcoin? Check out CoinGeek's Bitcoin for Beginners section, the ultimate resource guide to learn more about Bitcoin—as originally envisioned by Satoshi Nakamoto—and blockchain.