Satoshi Block Dojo (SBD) is looking to grow the number of successful Bitcoin SV (BSV)-based startups as well as its own geographic footprint through a model that's both focused on and led by entrepreneurs.
On Tuesday, the BSV Global Blockchain Convention welcomed SBD chairman Craig Massey, who gave a presentation titled The Next Big Thing: Incubating Start-Ups on the BSV Blockchain. The London-based SBD has made it its mission to identify and nurture entrepreneurs looking to build market-changing BSV-based products and connect them with companies looking for solutions to their respective problems.
Massey was keen to differentiate SBD from "the usual Silicon Valley anodyne formulaic process in which they basically give you a desk, a few mentors and the best of good luck." Instead, the dozen entrepreneurs selected to participate in SBD's first 'cohort' were subjected to a "much more hands-on, much more intense" 12-week program that aims to put the teams on the right path from day one.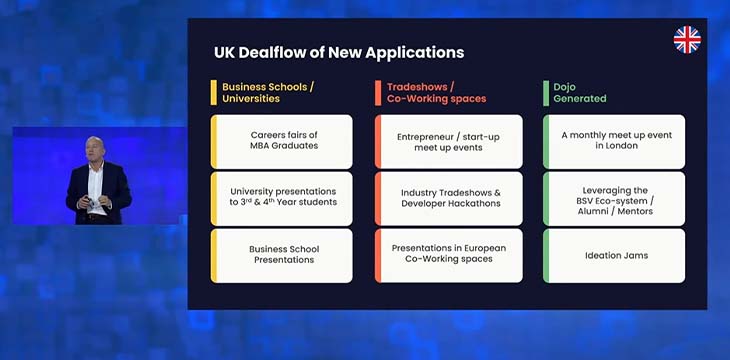 Massey notes that half of SBD's 12-person team—himself included—are successful entrepreneurs, meaning they "know the pain of how to start a business." Which is why one of the first steps they take is to conduct a Problem/Solution Fit, aka asking each cohort team if they're "building something someone's going to give a monkey's about." If a cohort team fails that test, "we will make them pivot." Should they fail to pivot, "they're out of the program."
Building on BSV is also a prerequisite for entry into a cohort. Fortunately, of the 476 serious applications that SBD has received to date, only one refused to switch to BSV, preferring (for whatever reason) to stick with Solana's buggy blockchain. See ya, wouldn't want to be ya…
A connection is made
Believing that feedback is essential to development, SBD aims to connect its cohort teams early on with potential first clients interested in their respective solutions. SBD also has a retinue of 109 mentors from which cohort teams can choose, along with an in-house UX/UI expert and financial modeling that determines whether a team is building a "mom-and-pop corner store or the next unicorn." There's also pitch practice to ensure teams know how to put their best foot forward when it comes to presenting their solution in the best possible light.
At the end of the program, by which point teams will have a working prototype (or 'minimum viable product'), SBD arrange three lunches at which teams can present their solutions to 145 investors. This is followed by a showcase event with an additional 200 investors, including 109 venture capitalists.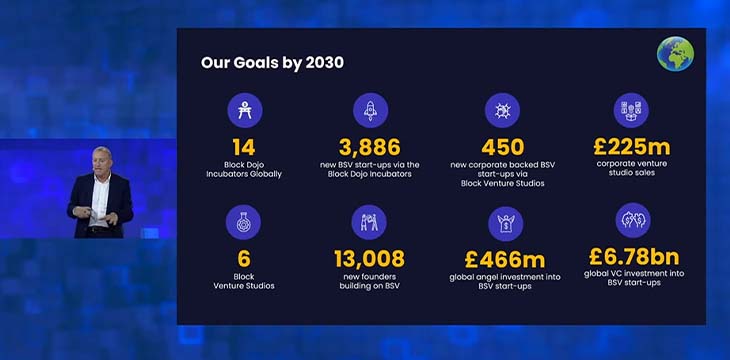 SBD aims to get each of its teams funded to the tune of £145,000, hopefully help connect them with a couple clients and then they're off and running. In another 10 months' time, assuming a team has hit a couple milestones, SBD helps line up their seed round.
SBD's current schedule involves three cohorts per year out of its U.K. branch, which graduated its first cohort this spring. To date, SBD has resulted in 18 companies being founded, of which seven are funded so far. To help investors track the companies' progress, SBD has launched Dojo Discover, which updates info on each team on a monthly basis.
Gone fishing
SBD goes hunting for cohort hopefuls by "fishing where the fish are," including MBA career fairs, with Massey claiming that MBA grads no longer look to hop on "that corporate treadmill" at companies such as Accenture or PwC. Instead, these grads want to start their own companies and are increasingly aware that "blockchain is the big game in town."
SBD took this MBA focus one step further with its Ideation Jam, in which Massey & Co. identified 12 industry verticals—logistics, insurance, automotive, gaming, etc.—that stood to benefit more from blockchain than others. Picking insurance as a starter, SBD approached companies to ask what problems kept their industry up at night, then went to blockchain research outfit nChain to inquire if they had any solutions to these problems.
SBD then went to MBA programs at higher education hubs such as University College London and Hult International Business School, inquiring as to whether they were interested in putting together some teams to compete in a 'commercial hackathon.' The event was such a success in identifying talent in the raw that SBD now plans to do six Jams per year.
One of the insurance companies that participated in the initial Jam enjoyed the process so much that they invited SBD to conduct something similar on an exclusive basis at their company. The result convinced SBD to develop Block Venture Studio, an "in-house entrepreneurial team for corporates that builds start-ups to rapidly experiment, iterate and scale." Participating corporates are entitled to 50% of any companies that emerge from this process, which plans to launch in June.
I see palm trees in your future…
Not content to limit itself to U.K.-based talent, SBD has welcomed teams from as far afield as Poland and Lithuania. The company's international ambitions also led to the development of its first overseas Dojo in Miami, which aims to welcome its first cohort in September. SBD is looking to raise £3m to assist its Miami launch, with 30% of the Miami operation up for grabs (plus a 3% stake in each company that participates in the Miami cohort).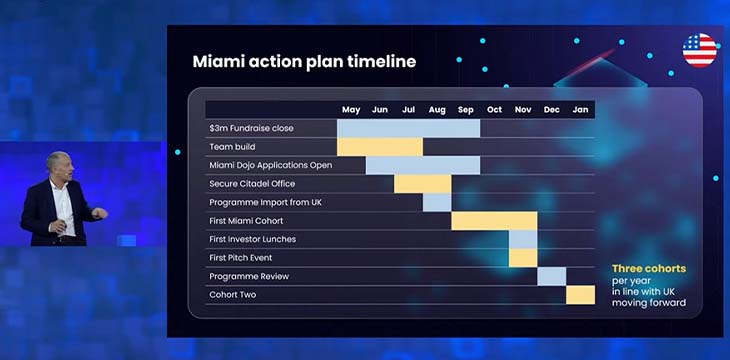 SBD hopes to continue its international expansion with a Southeast Asian dojo early in 2023. SBD has set an "ambitious but achievable" goal of establishing 14 incubators and six Block Venture studios by 2030. By that time, SBD hopes to have produced nearly 4,000 new start-ups and over 13,000 new founders building on BSV.
SBD says it's keen to avoid the traditional 'circular economy' route (aka token launches), aiming instead to bring new money into the sector. SBD notes that Techstars' research suggests that for every 100 new companies, one is a unicorn. By those metrics, SBD expects to produce at least one unicorn within three years.
Massey was quick to praise the BSV ecosystem for being "fantastically generous to the Dojo," noting that Dr. Craig Wright has visited the U.K. dojo several times. Massey added that SBD's model is proof of "what you can do when you put together a team of entrepreneurs. We can crack on and make things happen dramatically."
Watch the BSV Global Blockchain Convention Dubai 2022 Day 1 here:
New to blockchain? Check out CoinGeek's Blockchain for Beginners section, the ultimate resource guide to learn more about blockchain technology.