On April 13, 2022, blockchain entrepreneur Aleksandra Los hosted Polish Blockchain Association Gaming & Blockchain webinar discussing how blockchain is transforming the gaming industry.
Panelists included Adam Kling from FYX Gaming, Joe DePinto from Haste Arcade, Adam Paz from Sabre Games, and Michał Dąbrowski from Elympics. Read a summary of the insightful discussion below.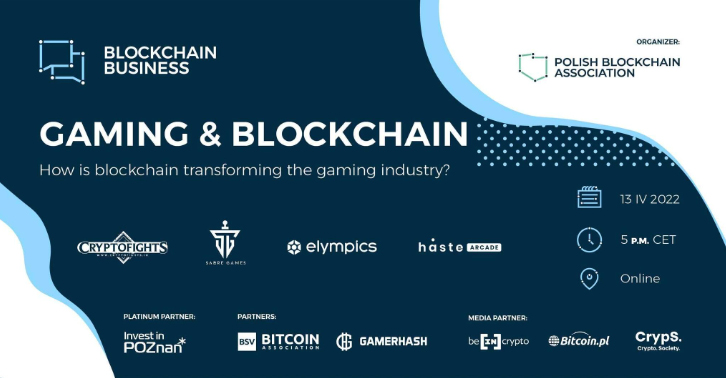 Introducing Joe De Pinto and Haste Arcade
Joe DePinto is a former professional baseball player and entrepreneur behind Haste Arcade. It's the world's first Instant Leaderboard Payout system offering arcade-style games on the BSV blockchain.
DePinto says that Haste Arcade is focused on three cool elements of blockchain technology; microtransactions, instant payouts, and NFTs. He shows gamers how Haste Arcade's Instant Leaderboard Payout technology can allow them to earn recurring payouts for finishing in high positions on leaderboards. This is only possible because of the ability to split payouts thanks to Bitcoin's micropayment technology.
Where will this go in the future? DePinto sees implementations in eSports and real money games of all kinds. He also sees the potential to revolutionize how loyalty programs work.
Haste Arcade also makes use of NFTs. For example, players can mint player cards, get discounts, and even sell their NFTs on an in-house market.
There's also the Haste token (HST). DePinto likens these to tickets in a traditional arcade. You accumulate them as you play games, and you can trade them in for prizes at the end of your session.
Lastly, there's the Haste SDK. This allows developers to develop and offer games on the arcade in an easy and simple way.
Adam Kling talks CryptoFights and more
BSVers probably already know who Adam Kling is. He's the main man behind the trailblazing BSV game CryptoFights. Kling describes himself as a gamer and entrepreneur. He discovered Bitcoin in 2013 but didn't figure out he could create decentralized applications using smart contracts until 2017.
Kling talks about how he and his team tried to develop CryptoFights on Ethereum, but they had to abandon that blockchain due to a poor user experience. He says the costs and scalability of blockchains like Ethereum hold back innovation in blockchain gaming. "We just saw a dead end with these systems," Kling says. He feels vindicated by the lack of gaming development on these blockchains, so he made the decision to move over to BSV.
Why put games on a blockchain at all? Kling describes proof of gaming as one reason. The need to trust big companies like Blizzard Entertainment can be eliminated by using public blockchains like Bitcoin. Every game move can be etched into the public ledger in an immutable way, enhancing the integrity of eSports across the world.
Speaking more about CryptoFights itself, Kling discusses the challenges and victories so far. Due to the behind-the-scenes complexities involved, the team has had to continually upgrade its infrastructure and tweak the game.
Looking to the future, Kling discusses how FYX Gaming is creating a development platform for new games on the blockchain. He also sees esports as an area ripe for disruption and innovation. Unifying the industry and having a database to underpin all of the data are some of the opportunities he sees for the esports industry. 
"It's a big vision, but this is how gaming will be innovated in the long run," Kling says.
Michał Dąbrowski discusses Elympics and player incentives
Dąbrowski opens with a more philosophical question, "why do we play games?" he asks. Fun is one reason, but he also believes that gratification and excellence are others. He believes that gamers crave rewards, want to build skills, and genuinely want to get better as they play.
Looking back at the evolution of the current free-to-play model, Michał sees how players have gradually had to spend less money to get the gratification they seek. He believes this model will be disrupted by blockchain games and the play-to-earn model. This model adds earning money to the other rewards players receive for gaming currently.
Right now, Dąbrowski says that the barriers to entry, such as the lack of player-friendly wallets and the stigma associated with digital currencies, are the main obstacles to the adoption of the play-to-earn model. However, these are gradually giving way to mass adoption.
What's in it for developers? Dąbrowski notes that one element is the desire to create something new that isn't possible with traditional models. Game engines, networking and security, tokenomics, and gameplay are all elements that developers must consider when developing blockchain-based play-to-earn games.
Dąbrowski also sees the potential for the play-to-earn model to change player behavior. He warns that the ability to earn could incentivize players to cheat in an attempt to win. Delivering a game with exploits in it could be disastrous for developers, he says.
However, the transparency of blockchain technology can make behavior like cheating easier to detect. Dąbrowski's company Elympics also has a secure development platform so that developers can eliminate many of the risks associated with developing play-to-earn games.
Adam Paz from Sabre Games speaks
Adam Paz and his associate, Jason Dooney from Sabre Games, talk about their game Legends at War. They believe that ownership is a huge factor in how games will work in blockchain gaming. For example, earning unique NFTs or digital currencies through in-game actions and events allow players to experience the benefits of asset ownership.
Speaking of the hurdles ahead, the Sabre Games team sees a few but believes they can be overcome. One of those is the equitable dream of Web3 versus access only being available to a privileged few, something which this team plans to tackle to make sure everyone has access to Web3 games.
Describing Legends at War, Sabre's flagship MMO real-time strategy game, Paz explains how it is both play-to-earn and free-to-play. The team has poured lots of effort into the game, right down to making sure the bricks, clothes, and weapons in the game are historically accurate. Each battle can include up to 100 players, incentivizing players to forge alliances and clans to be successful.
Legends of War utilizes tokens like $LAW and $GOLD, NFTs, and communities. As well as the gamification made possible through tokens and in-game NFTs, the Sabre Games team believes that community is at the heart of what makes this game unique.
What about the future of blockchain gaming? They see a world where players will have a say in how games evolve (through governance) and that this will ensure games evolve in the interests of the players. Likewise, ownership of in-game assets will play a huge role in the blockchain games of the future.
Watch: CoinGeek New York panel, eSports & Blockchain: The Next Level of Professional Gaming
New to blockchain? Check out CoinGeek's Blockchain for Beginners section, the ultimate resource guide to learn more about blockchain technology.