Maxthon have continued on their quest to disrupt the existing internet and browser business models whilst seeking to make it a better experience for the users. Jeff Chen, founder and CEO of Maxthon Ltd., spoke at CoinGeek Live on how his company seeks to give users better control over their own data and identity as well as the ability to monetize this information.
Building a better internet
With Maxthon 6 being the first browser powered by Bitcoin, they will be releasing some exciting features to facilitate their disruptive vision.
"With the great properties in Bitcoin like immutability and traceability, ultimately we get an internet that encourages freedom and honesty," Chen said.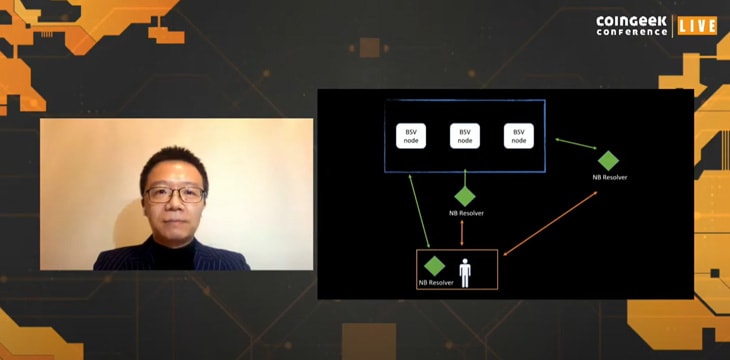 Maxthon has found a way to provide clear ownership of all data to the users instead of companies which allows the applications to compete to offer the best services. This gives the users the ability to seamlessly transfer their information from one service provider to another service provider.
To facilitate this, Maxthon have released NBDomain—a decentralized domain service that can act as a Global ID.
What is NBDomain?
NBDomain seeks to disrupt the traditional domain services which is subscription based and uses an IP Address. The drawbacks of these traditional domain services are that they are not owned by the users who are required to continue to pay a service fee in order to keep the domain, and once you stop paying you no longer have any rights to the domain.
NBDomain moves away from the subscription-based model and becomes an asset owned by the user who has full control of ownership until they decide to sell it.
The other noticeable difference is instead of the domain connecting to an IP Address, it can connect to any blockchain content or a simple worded sentence.

Maxthon 6 will have native support for NBDomain protocol and will also be extended to be compatible with other popular browsers such as Chrome and Firefox.
Creating the world's first one character top-level domain .B
Chen announced that NBDomain would be implementing the world's first one character TLD .B
If you have trademarks, you can reserve your ".b" domains before anyone else, at https://t.co/14rqXPpYXD

— NBdomain (@NBdomain) October 1, 2020
Sunrise registrations to ownership of .B has opened up and trademark owners have an early opportunity to reserve their .B NBdomain name here before the official launch.
"At NBDomain, we encourage build culture, protect brands, recognize ownership, we also love competition, capitalism and free market," Chen said.
VBox as a blockchain identity manager and built-in wallet
NBDomain ownership can also be used as a blockchain identity embedded on the blockchain privacy, with each NBDomain associated with a public key. This will be managed with the built in blockchain identity manager VBox.
The public key can be used to identify the owner without disclosing the privacy information like e-mail address or phone numbers which is normally required to register and tie back to an identity. A user can have several blockchain identities that can be identified by the public and private key cryptography pair.
VBox also acts as a wallet that facilitates ways to make payments to the simple NBDomain names without the need to remember long addresses. VPoints in order to provide a better user experience. The conversion of 1VPoint is equivalent to 100 satoshi.
The way we use the internet will never be the same
With all the exciting developments and shift led by the Maxthon team, one thing is for sure is there is change happening in the internet and browser space. If their approach is successful, then the users will gravitate towards this and other competing browsers will follow suit. 
Chen finished his talk with the following encouraging words:
"The only thing we know is we still know nothing. So, we will keep learning and keep building. The future is bright, let's build together."
Watch Jeff Chen's presentation, New Browsers & Domain Systems for a Bitcoin SV-Powered Internet.
New to Bitcoin? Check out CoinGeek's Bitcoin for Beginners section, the ultimate resource guide to learn more about Bitcoin—as originally envisioned by Satoshi Nakamoto—and blockchain.