It's not a great time for Michael Saylor's MicroStrategy (NASDAQ: MSTR). The company that bet big time on a lasting BTC bull run is reeling as the exact opposite of that happens. On an earnings call this week, CFO Phong Le reportedly revealed MicroStrategy had missed its earnings predictions by almost 800% and was also facing impairment expenses of over US$170 million on its digital asset holdings.
BREAKING: #MicroStrategy shares plunge after missing earnings by 794.67%, one of the largest misses in history. The company also faces digital asset impairment losses of $170.1M from #Bitcoin pic.twitter.com/VmPgdYKr7g

— WhaleWire (@WhaleWire) May 3, 2022
The company said it held around 129,218 BTC that it had acquired at an aggregate cost of US$4 billion. That stash is now worth $2.9 billion. The total value of MicroStrategy's BTC holdings was US$5.9 billion at the end of March 2022. That still seems like a lot, but not when their losses are also in the billions.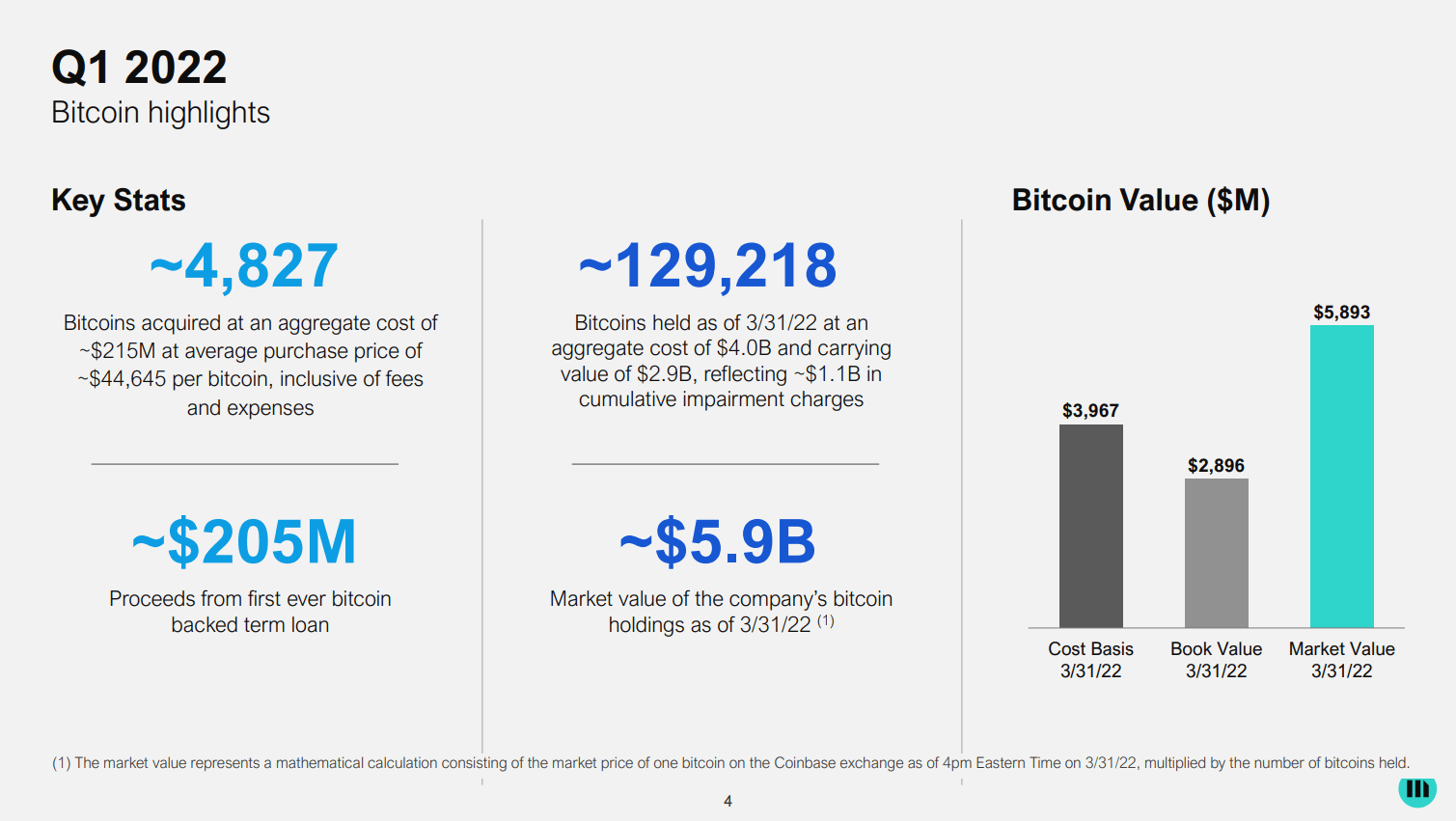 There's also a potential time bomb waiting to go off. Le also revealed on the earnings call that should BTC drop to US$24,000, it would trigger a margin call. Given the size of MicroStrategy's BTC holdings and its high profile in that ecosystem, that would be a tragedy for both the firm, and BTC itself.
MicroStrategy's new CFO just said that $24,000 per $BTC will trigger a margin call for $MSTR on their #earnings call. This will 100% happen.

— WhaleWire (@WhaleWire) May 3, 2022
MicroStrategy has become synonymous with BTC investment, to the point where some wonder if that is the company's real business. Its share price is likely tied to BTC value, and information on its BTC holdings came before other business activities in its earnings presentation. Ostensibly an enterprise software provider, its name had fallen off the technology industry radar before CEO and founder Michael Saylor suddenly became a BTC bull in late 2020. In years past, Saylor had been more of a Bitcoin skeptic.
His company also develops enterprise analytics, embedded analytics, and cloud transition software. It also revealed a non-GAAP operating loss (separate from digital asset impairment charges) of US155.6 million.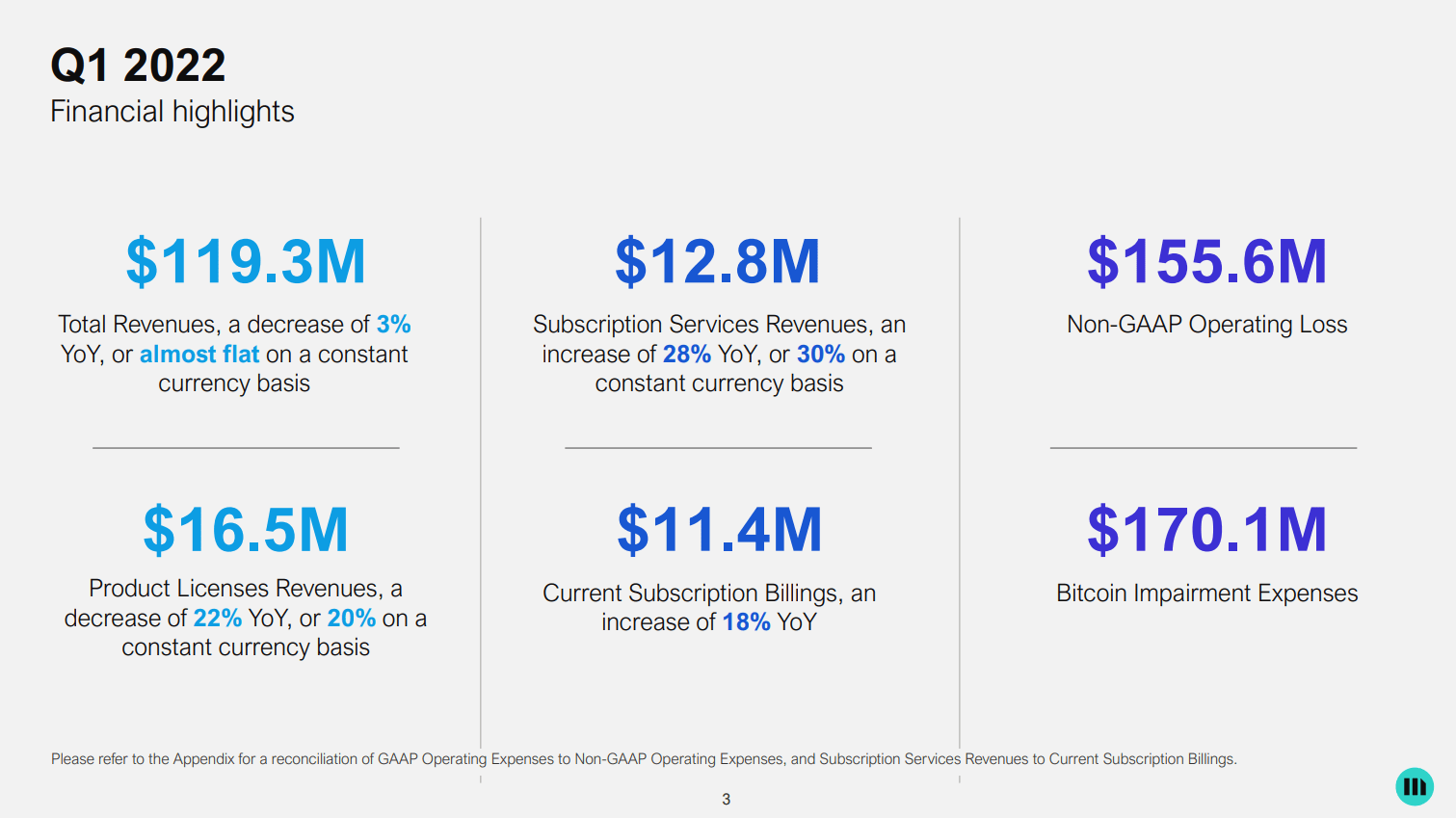 CFO Le said in January 2022 that, "Our strategy with Bitcoin has been to buy and hold, so to the extent we have excess cash flows or we find other ways to raise money, we continue to put it into Bitcoin."
It's not unusual then to see Saylor appearing at every BTC conference and news channel to discuss the price, with the expected predictions of a global economy with everyone using (high-value) BTC. That economy hasn't yet appeared, mostly due to BTC's "HODL" mentality that discourages spending and a network that processes around 4-5 transactions per second worldwide. Saylor's ecstatic predictions often ring hollow to those who aren't already BTC bagholders themselves.
Saylor's MicroStrategy has also joined the COPA group currently suing Dr. Craig S. Wright over copyright to the 2009 Bitcoin white paper (and likely ownership of Bitcoin's transaction database and other key IP). While COPA's stated motive is to keep blockchain intellectual property open for all its members to use, those involved—and particularly Saylor/MicroStrategy—have a financial incentive to ensure no other person or project threatens BTC's dominance in the public eye.
Should Dr. Wright win the COPA case, and/or others that establish him as the owner of Satoshi Nakamoto's work and BSV as the only true Bitcoin, BTC would collapse. BTC may not even be able to call itself "Bitcoin" much longer. Dr. Wright has filed a lawsuit against cryptocurrency exchanges Kraken and Coinbase (NASDAQ: COIN) stating the firms are passing off fake Bitcoin BTC as the real Bitcoin which actually uses the ticker symbol BSV. Both Kraken and Coinbase are members of COPA alongside MicroStrategy.
The benefit of a real digital economy over speculative trading
In September 2021, we reported that MicroStrategy executives had sold off close to US$175 million of their company stock, when BTC's unit price was around US$52,000. Although it soared again to hit $67,000 just a couple of months after that, it has since plummeted. BTC currently trades around the $39,000 mark.
But the BSV unit price hasn't done that well in the past year either, some will say. What of all the projects that see BSV as the only asset worth holding?
Well, that's the advantage of being in an ecosystem that builds actual value, rather than relying too heavily on its asset's unit price to stay afloat. BSV's goal is a digital economy based on the value of data itself, not just the network's base asset. It's an economy where users can create and gain value from the network without ever holding BSV units—or even knowing they exist.
BSV's unbounded scaling capacity, which can process microtransactions or regular financial transactions at a tiny fraction of a U.S. cent each, is a far more appropriate foundation for building a digital economy. Its network also handles contracts and tokenized assets, meaning it can process data completely unrelated to finance or speculative trading.
BTC's ecosystem is based almost entirely on speculative trading. "Investors" are basically placing a bet that BTC's unit price will go up forever. Although that strategy has benefited those with the ability to buy and hold for several years at a time, it's no guarantee bull runs will reoccur forever. For that to happen, you need fundamentals—which BSV has, and BTC doesn't.
Watch: CoinGeek New York panel, BSV vs. Other Blockchains: Differences that Matter for Developers & Businesses
New to Bitcoin? Check out CoinGeek's Bitcoin for Beginners section, the ultimate resource guide to learn more about Bitcoin—as originally envisioned by Satoshi Nakamoto—and blockchain.