Here are a few updates from the Kleiman v Wright trial in Miami, in case you got distracted by the serious stuff:
1. On Monday morning, Judge Beth Bloom was delighted that the juror who had been sick, leading to an early finish the previous week, was feeling better and that the case could continue. Kurt Wuckert Jr wasn't convinced, reporting on his livestream that the juror was doing some "serious head rubbing." By Friday, he said, she was "doing the full body hug and rotating in her chair", looking like "someone who could use a padded room." That might have just been boredom of course. According to Patrick Thompson, on the livestream with Kurt, on Friday the judge led a courtroom singsong to celebrate the birthday of one of the other jurors, and that was "one of the most exciting parts of the day."
2. The judge's sunny mood was spoiled by Dr. Craig Wright's bad language—such as in his description of an early draft of the Bitcoin white paper: "I, like many academics, put in too much …I'm sorry, I'm Australian, but the only word I can think of is wankery." He said that to succeed in business you have to work hard or, as he put it, "someone has to pull his finger out of his arse." Judge Bloom said she'd put up with "the expletives and the gutter language" because it was "somewhat consistent with the evidence," meaning there were similar expressions in the emails that were being quoted. But now, she said, it had to stop, instantly dismissing Dr. Wright's excuse that he had only been quoting other people.
3. Kurt has been finding it a tough week. Monday afternoon was like "getting dragged over a cheese grater for three hours" while lawyer for plaintiff Vel Freedman questioned Dr Wright. Tuesday was "another drama-filled cacophony of madness." And Wednesday opened with "a bombshell …a terrifying start to the day." And what was that? Mr. Freedman had told the judge there was no way they'd get the case wrapped up before Thanksgiving. "The room went silent," said Kurt, "there was a gasp." But Craig's lawyer, Amanda McGovern, insisted that they could stay on schedule. Kurt quickly recovered his poise: "That was a scary one, but I think it got everyone's butts in gear."
4. Dr Wright threw in an intriguing aside: he said he had made a small contribution to the movie Ready Player One. "One of the games they mention was actually one I designed, or helped design, in the 80s. But that's a side thing." Maybe, but we need to know more. Donkey Kong? Centipede? Frogger?
5. The plaintiff's lawyers made a point about an email to Craig which looked like it was from Dave Kleiman coming from an IP address in Australia, not the States. Their conclusion: it was sent by Craig to himself. Challenging that, Craig's lawyer Andres Rivero asked innocently whether Ira's team "realize that Australia is a continent?" He pointed out that the IP address arguably narrowed the suspects down to about 19 million (ignoring the possible use of a VPN to disguise a location).
6. Q: Which word did defence attorney Andres Rivero wake up in the middle of Monday night to look up in two dictionaries? A: Forgery. The next morning Mr. Rivero asked Judge Bloom to rule that "forgery" could not continue to be used by one of the plaintiff's witnesses about disputed emails because it implied fraudulent intent, rather than simply "alteration, modification, manipulation" which is what the witness meant. Judge Bloom turned down the request, explaining that "whether the description is a forgery, a fake, counterfeit, phony, sham, whatever the description is, the testimony is that it was certainly altered, modified and manipulated. So, I think we're mincing words."
7. The Q&A in Kurt's livestream on Tuesday turned to pillow talk as several members of his audience were apparently more interested in the hotel room behind him than the weighty legal matters under discussion. As Kurt explained, there had been questions about "the pillow situation on the bed." In fact, the situation turned out to be just exactly what you'd expect in a fancy hotel. A small cushion, or "decorative pillow" as Kurt described it, was indeed the object that viewers had spotted in the background. Kurt gave his audience a closeup to satisfy any remaining curiosity. What next? A look at the free shower cap in the bathroom?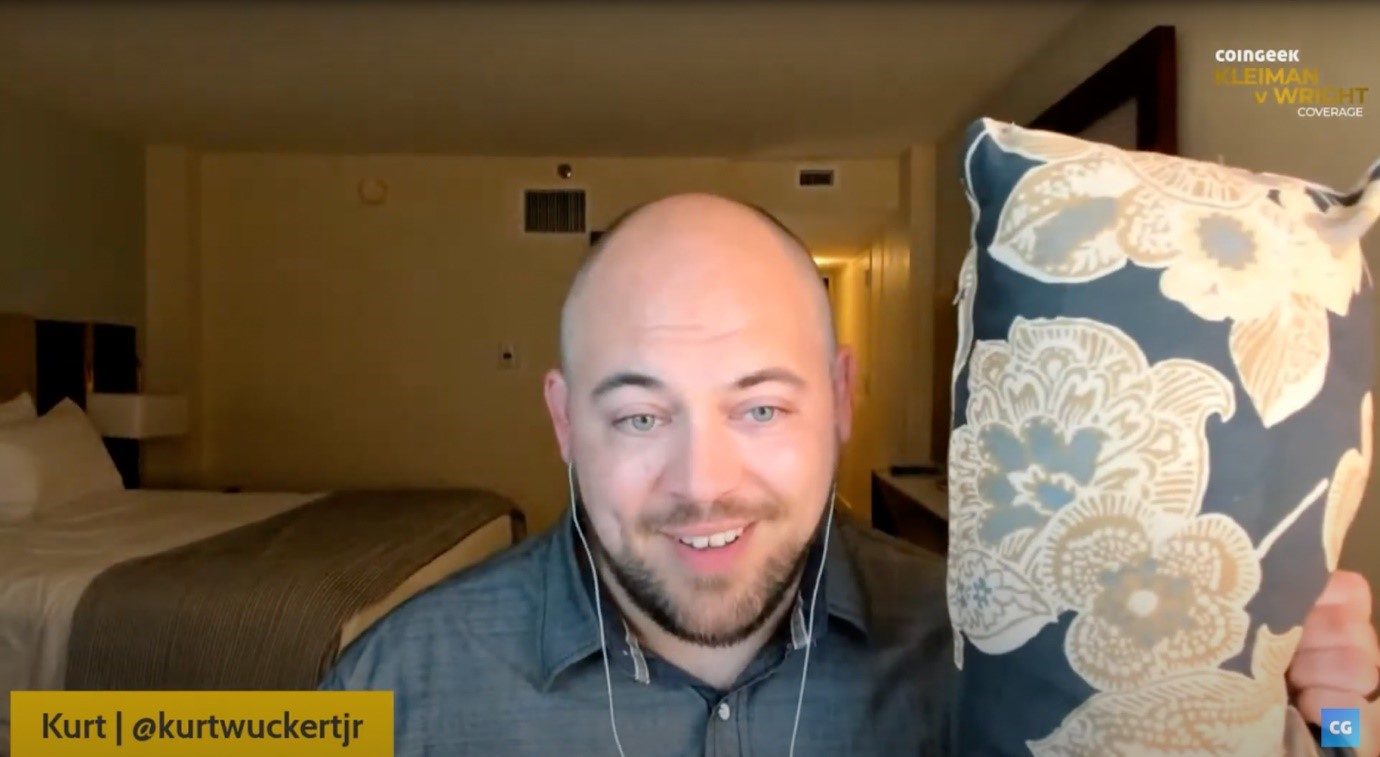 8. "It's a tingling feeling through your body. It's electric," enthused Dr. Wright. Before the judge had time to wonder whether he was straying back into areas not suitable for a family audience, he explained that he was talking about the excitement that he and other entrepreneurs get from watching a new business grow.
9. A time to gain, a time to lose
A time to rend, a time to sew
A time for love, a time for hate
A time for peace, I swear it's not too late!
Dave Kleiman would have had plenty of time to reflect on those words from the Byrds' 1965 hit Turn, Turn, Turn, according to defence witness Dr. Stewart MacIntyre, an infectious disease expert who was one of his doctors. Mr. Kleiman had to spend most of the last years of his life in hospital, Dr. Macintyre said, and to prevent him getting bed sores, the nurses had to turn him over at regular intervals. To remind them when it was time, Turn, Turn, Turn was played over the hospital PA.
10. There were technical problems with a Zoom call to David Kuharcik, Dave Kleiman's former accountant. Patrick Thompson, on the livestream with Kurt, said that watching the lawyers trying to make Zoom work "you would think some people had never used a computer before." When the connection was finally made, Craig's lawyer Amanda McGovern began questioning Mr. Kuharcik, but according to Kurt, there was a mismatch between her "very Broadway star tone of voice" and the limitations of Zoom: "If she talks like this to normal people, I'd be very confused. It certainly didn't work on the Zoom call." It sounds like Mr. Kuharcik wouldn't have been put off by echoes of Broadway since he was sporting a Hawaiian shirt—all ready to break into a number from South Pacific. But unfortunately, Ms. McGovern was only interested in talking about accountancy and Mr. Kuharcik couldn't say much about that because of the rules around accountant-client privilege.
Next week, the case will only get more exciting—not least because the jurors might finally be asked what they think. Or could it, like South Pacific, just run and run?
Check out all of the CoinGeek special reports on the Kleiman v Wright YouTube playlist.
New to blockchain? Check out CoinGeek's Blockchain for Beginners section, the ultimate resource guide to learn more about blockchain technology.