Metaverse projects have attracted the highest investment in the Web3 ecosystem, surpassing Web3 infrastructure start-ups which held the top spot in 2022, a new report has found.
The report by DappRadar revealed that the Web3 ecosystem has recorded a drastic drop in funding this year, with artificial intelligence (AI) being this year's standout industry. In the first half of the year, the sector attracted $707 million, a massive dip from the $7.6 billion raised last year.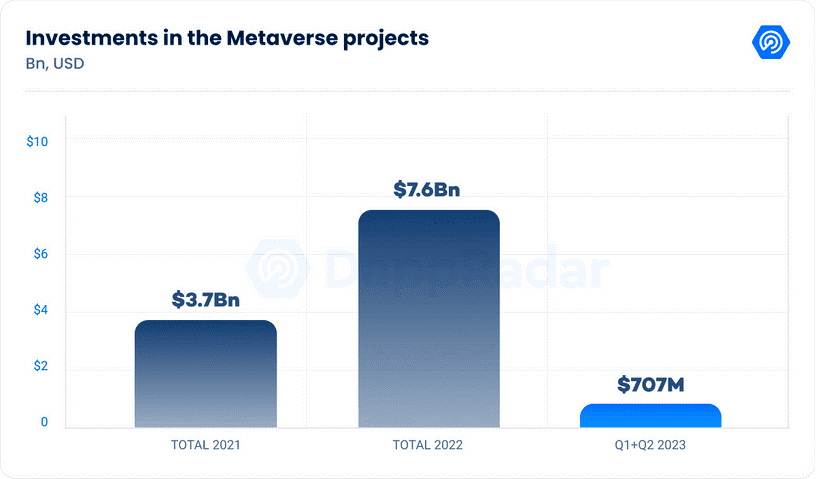 While the overall investment in metaverse projects has dipped, the sector's dominance in Web3 has shot up to 44% of total funding, up from 27% last year. This has seen it shoot past Web3 infrastructure projects which dominated last year's funding.
The metaverse has been one of the biggest buzzwords in recent times. Many have used it to sell pipedreams of a utopian digital world, while others like Microsoft (NASDAQ: MSFT) and Meta (NASDAQ: META) have promised to build the future of work and play on this new technology. A few others have been building real value with digital twins of the real world.
It's this last category, focused on real utility, that shows the most promise. Companies like Transmira continue to build solutions for today's challenges on the metaverse, led by the belief that "people want a metaverse that impacts their real life."
The advent of AI has taken a lot of the spotlight away from the metaverse and most of the funding too. However, as Transmira founder Robert Rice explained at the London Blockchain Conference, AI only enhances the metaverse. Combining AI, the metaverse, and blockchain could be the key to realizing the promise of the internet, which was to bring real online connections, Rice believes.
The report from DappRadar also delved into regional metaverse growth and the impact Apple's (NASDAQ: AAPL) new VR headset will have on the sector. On the former, Asia is the runaway leader in metaverse development, with South Korea, Japan, Hong Kong, and China poised to continue dominating the sector.
The report projects that the metaverse will inject between $800 billion and $1.4 trillion into the region's economy per annum by 2035.
Watch: Becoming the masters of the metaverse with Transmira's Omniscape
New to blockchain? Check out CoinGeek's Blockchain for Beginners section, the ultimate resource guide to learn more about blockchain technology.