Events
Stephanie Tower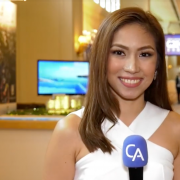 Japan Blockchain Conference 2019: Dr. Craig Wright wants to do one thing—give solutions to businesses
Bitcoin SV is in rapid growth and with its emergence, Satoshi Nakamoto's vision of a true Bitcoin is alive again with the one and only true Bitcoin—a secure, stable, scalable and regulation-friendly platform where enterprises of the world can build on.
nChain Chief Scientist Dr. Craig Wright was in Yokohama for the recently concluded Japan Blockchain Conference 2019 and spoke about technical inventions and enterprise uses for the Bitcoin SV blockchain. One of the key points he discussed is storing of data on a blockchain immutably compared to the internet where data privacy and security are at risk.
Wright also talked about one of Bitcoin SV functions that would be of value to enterprises that is EDI or the (Electronic Data Interchange). This is a computer-to-computer exchange of business documents in a standard electronic format between commercial organizations and even trading partners. As usual, Craig pointed out the importance of privacy.
How EDI will benefit businesses?
With EDI, processes are streamlined and those that consume more time are eliminated. This means that there will be more efficiency as exchanging data can be done within seconds. Accuracy is expected as there will be reduced human intervention leading to fewer human errors. With less human intervention, some expenses related to producing and logistics will be eliminated, which, in return, minimizes costs.
As regards to transactions, these will be done in real time, enabling faster and enabling enterprises make better and improved business decisions. Enterprises will have access to suppliers and customers giving them the opportunity to respond faster to ever changing customers' demands with more accurate information. An improved business performance will consequently lead to better business relationships.
Wright also added that what they're working on with the Bitcoin SV blockchain protocol is to provide access to these functionalities. He added, "What I want is companies using data, people using data, people using the blockchain."
He also pointed out that Bitcoin is not anonymous because it's meant to be honest, saying, "I don't want it so that people can do ICO scams. I don't want any of that stuff. I will help any government quite happily to take that shit down because I want average people using it. I want everyone in this world to have better access to data."
He added, "We're just going to do one thing. We're going to give solutions to business."
To know more about these enterprise uses, watch the full video.
Note: Tokens on the Bitcoin Core (SegWit) chain are referenced as SegWitCoin BTC coins; tokens on the Bitcoin Cash ABC chain are referenced as BCH, BCH-ABC or BAB coins. Altcoins, which value privacy, anonymity, and distance from government intervention, are referenced as dark coins.
Bitcoin Satoshi Vision (BSV) is today the only Bitcoin project that follows the original Satoshi Nakamoto whitepaper, and that follows the original Satoshi protocol and design. BSV is the only public blockchain that maintains the original vision for Bitcoin and will massively scale to become the world's new money and enterprise blockchain.