This post originally appeared on the Unbounded Capital website, and we republished with permission from the Unbounded Capital team.
Recently, the leading wallet and developer ecosystem for building applications with nano payments and Unbounded Capital portfolio company, HandCash, announced the addition of in-app fiat on-ramps. Their press release details how using HandCash is available to anyone with a credit card or an iPhone/Android phone, providing access to Bitcoin SV in-app and the functionality to trade digital currency seamlessly.
The press release also announced new partnerships with digital asset giant Circle (known for USDC stable coin which recently surpassed $50 billion in circulation) and digital currency trading firm Fabriik. HandCash states the partnerships with Circle and Fabriik will be "a springboard to seeing strong user growth" and the smoothing of fiat ramps as part of the collaboration, according to the company announcement.
Consumers have historically struggled to access and use Bitcoin (BSV), a previously disjointed process requiring interested buyers to interface with 2-3 service providers to use the hundreds of new projects being built on Bitcoin SV. For investors and consumers new to Bitcoin, this degree of onboarding friction made applications much less appealing.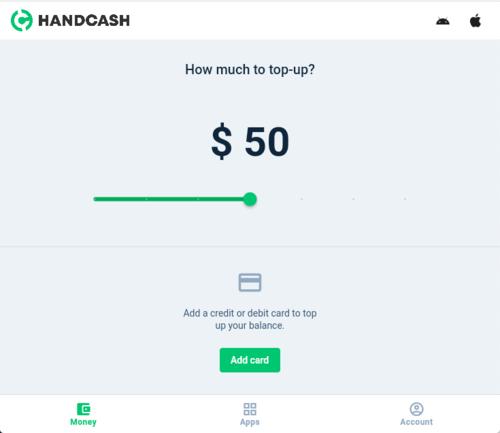 HandCash's new 'top up' feature
The introduction of fiat on-ramps creates a new opportunity to buy and use Bitcoin directly from the HandCash app. For readers discovering HandCash for the first time today, HandCash offers a top-tier Bitcoin mobile wallet and an enterprise-grade SDK. HandCash simplified the process of sending and receiving Bitcoin by replacing QR codes and long strings of hexadecimal characters with human-readable usernames. Through a particularly user-friendly interface (think Venmo or CashApp), the application connects users with an in-app marketplace of cutting-edge BSV-enabled applications. For more details on our investment in HandCash, see our blog post Why We Invested in HandCash.
Users can access the HandCash App Gallery today at no cost whatsoever and explore a diverse selection of mobile and web applications. Notably, the gallery includes Unbounded Capital portfolio company TDXP, a revolutionary new market-making derivatives brokerage that settles trades virtually instantly and with fees as small as a fraction of a penny on the Bitcoin ledger.
Game seekers might enjoy earning Bitcoin at the Haste Arcade, a product of UC portfolio company and gaming SDK provider Haste; or raising a Duro Dog, a simulated customizable and tradable NFT dog from digital gaming up-and-comer NFTY Jigs. Built with Bitcoin SV, these applications enable highly efficient microtransactions and user-owned data models, which we believe will fundamentally transform global markets.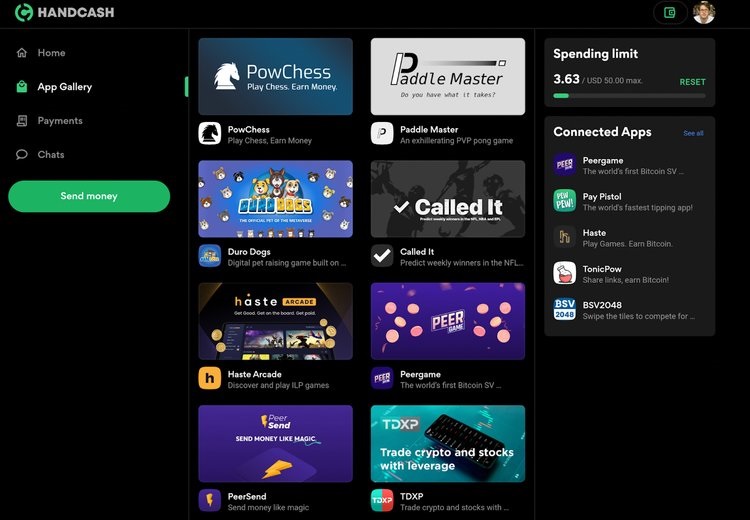 HandCash App Gallery
On a near-weekly basis, HandCash users are greeted by new ways to use, spend, and earn their BSV as the network effects of this burgeoning ecosystem attract an increasing number of users and developers.
As consumers and investors are much more inclined to explore applications offering a seamless and uncomplicated user experience, HandCash fiat ramps provide a much-needed lubricant to onboard swaths of users to Bitcoin-enabled digital asset marketplaces and applications.
At Unbounded Capital, it's our conviction that HandCash will play a key role in the imminent emergence of a robust micropayment marketplace. We congratulate HandCash on this meaningful milestone.
This article has been lightly edited.
New to blockchain? Check out CoinGeek's Blockchain for Beginners section, the ultimate resource guide to learn more about blockchain technology.