CoinMarketCap delisted the coin from its cryptocurrencies roster.
Towards the end of last month, China-based FCoin launched a publicity stunt that relies on a different voting mechanism to get tokens listed in their exchange. Instead of voting per person or per token, the exchange instigated a one-vote/one-deposit contest, where the top 20 tokens with the most deposits to their exchange get listed.
This bumped up FCoin's daily volume to $17.3 billion which, although clearly inorganic and is nothing but false volume brought by momentary hype, forced token projects to airdrop to users like crazy in an effort to herd them into participating in the contest en masse. This effectively clogged up the entire Ethereum network—because majority of token projects in existence are built on that blockchain.
Unsurprisingly, an online debate reminiscent of the CryptoKitties mess ensued, with some pointing out that Ethereum is definitely not "enterprise-ready." Some, however, went so far as to go on a Twitter rant, like LA-based open-source blockchain interface development group MyCrypto.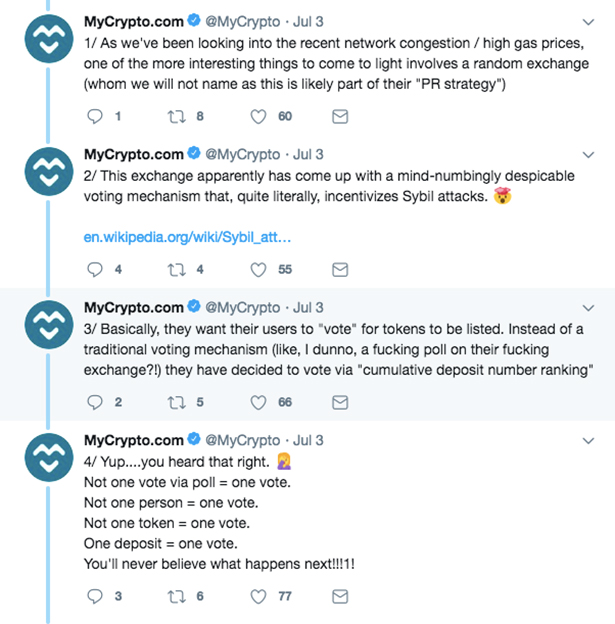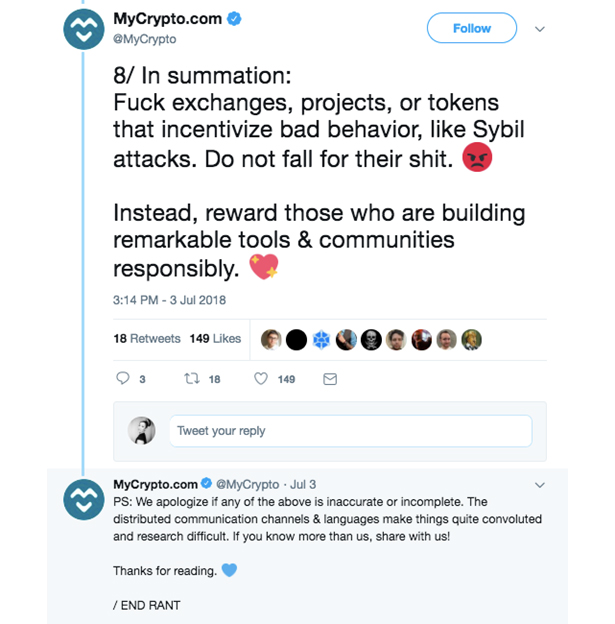 The "cheap publicity stunt," as some put it, has encouraged activity for a lot of shitcoins—which could benefit highly from the PR, and have a higher chance at getting listed in an exchange than through normal means. By "normal means" that is by actually building their network and organically gaining a market.
"Unsurprisingly, people who are financially incentivized to get a shit-token listed on a shit-exchange are sending these tokens en masse to separate accounts on the blockchain and then to separate accounts on the 'exchange-who-must-not-be-named,'" MyCrypto wrote.
"…and thus resulting partially (or entirely?) in the network congestion & high transaction fees that we've experienced these past few days."
MyCrypto says that not only did FCoin encourage activity for shit tokens (tokens that have no real use, and thus, no real value but were issued probably to make the issuer some quick bucks), but that an actual scam coin made it into FCoin's listing contest.
"One of the tokens that was listed is not a legitimate token. I don't mean that it's a shit-token (that's expected)," MyCrypto tweeted. "The token is literally a scam-token capitalizing on the symbol of a real, highly-anticipated token that recently ICO'd but hasn't distributed yet."
And as the deluge of sh*tcoins and whatever else continues, FCoin's volume continues to balloon—so much so that it surpassed BTC's 24-hour volume.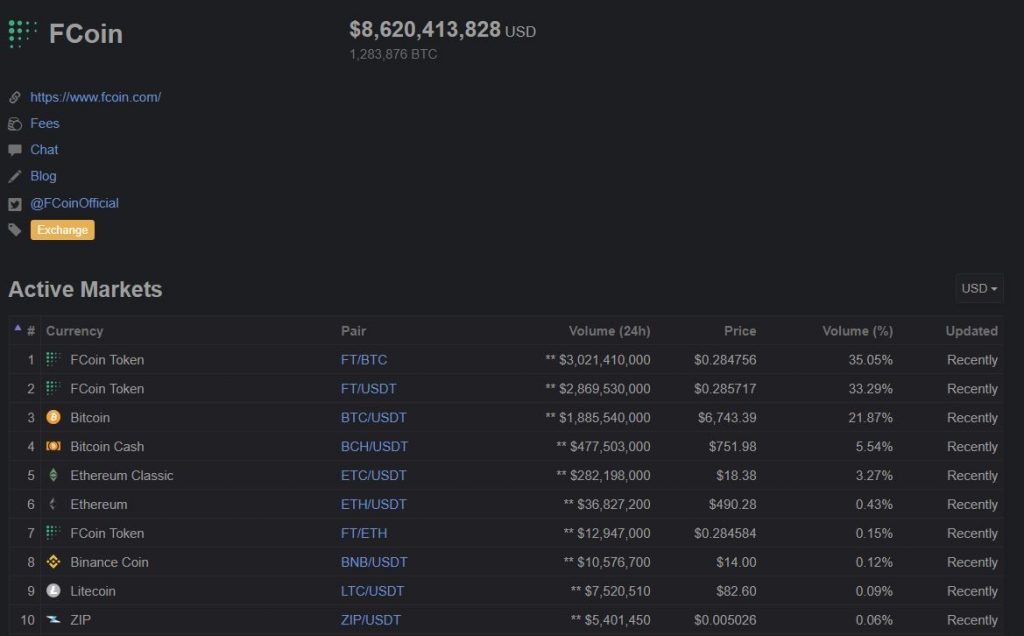 But people are having none of it. CoinMarketCap delisted the coin, and users have gone to Reddit saying the fake volume was falsely reported by FCoin—either that or this is all wash trading.
New to Bitcoin? Check out CoinGeek's Bitcoin for Beginners section, the ultimate resource guide to learn more about Bitcoin—as originally envisioned by Satoshi Nakamoto—and blockchain.