Kronoverse is working on very innovative new gaming technology on the Bitcoin SV (BSV) blockchain, and they had a lot to show at the recent CoinGeek Seoul conference. David Case, Chief Architect of the company, has learned a lot about Bitcoin in the process, and wanted to share some of that knowledge with CoinGeek's Stephanie Tower.
His experience as Chief Architect of a Bitcoin gambling company has taught him a lot about the blockchain. "It's been really interesting, because we started before we really even understood what Bitcoin is, or the power of it is," he noted. "And so it's kind of been my own evolution through learning what's out there and how this stuff works, and it's become an obsession of mine, it's actually overtaken my life, so it's been pretty fun."
As a newcomer to Bitcoin, Case explained that his struggle has mostly been the widespread misunderstandings about the technology. "I think it's mostly just very misunderstood, and that people don't actually understand the power that's there, and I'm sure that's why Craig [Wright]'s been frustrated for all the last 10 years, because people don't get it," he said. "And even people who are really, really advanced in the crypto space don't understand the power of Bitcoin, and it's really powerful."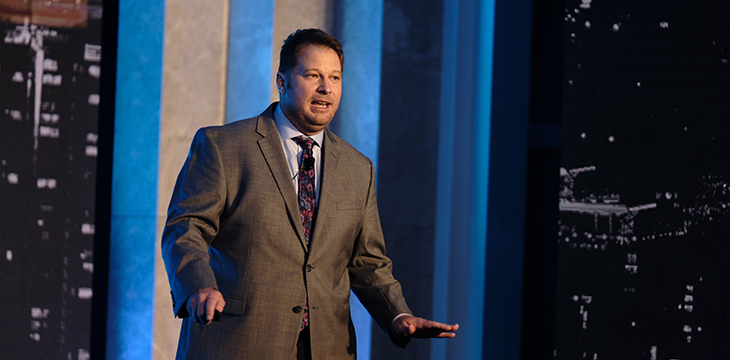 But Case has learned a lot, and Kronoverse has come a long way. He spoke about the improvement's we can expect to see soon from the company. "We're starting to open up the platform that we're building CryptoFights on so that other game developers can build apps with it, and that includes a wallet for their actual development environment and their phones, it involves server side management of the Bitcoin data and communicating that and managing communications across all clients," he noted. "And it also involves a lot of being able to automate what's going on, so you can have systems that just watch Bitcoin, and then can react based on however they're programmed to react."
How far away are we from seeing other developers on the Kronoverse platform? "We're in the process," he replied. "We're actually opening up a developer waiting list right now, so as developers are interested, we're going to start working with them one on one, to figure out what's going to be the best way, the best people to work with to get this fully out."
But the big news most gamers wanted to know as Kronoverse entered CoinGeek Seoul is the one that Case might have been most excited to talk about: when can we play CryptoFights? "First of all, we're going to be having a Beta release of CryptoFights by the end of the year, which is really exciting," he said. "And then, again, it's just all the platform services that make it really easy for developers to build on Bitcoin without them really needing to know much about Bitcoin at all."
New to Bitcoin? Check out CoinGeek's Bitcoin for Beginners section, the ultimate resource guide to learn more about Bitcoin—as originally envisioned by Satoshi Nakamoto—and blockchain.