Kronoverse has been working on a truly new way to play video games, and the Bitcoin SV (BSV) community is anxiously awaiting a chance to try it out. But while CryptoFights may not be ready yet, Chief Architect David Case took the stage at CoinGeek Seoul to talk about the upcoming release, as well as the truly revolutionary Kronoverse platform.
Case began his presentation by presenting CryptoFights latest updates, compiled succinctly in a nearly 3 minute video from Kronoverse CEO and founder Adam Kling:
https://youtu.be/InsYfoafU4s
The video ends with the reveal that CryptoFights made in late September that CryptoFights will be available in Beta as early as December, 2019.
From that, Case returned to the the reasons why Kronoverse has decided to build their platform and games on the BSV blockchain. Simply put, Bitcoin offers an auditable, regulatory friendly blockchain, which features a verifiable fairness for game play, and the ability to perform financial audits of funds. These are key features for a platform that hopes to make it big in the world of esports one day.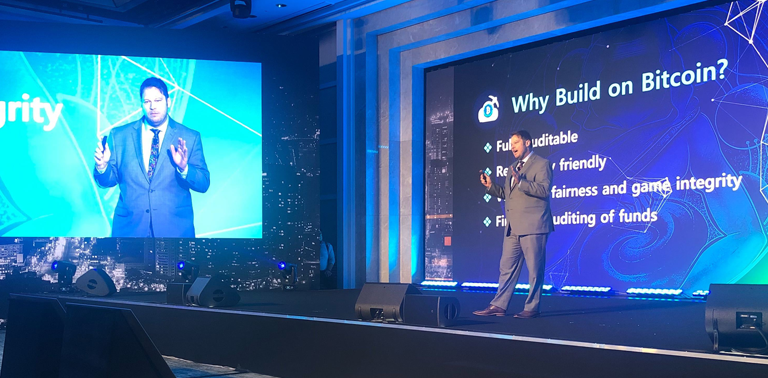 But the big reveal of Case's presentation was Kronoverse's platform, named the "Easy Button" for Bitcoin. It's essentially an open sourced Javascript library, which takes gaming tokens to the next level. On the BSV chain. We caught up with him on the sidelines and asked him to explain what it means for gaming developers:
We allow developers to build code without understanding much at all of Bitcoin. They can write simple JavaScript code that they can manage their onchain logic, they can manage how their wallets interact with that onchain logic, and they can build these automated processes all just using standard JavaScript, but that JavaScript is triggered by watching what is happening on bitcoin and it makes changes to the Bitcoin blockchain. So it's really easy for developers to do really complex graphs of data that exist onchain without them having to understand Bitcoin at all.
He also spoke about the Kronoverse Gaming Wallet, a Javascript-based configuration of a wallet stored on-chain. It easily integrates into most platforms, including iOS and Android, and allows games to easily handle tokens for game play.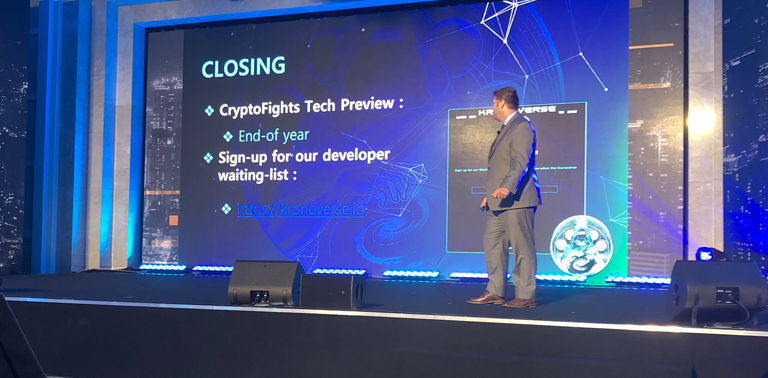 While Case admits that he's not much of a video gamer at the moment, mostly preferring boardgames and old school Nintendo, his team has already anticipated that certain types of games, like First Person Shooters, are better served by not writing thousands of transactions per second to the blockchain. For that, they've developed state chains, which allow offchain channels of updates, which can be compiled by a single line of code to update the blockchain at sensible intervals.
Finally, once again keeping in mind that Kronoverse wants a future in the esports space, they've already anticipated the regulatory requirements that will be expected of them, Case told the crowd. To meet those needs, they are asking for a Kronoverse-wide platform identity from every user, with anti-money laundering (AML) and know your customer (KYC) checks to please potential regulators. They will also have per-application geo-fending, so each game can be tailored for specific countries. Finally, to manage the money they expect will be flowing through, they will have options for either fiat or crypto deposit and withdrawals, and full onchain accounting.
New to blockchain? Check out CoinGeek's Blockchain for Beginners section, the ultimate resource guide to learn more about blockchain technology.