Magnus "Hodlonaut" Granath and Dr. Craig S. Wright are set for a rematch of their September 2022 trial in Oslo after a Norwegian judge granted Wright the right to an appeal.
Granath announced the news on his Hodlonaut Twitter account earlier today: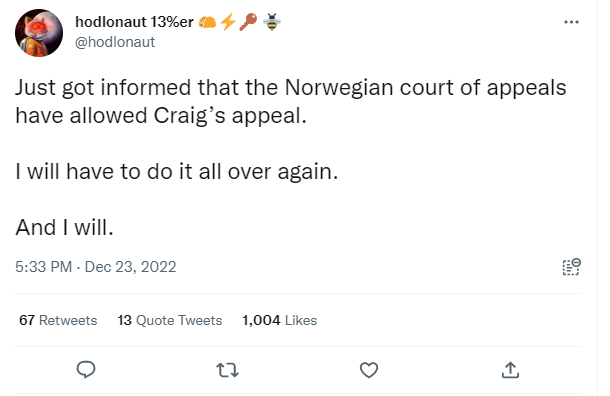 Granath originally brought the case against Dr. Wright as the defendant—Granath sought court confirmation in his native Norway that his Twitter campaign against Wright was not defamatory. This move was intended to ward off Dr. Wright's prior defamation lawsuit against Granath in the U.K. However, an English judge later ruled that the trial could also proceed.
During the seven-day Oslo trial, Dr. Wright raised issues of defamation and cyberbullying over Granath's social media posts attacking Wright as a fraud and being mentally ill. He brought several witnesses who testified their confidence that Wright was indeed the real person behind Bitcoin creator "Satoshi Nakamoto," as well as an expert on autism who explained Wright's diagnosis and explained some of his past actions.
In October, the court decided in Granath's favor—ruling that Granath had not defamed Dr. Wright. Although that wouldn't have stopped the U.K. suit from going ahead, it would have been persuasive in Granath's favor in negotiations or a future trial. The judge also ordered Dr. Wright to pay Granath NOK4,053,750 (about US$398,000) in legal costs.
In late November, Dr. Wright's legal representatives in Norway Schjødt issued a statement saying they would appeal the decision. According to attorney Halvor Manshaus, "The District Court is wrong in concluding that such unrelenting and unprovoked attacks against any private individual enjoy protection under freedom of expression provisions."
Manshaus added that Granath had "breached the commonly accepted threshold of decency" in his attacks on Dr. Wright, which included Twitter posts, a Telegram group, and other public statements. Part of Granath's defense hinged on arguments that Wright is a public figure who can be subject to criticism and that discourse on social media platforms is just opinion, no matter how vulgar or personal the comments.
Granath appeared unsurprised by news that the appeal would proceed, writing, "Don't need much reasoning here. Appeals are almost considered a right." He added that he appreciated his supporters' help and predicted he'd beat Wright a second time.
Most responses were supportive, both of Granath's belief that Dr. Wright is not Satoshi Nakamoto and of his ongoing social media campaign to spread that news to the world. That's probably not surprising, given that "Hodlonaut" has blocked most accounts that favor BSV and Wright's position.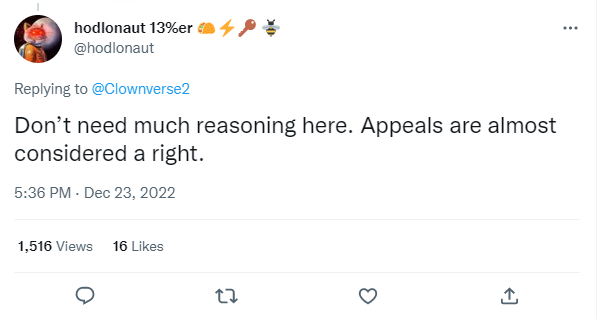 Though he claims he would've preferred to do other things with his life, this is a path Granath chose for himself. Despite having no personal nor professional relationship with Dr. Wright, Granath took it upon himself to campaign publicly against Wright's claims, often with personal attacks. Dr. Wright had requested him to stop and threatened legal action, which only caused Granath to double down.
The "speech has consequences" argument repeated by pro-censorship forces in society can sound contrived sometimes. However, defamation law has existed in some form since the Roman Empire, and there have long been legal protections against untruths and public insults that inflict real damage on individuals and businesses.
Watch Granath vs Wright Satoshi Norway Trial Coverage Livestream Recaps on the CoinGeek YouTube channel.
New to Bitcoin? Check out CoinGeek's Bitcoin for Beginners section, the ultimate resource guide to learn more about Bitcoin—as originally envisioned by Satoshi Nakamoto—and blockchain.