Europol has announced a joint operation between German and U.S. authorities to take down ChipMixer, a notorious coin mixer that authorities allege has been used to launder EUR 2.73 billion in digital assets.
A coin mixer is a service that is designed to obscure the origin of digital assets, typically by taking identifiable and traceable Bitcoins from customers, shuffles them among other Bitcoin via many transactions, and then returns the equivalent amount of value back to the customer.
ChipMixer, which was launched in 2017, was formally taken down on March 15 over its involvement in money laundering activities. German authorities seized four servers, around 1909.4 BTC and 7 terabytes of data. The operation was also supported by Belgium, Poland and Switzerland in addition to the United States.
The ChipMixer website now displays a notice from the FBI indicating that the domain has been seized as part of an international law enforcement effort: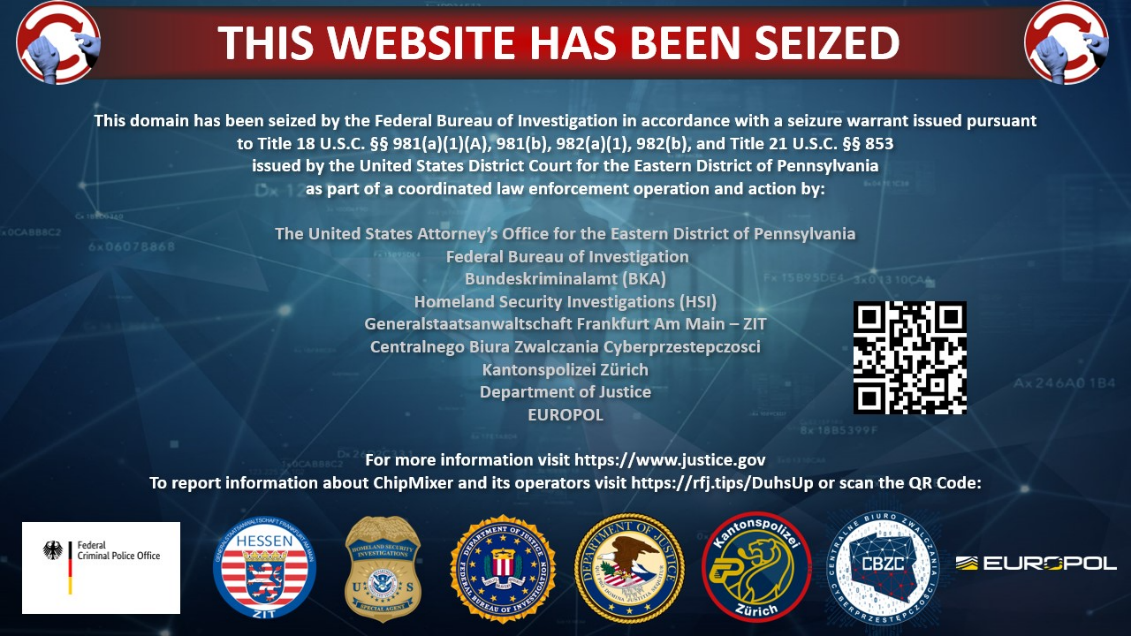 The announcement was made by Europol, which is the European Union's cooperative law enforcement agency which primarily handles international organized crime and terrorism. It states that the investigation discovered that approximately 152,000 BTC were laundered using the platform, much of which is connected to darkweb markets, ransomware groups, illicit goods trafficking, procurement of child sexual exploitation material and stolen digital assets.
The results of the investigation aren't hard to believe. ChipMixer has often appeared in news stories in connection with high profile digital asset thefts. The mixer reportedly received over half of the coins stolen via the 2020 Twitter hack, as well as millions of BTC stolen in the KuCoin hack later that year.
ChipMixer has also been linked to the hacker who drained hundreds of millions worth of digital assets from FTX accounts after it collapsed in November 2022. Though Europol doesn't name FTX specifically in its announcement, it does make note that authorities are investigating the possibility that "some of the crypto assets stolen after he bankruptcy of a large crypto exchange in 222 were laundered via ChipMixer."
The potential for coin mixers to aid in laundering criminal digital assets has been well-documented. In 2022, Chainalysis found that almost 10% of all digital assets held by illicit entities had been laundered through a mixer that year.
However, authorities and lawmakers around the world have only begun clamping down on the services in recent years. In 2021, a Russian-Swedish national was arrested for running the Bitcoin Fog mixer, which had allegedly been used to launder US$335 million worth of digital assets since 2011. Last year, the U.K.'s National Crime Agency called for a crackdown on mixers for their ability to disguise transactions on the blockchain, urging lawmakers to take steps to ensure that coin mixers are caught by anti-money laundering legislation. In May, the U.S. Department of the Treasury's Office of Foreign Assets Control (OFAC) sanctioned Blender.io after an investigation discovered that North Korean hackers were using the service to support the country's hacking activities. The move marked the first-ever sanctions levied on a digital asset mixer by OFAC.
Follow CoinGeek's Crypto Crime Cartel series, which delves into the stream of groups—from BitMEX to Binance, Bitcoin.com, Blockstream, ShapeShift, Coinbase, Ripple,
Ethereum, FTX and Tether—who have co-opted the digital asset revolution and turned the industry into a minefield for naïve (and even experienced) players in the market.
New to Bitcoin? Check out CoinGeek's Bitcoin for Beginners section, the ultimate resource guide to learn more about Bitcoin—as originally envisioned by Satoshi Nakamoto—and blockchain.