Tokyo hosted its first BSV blockchain-specific seminar day yesterday, with an event aimed at businesspeople and developers. The day-long bilingual seminar featured presentations from nChain and exchange BitTrade, as well as local BSV blockchain projects, including YenPoint, Frobots, Blarecast, and Chainbow (NoteSV).
The event was organized by nChain and the FinTEK Centre for Finance, Technology and Economics at Keio University. Also sponsoring were the BSV Blockchain Association and BitTrade (formerly Huobi Japan). Taking the MC role was Masumi Hamahira, BSV Blockchain's Japan Ambassador.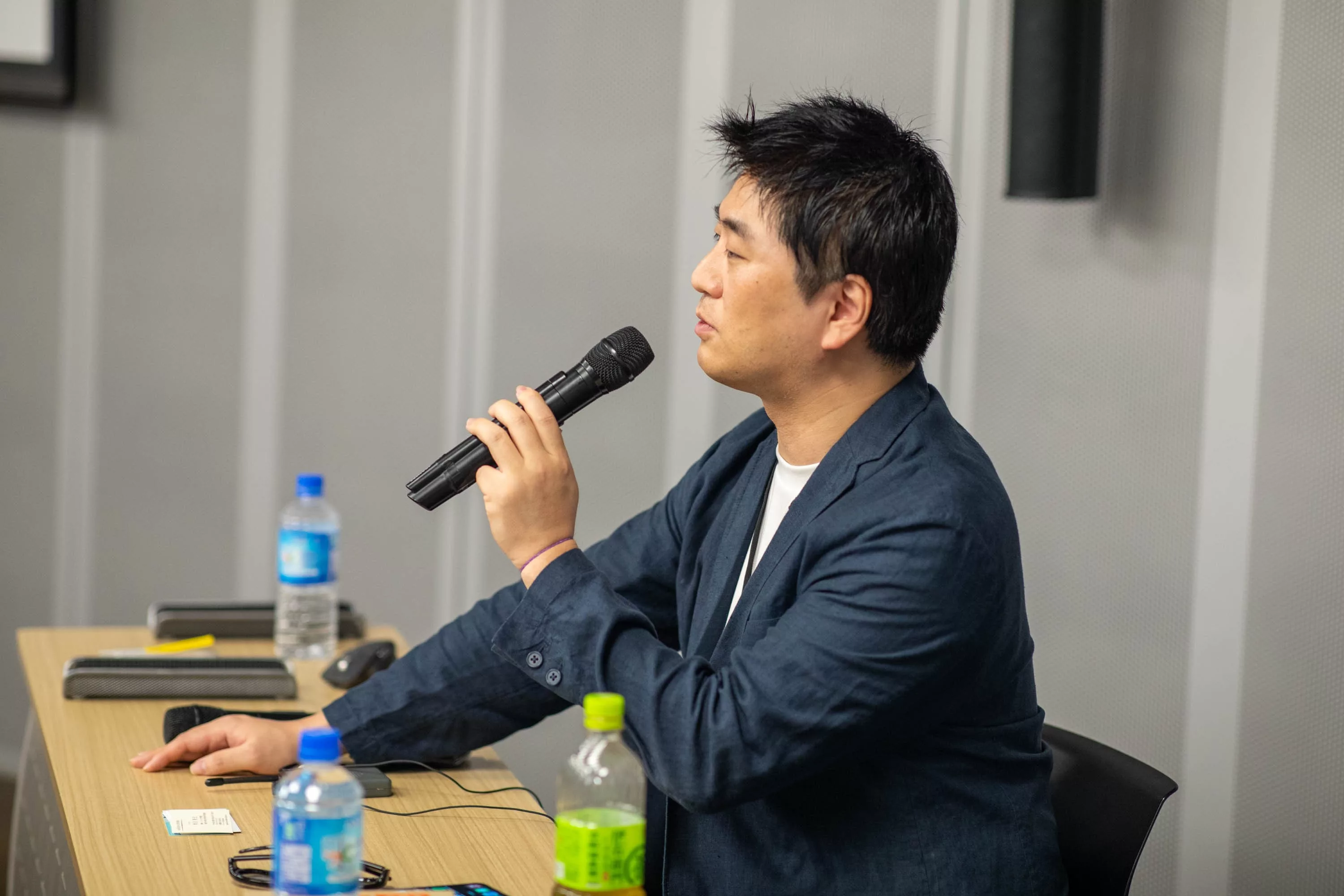 Japan has occasionally been a focal point for Bitcoin development over the past 14 years, as home to early-adopter entrepreneurs like Roger Ver and (more infamously) Mark Karpeles. However, things have been much quieter on the BSV front—BSV didn't obtain regulatory approval as a trading unit until fairly recently, and the country's borders were effectively closed during the COVID-19 years, making visits and conferences near impossible.
Fingers crossed, those days are in the past, and 2023 has seen a huge influx of travelers to Japan. It also means the BSV industry can reboot its push into the Japanese market, which is potentially lucrative if handled properly.
The Keio-nChain seminar was definitely a good start. The presentations were often general and, at times, technical. Most, if not all, attendees had prior experience with blockchain, though many were unfamiliar with BSV blockchain concepts.
nChain's presenters focused on BSV blockchain's key message, which is it's the cheapest, fastest, and most secure blockchain network. BSV blockchain's unbounded scaling capacity means it can one day process as much data as the entire internet in 2023, and also much more, as billions more portable and IoT devices join the worldwide network.
After being welcomed by Hamahira and Keio FinTEK Centre Director Dr. Teruo Nakatsuma, BSV Blockchain Director Thomas Giacomo kicked things off with a general introduction to BSV and why it matters.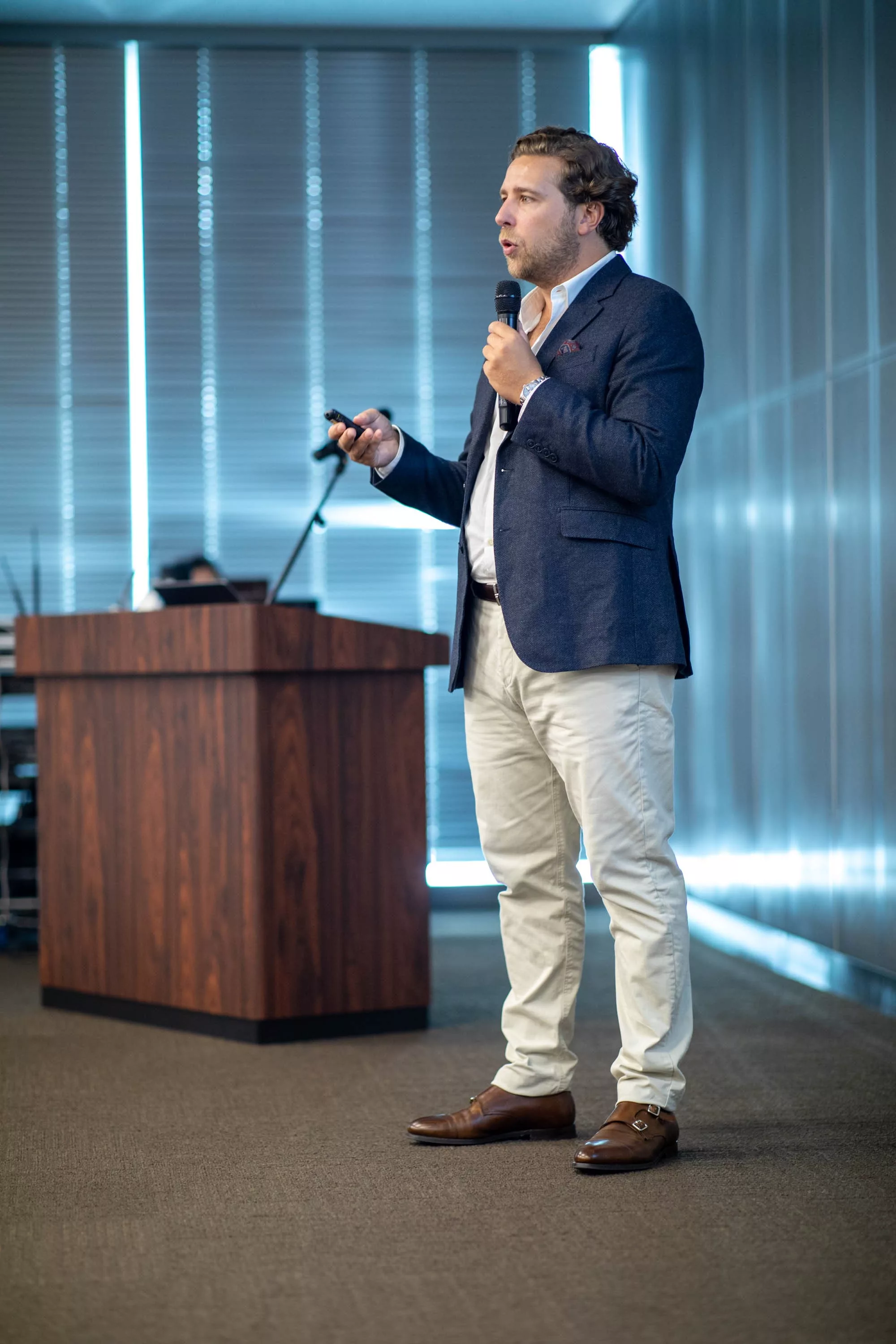 It "will impact almost all verticals and industries," Giacomo said. The BSV network must grow "at least ten times bigger than the internet itself," adding infrastructure for secure financial transactions and company interactions. The latter two necessities exist as attempted bolt-ons to today's internet but are not natively built into the network itself. BSV blockchain technology, coupled with the increasing adoption of IPv6, does this.
Giacomo called it "managing and automating all back-office transactions." This improves privacy and allows for selective disclosure and confidentiality when needed. In finance, it "makes illiquid assets liquid" and hands data ownership and control back to individual users. This will bring benefits to social networks, supply/value chains, gaming, "RegTech," and more.
He also acknowledged the "three Bitcoins" issue, noting that BSV is the only blockchain network that restored and continues to follow the rules of Satoshi Nakamoto's original Bitcoin protocol. It's the only network that can legitimately lay claim to Bitcoin's name and pedigree. The BSV blockchain has proved itself both cheaper and capable of processing data 10 times faster than its primary "competitor," Ethereum. Unlike the "other Bitcoins," BSV does not and cannot change its fundamental protocol rules. If you want real global adoption, especially in enterprise, the basic protocol should never change.
Giacomo also took the next presentation slot to talk specifically about LiteClient, the toolbox for applications to interact securely with the BSV blockchain without the need to operate a full node. Exchanges and other projects "should not have to take care of infrastructure, as costs would be too high," he noted. "You should just interact."
The exchange operators at BitTrade had some questions about this and asked what assistance is available for companies like themselves to use SPV and LiteClient. The response, as always, was "come and talk to us" about specific implementation solutions, which is something nChain and the BSV Association is always happy to do for interested parties in Japan and elsewhere.
Exchanges needing to run their own full node for every blockchain asset they list have been one barrier to having BSV listed on digital asset exchanges. Though SPV interaction removes this requirement, it's still mainly an unknown or misunderstood concept to many outside the Bitcoin world (despite being described in Satoshi's 2008 white paper).
The next two presentations came from nChain's Research Director, Alessio Pagani, and John Murphy. Pagani stressed that at nChain, "we're a company, but we're academically driven." They made several references to nChain's R&D focus, with particular attention to its massive IP/patent library (ranked #5 in the world).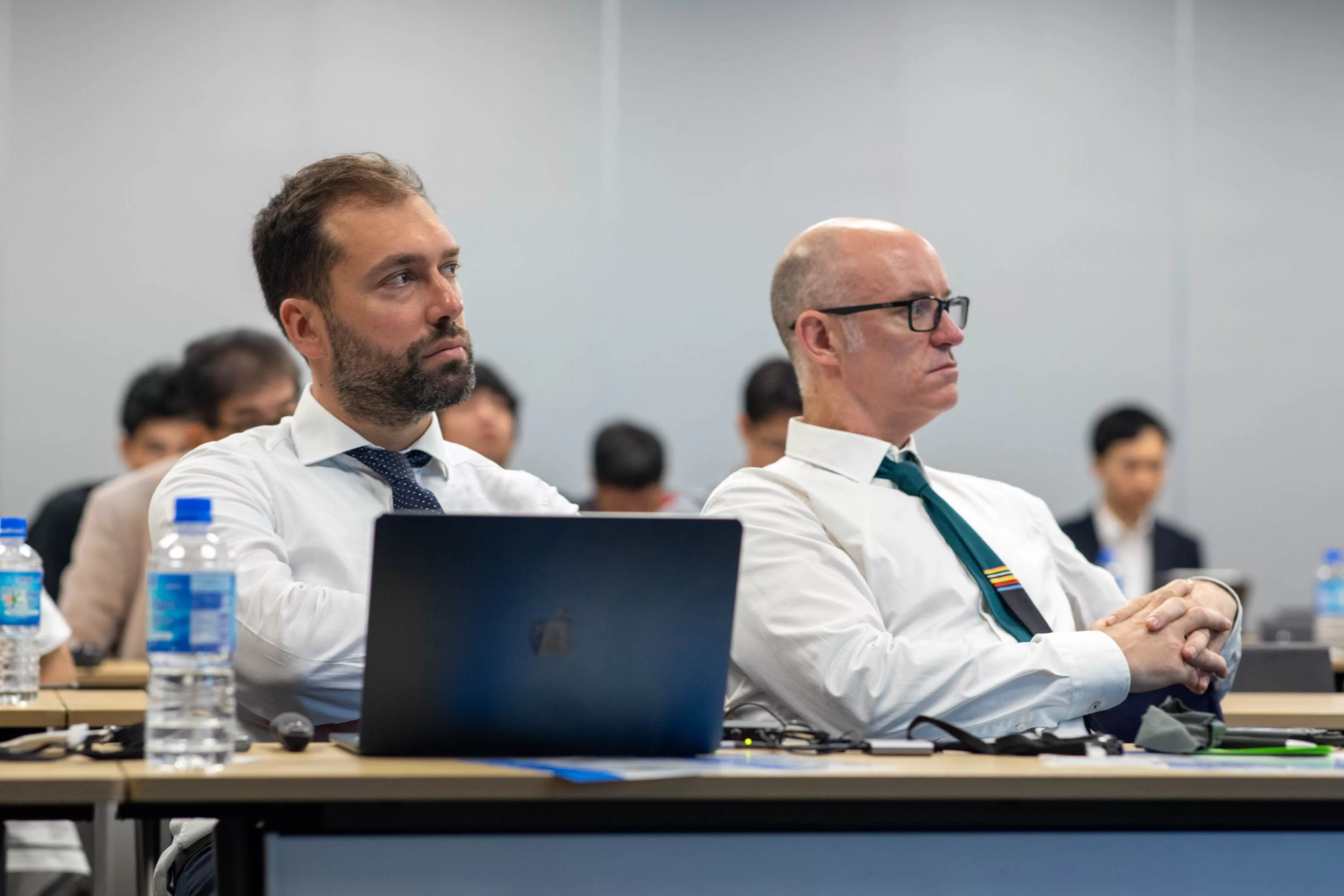 Dr. Pagani talked mainly about the "Web3 revolution," building an internet that is "decentralized, user-centric, and P2P." Web3 values include "CIA" for data or "Confidentiality, Integrity, and Availability." Security must be baked-in by design, while data owners may selectively disclose what information they share. This can include Zero-Knowledge Proofs (ZKPs), which can verify data without revealing its contents, e.g., proving your age is correct without revealing what that age is or producing a document that reveals additional private information.
It's not just people, either. Verifiable "device identity" is an important component of Web3 security, and Dr. Pagani played a short demo reel showing how BSV handles this.
John Murphy's talk was more technical, describing nChain's R&D Prototyping Tools necessary to implement BSV interactions. "These tools are coming, but they're not here yet," he said. He added that nChain's motto is "we bring research to life," later playing his own demo reel for medical records sharing application.
Later sessions in the day focused on individual BSV projects based in or directly connected to Japan. Jerry Chan talked about his coding education game Frobots; Chainbow founder/CEO Long Li talked about the challenges associated with developing the BSV app NoteSV and others; and recent Japan immigrant Shem Booth-Spain gave updates on the artist-centric media application Blarecast.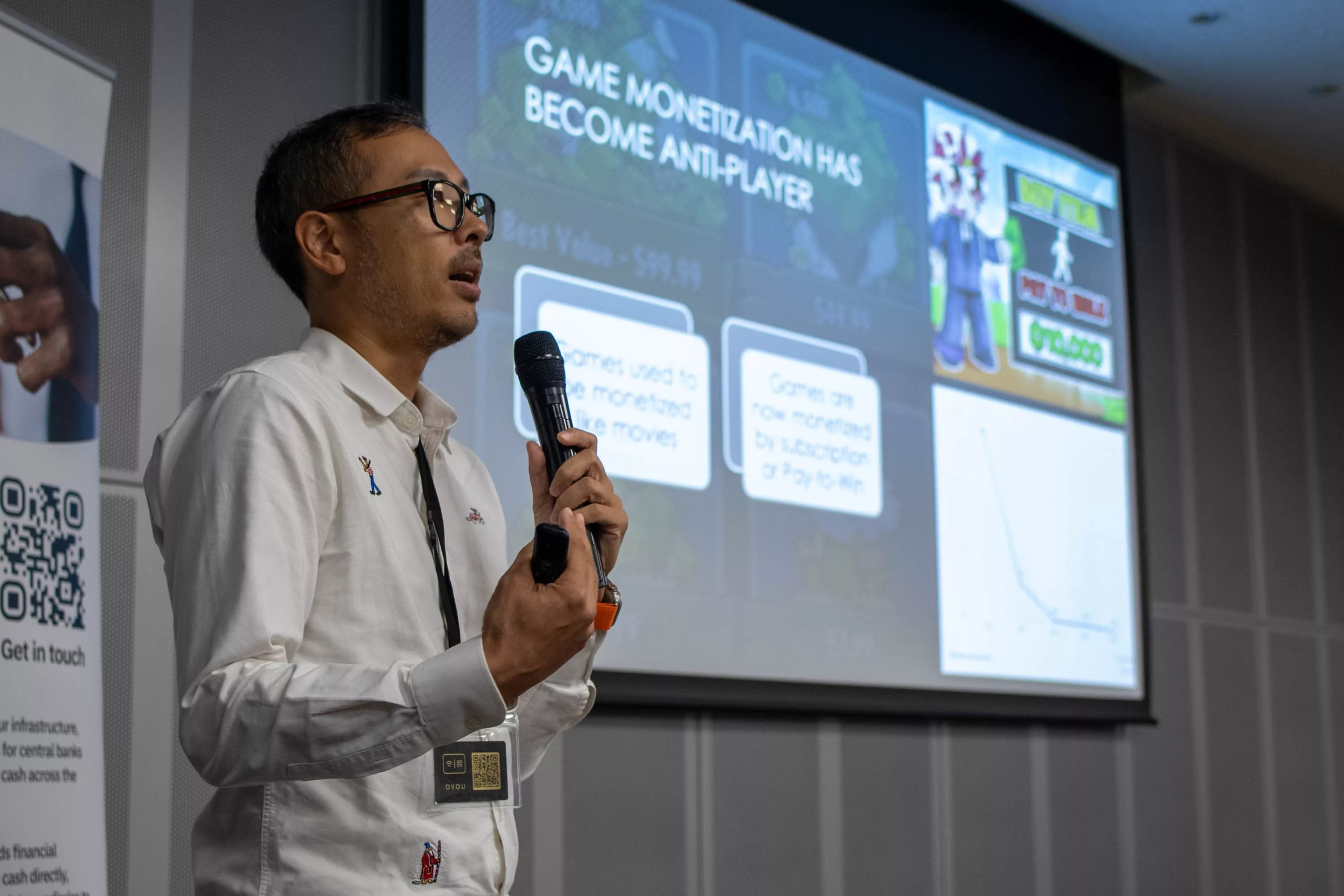 All these projects utilize features either unique to BSV blockchain or which perform far better on BSV, such as NFT minting and trading, automated "smart contracts," data transactions, and micropayment transactions.
Though the presentations were mainly a broad overview of the BSV world and remained fairly general in nature, this is necessary for the Japanese market as language barriers often prevent the free flow of information from other countries, and the country hasn't offered much chance for in-person information sharing for much of the time Bitcoin has existed as BSV.
It's important to note that the audience remained the same size over the course of the day and, in fact, grew as it went on. Participants had the chance to network and discuss their plans, and there appeared to be genuine interest in speaking with companies like nChain and organizations like the BSV Association directly to find new solutions to old problems.
The seminar was still small-scale compared to other similar events worldwide, but for Japan, it was a good start. There are many more events planned in the upcoming months, all of which hope to spread the BSV blockchain message even further.
Watch: The only blockchain able to handle speed and volume is BSV
New to blockchain? Check out CoinGeek's Blockchain for Beginners section, the ultimate resource guide to learn more about blockchain technology.