Onboarding to Bitcoin just got easier thanks to Mitto.Cash, a new platform created by the infamous Zatoshi. 
Mitto.Cash simplifies the onboarding process because it eliminates the need for newcomers to know the technicalities of Bitcoin—as long as the recipient has an email address, they can join the Bitcoin ecosystem in a matter of minutes.
"I wanted a creative way for people to send others BSV without having to explain over the phone or via message 'do this, do that, etc' just to set up a wallet and/or understand paymail or native BSV addresses," said Zatoshi.
"[On Mitto.cash,] HandCash users can effectively send BSV to anyone via email. The recipient of your BSV "gift" will receive an email saying they have received money. They would then click the "button" that says "redeem your gift". This will direct them to HandCash [to] create an account (if they do not have a HandCash wallet already). Once their wallet is created their gift automatically goes into their new HandCash wallet."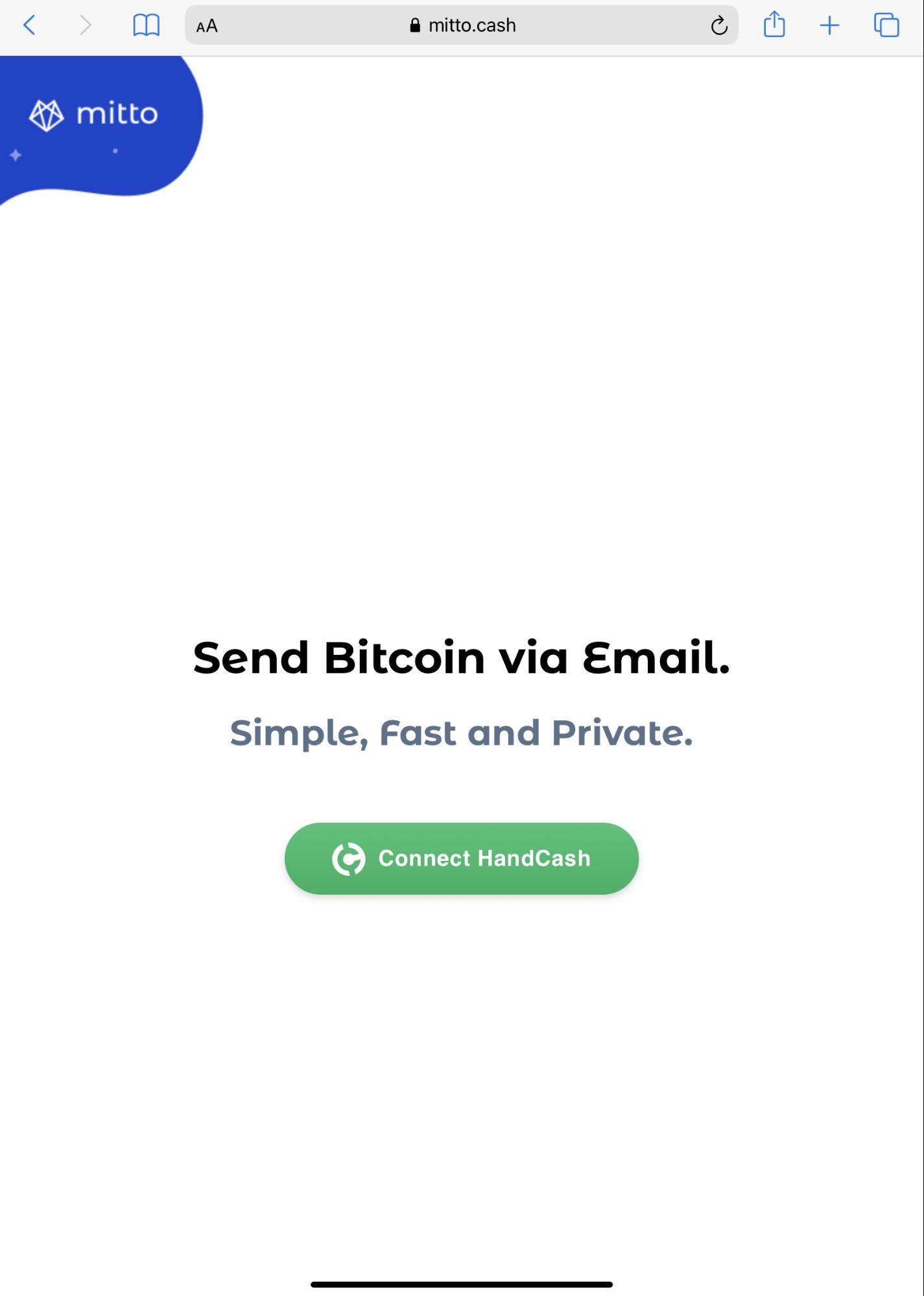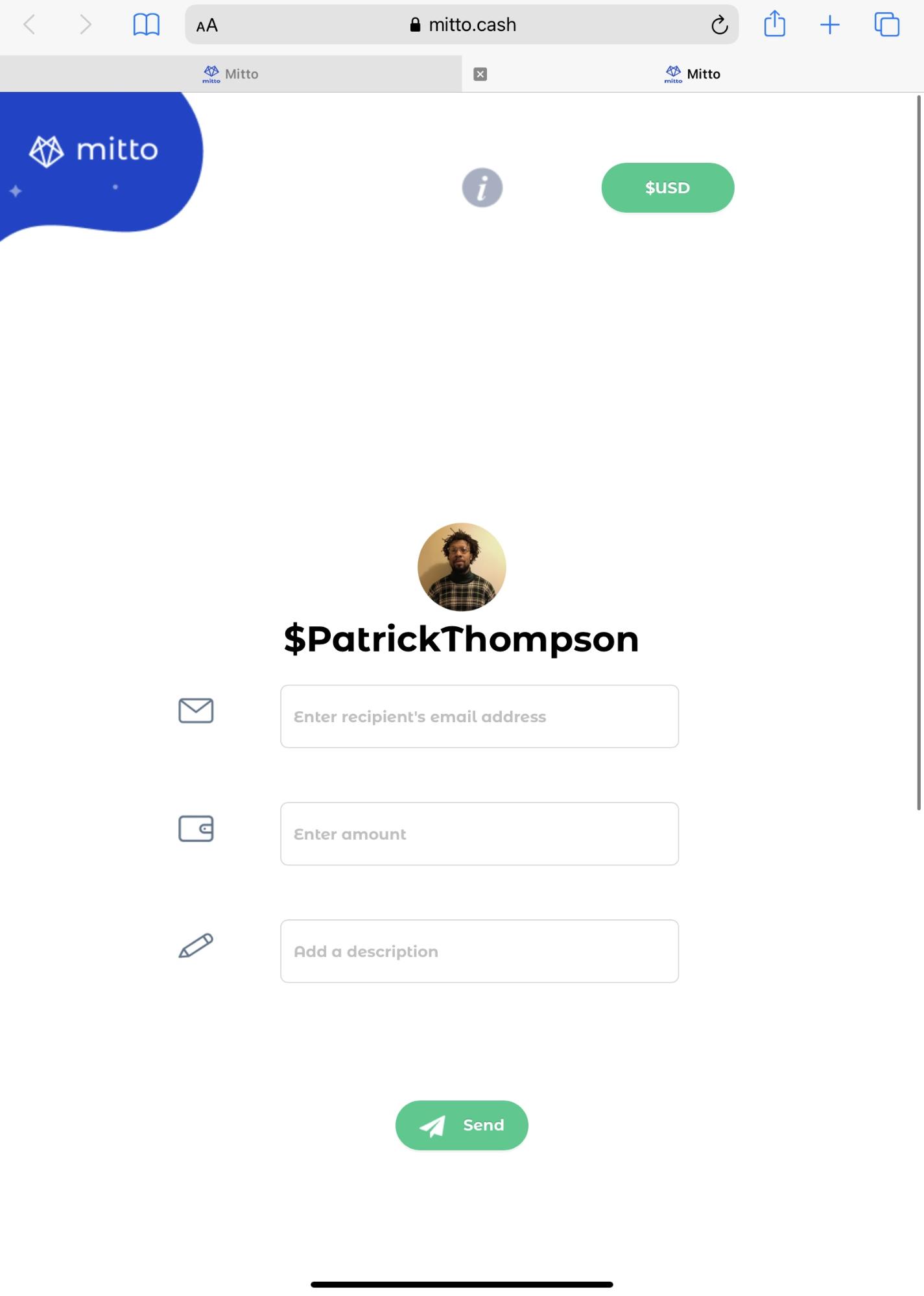 At the moment, an individual using Mitto.Cash that is sending money needs to have a HandCash wallet. After entering the amount they are sending to a recipient, the sender will see a confirmation message saying that their payment has been sent to the recipient's email. The sender will also receive a special URL that they can send to the recipient, the link will also allow them to receive the money sent.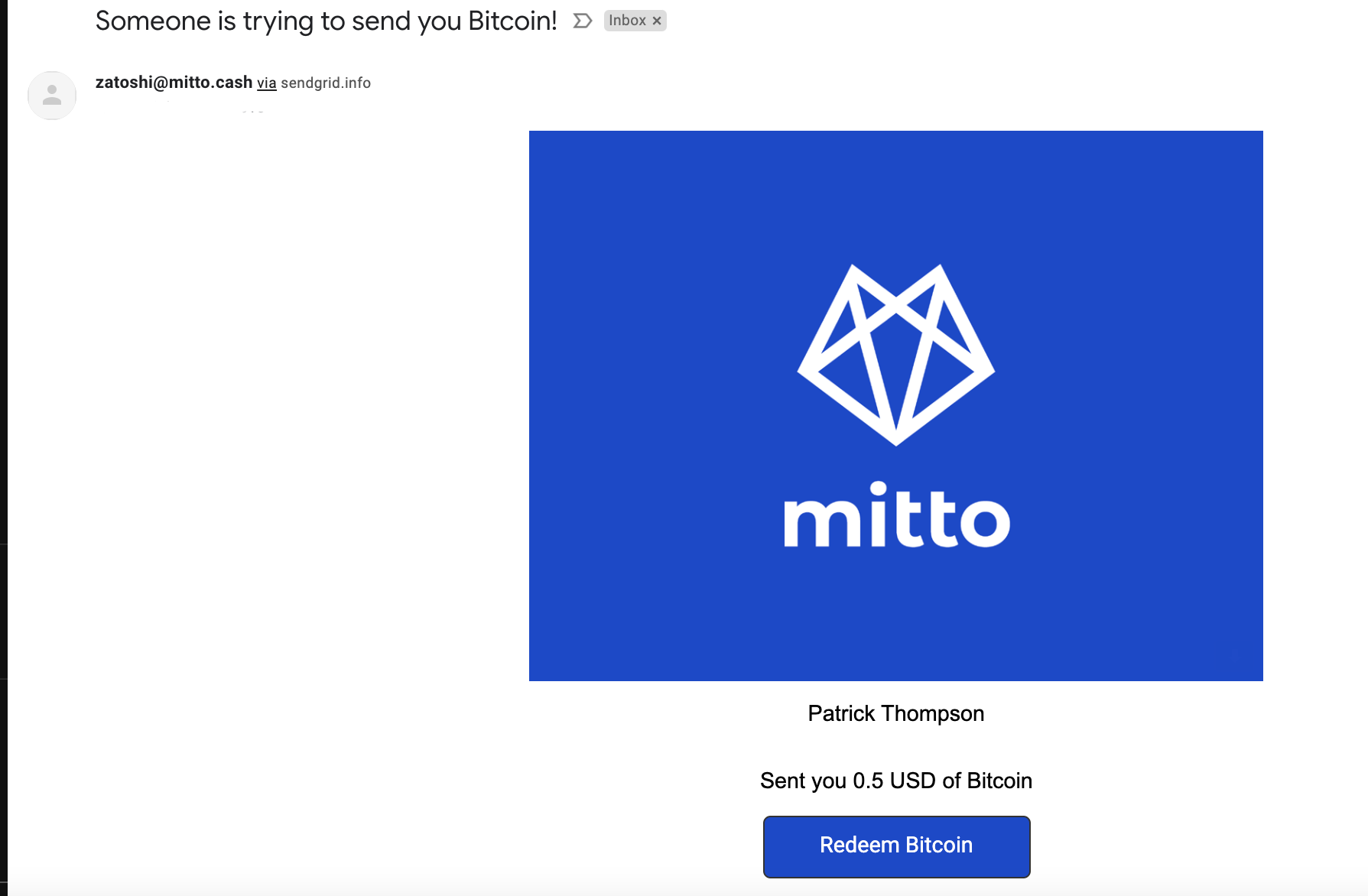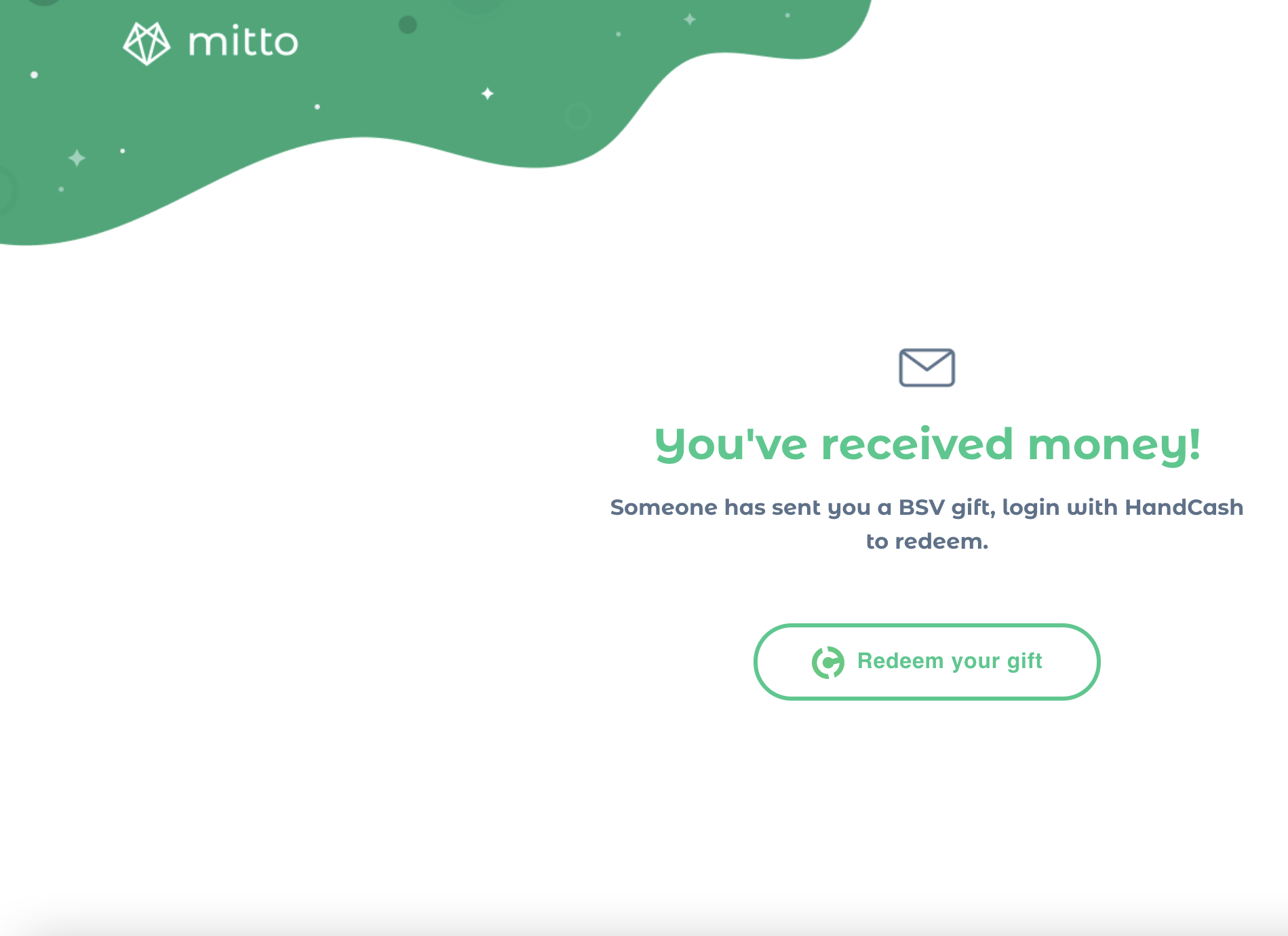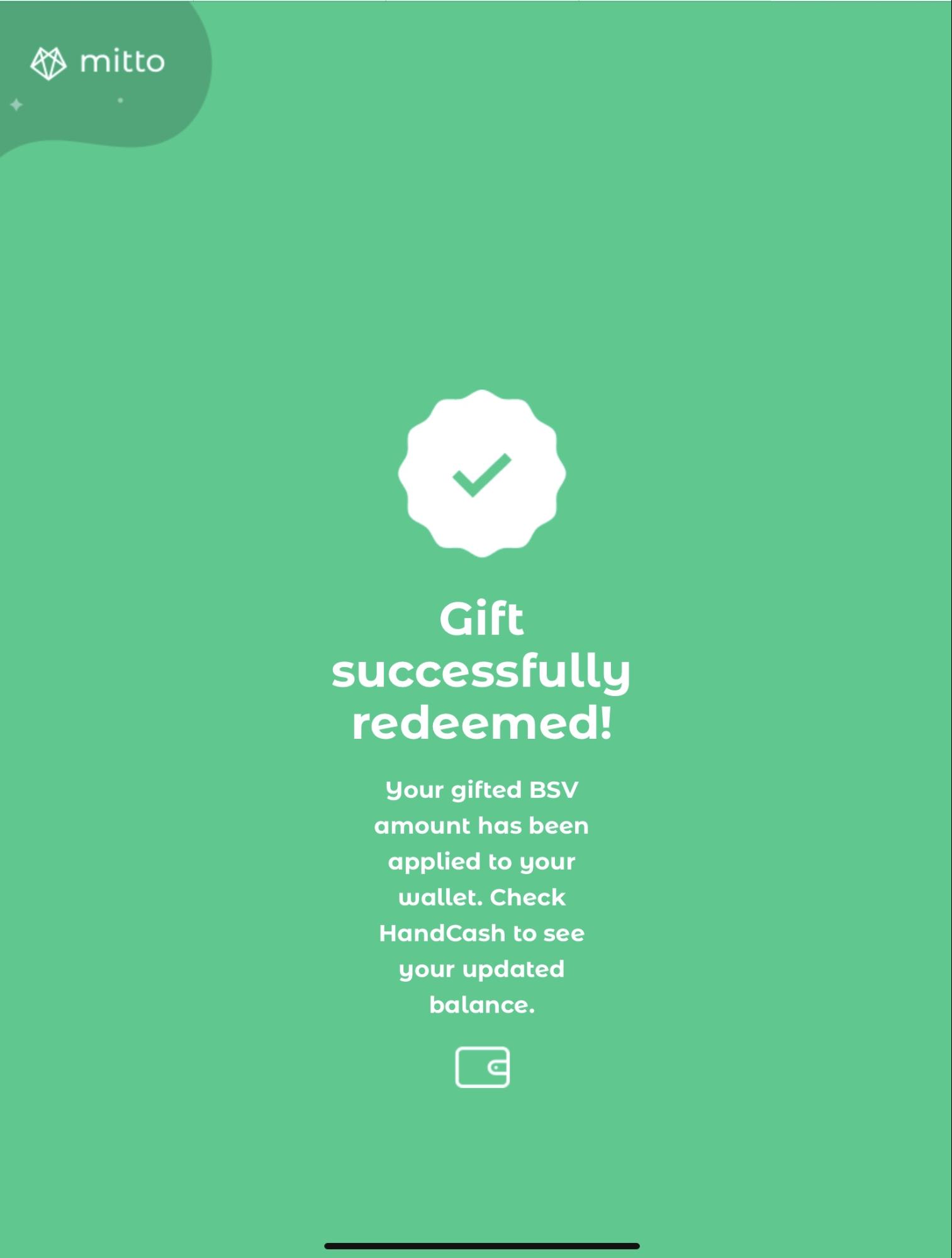 "Emailing is the current option, we aim to introduce a text message option in the future," said Zatoshi.  "Additionally you can create a URL link that you can send to anyone via social media or any other platform and this works the same for the receiver. We are working on many other creative ways (Social Media Links etc) in the future to offer people multiple choices."
The onboarding problem
Bitcoin SV has an onboarding problem; the blockchain and digital currency space have this problem as a whole, but BSV is hit particularly hard—especially in the United States. Many exchanges have delisted BSV, which makes it difficult for newcomers in the space, and existing members, to buy BSV and top up their wallets. 
Beyond that, Bitcoin can be complex for individuals who are new to it; the concept of setting up a wallet, having a 12-word seed-phrase, and protecting your private key is foreign to most people.
But Mitto.Cash solves both of these problems; because Mitto.Cash requires both sender and recipient to use HandCash, the idea that the recipient needs to manage their private key is taken out of the equation since HandCash is keyless. And because newcomers will be onboarded once they receive their first bit of BSV from a Mitto.Cash user, the onramp dilemma is eliminated. 
"Like with my other platform www.FreeBSV.com (Bitcoin faucet), Mitto.cash aims to help spread BSV adoption in another unique and more importantly… simple way. Mitto.cash aims to be a "middle-man" for those wishing to gift BSV to newbies," said Zatoshi.  
"I hope by the end of 2021, thousands of people would have used Mitto.cash and as a result thousands of new people joining the Bitcoin SV World! 
I would also like to say a big thank you to Brandon Bryant and Kyle Krupp (the Developers) who have been working hard on this platform over the last few months. Without them Mitto.cash would not be here today!"
 If you are looking to use Mitto.Cash, head over to the Mitto.Cash website. To learn more about Mitto.Cash, and to keep up to date with the latest developments coming out of Mitto.Cash and its team members, you are going to want to follow Zatoshi, Brandon Bryant, and Kyle Krupp on Twitter. 
See also: CoinGeek Live presentation, Making Bitcoin Easy to Use for Everyone
New to Bitcoin? Check out CoinGeek's Bitcoin for Beginners section, the ultimate resource guide to learn more about Bitcoin—as originally envisioned by Satoshi Nakamoto—and blockchain.