For what might be the first time in history, numerous crypto exchanges are refusing to support a top-five cryptocurrency with a market cap current north of $5 billion USD, Bitcoin SV (BSV). Even when users of these exchanges requested a BSV trading pair, BSV wallet support, or at the very least, access to the BSV they rightfully owned because they held BCH before BSV forked off of it, several platforms decided to delist, deny, or delay access to BSV without providing a bona fide reason.
Let's take a closer look at the exchanges—some of them are among the biggest names in cryptocurrency—who have delisted or continue to deny their customers access to BSV, the only cryptocurrency that has everyday utility and is not merely a speculative vehicle. You will find that in some cases, the exchanges have even stolen their customers' BSV.
It all started with Binance
The coordinated effort to limit consumer and enterprise access to BSV began with Binance. Binance exchange—the most popular cryptocurrency exchange by trade volume—published a blog post on April 15, 2019, saying they are delisting Bitcoin SV. Binance said they chose to do this because BSV did not meet the standard they hold tokens to when vetting projects.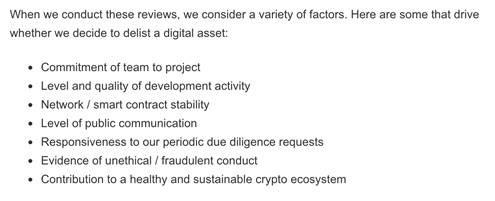 Although it is not clear which of these categories BSV falls into, Binance delisted—and still does not support—BSV trading pairs. Their excuse for delisting BSV is a little contradictory considering all of the terrible tokens they have listed, promoted, pumped and dumped as part of their Initial Exchange Offering (IEO) scheme.
ShapeShift was next
After Binance made their announcement regarding BSV, Shapeshift.IO CEO Erik Vorhees, made an announcement on Twitter saying that ShapeShift supports Binance's decision and that ShapeShift would be delisting BSV within 48 hours of the tweet. 
We stand with @binance and CZ's sentiments. We've decided to delist Bitcoin SV #BSV from @ShapeShift_io within 48 hrs.

— Erik Voorhees (@ErikVoorhees) April 15, 2019
Unlike Binance, Shapeshift.io did not even provide an ambiguous reason. All they said was that they side with Binance and would support them. 
After that… Kraken
Shortly before ShapeShift made their announcement via Twitter, San Francisco-based Kraken exchange created a poll on Twitter, asking the Twitterverse if they should delist BSV as well. Their reason? Because "BSV is toxic."
Should Kraken delist Bitcoin SV (BSV)? #delistbsv

— Kraken Exchange (@krakenfx) April 15, 2019
The following day—April 16, 2019—Kraken announced that they would be terminating support for the Bitcoin SV project effective April 22, 2019. The crypto exchange says they made this decision because BSV is "anti-ethical to everything we at Kraken and the wider crypto community stands for." Specifically, Kraken cited "fraudulent claims, escalating to threats and legal action" as factors that caused them to delist. 
Denying BSV holders access to their coins
Delisting or not supporting BSV trading pairs is one thing, but on the other hand, some cryptocurrency exchanges have flat out stolen their users' BSV. These exchanges are preventing their customers, the rightful owners of BSV, from withdrawing their BSV from the exchange and reaping the benefits that come with the capital gains and enterprise application that BSV has seen since its inception. Both Bitflyer and Bitstamp fall into this category.
On December 4, 2019, Japan-based cryptocurrency exchange Bitflyer released a statement saying they would "grant JPY converted from the Bitcoin SV ("BSV") that originated in a Bitcoin Cash ("BCH") hard fork to qualifying customers." In other words, Bitflyer sold the BSV their customers owned without their permission and gave them a payment in Japanese yen at a rate that "may be lower than the market price of the corresponding virtual currency," according to their press release.
It is not clear whether Bitstamp has liquidated its customers' BSV holdings like Bitflyer has. However, the Bistamp exchange has not given customers who held BCH at the time when BSV was created their BSV holdings—even though that event took place well over a year ago. Bistamp customers who held BCH at the time BSV forked off of the BCH chain own an amount of BSV equivalent to the amount of BCH they owned at the time of the fork. Bitstamp exchange users have even created a petition to get the BSV that they rightfully own back from the exchange. 
Coinbase (NASDAQ: COIN) was on a similar path as Bitstamp, not giving their customers access to the BSV that they owned; however, several months after BSV was created, Coinbase finally opened up BSV withdraws for their customers who received BSV from the hard fork. Although Coinbase still does not allow its users to buy or sell BSV, allowing them to withdraw the BSV that they own to an external wallet was a step in the right direction.
Will this result in relisting or in lawsuits?
The fact that major exchanges who are supposed to be leaders in cryptocurrency like Coinbase, Binance, and Kraken, do not list a top 5 coin that has become increasingly popular and adopted by both consumers and enterprises due to its technical abilities and utility is shocking.
Imagine being a "crypto service provider" and not supporting a top 5 coin..🙃

— ella (🛠,🪐) @Permissionless (@ellaqiang9) January 14, 2020
Leaders in the cryptocurrency space are supposed to go about their business without bias and provide their users with onramps to these technologies that can disrupt industries. They are not supposed to bar their users from these technologies without a valid reason.
Regarding the exchanges which have taken their customer's BSV without their permission, there is a strong possibility that these exchanges will get sued and may face a class-action lawsuit for misappropriating their customer's funds. These types of actions open up the crypto exchanges to further regulatory scrutiny in the near term as governments begin to crack down on bad behavior.
Regardless, it would not be surprising to see several of these exchanges relist BSV now that it is a top 5 cryptocurrency, with many businesses that have built on the Bitcoin SV chain. Or, if exchanges do not relist, at the very least, they could give their customers access to the coins that they rightfully own. But only time will tell if either of these actions will take place, and whether or not exchange users will band together for justice given to them via the legal system.
New to Bitcoin? Check out CoinGeek's Bitcoin for Beginners section, the ultimate resource guide to learn more about Bitcoin—as originally envisioned by Satoshi Nakamoto—and blockchain.