Last month, I pointed out how Binance's Chief Executive Officer, Changpeng Zhao, is an unabashed hypocrite who uses the law to sue people who slander him after publicly chastising Dr. Craig Wright for doing the same.
Thanks to recent events in the digital currency industry, we all get a second look at whether "CZ" has any principles at all. His decision on whether or not to delist AVAX in the wake of explosive evidence that Ava Labs and Emin Gün Sirer used "lawfare" against other blockchain projects will show us whether there's any consistency to Zhao's decisions or whether he's simply pursuing his own agenda on the fly.
Zhao's next moves will also provide interesting insights for a U.K. class-action lawsuit on behalf of Bitcoin SV (BSV) investors, shining a light on whether there's any rhyme or reason underpinning Binance's decisions on what coins to list and delist.
A quick recap on what happened with Ava Labs and Emin Gün Sirer
This week, a website called Crypto Leaks published bombshell video evidence of attorney Kyle Roche admitting that he had used lawfare to attack other blockchain projects and obtain beneficial information for Ava Labs.
Roche mentioned action against Solana and Dr. Craig Wright, boasting openly about how his actions helped hurt BSV. Roche Freedman represented Ira Kleiman in the Trail of the Century, which Dr. Wright won resoundingly. Roche's admissions, which he claims he made when "intoxicated," raise new questions on who may have been involved in that action.
In the tapes, Roche also boasts about how he was able to obtain confidential information such as chat logs through the legal discovery process and how he pursued the personal vendettas of Emin Gün Sirer himself.
Zhao initially tweeted that Binance had been a target of this action before deleting the tweet.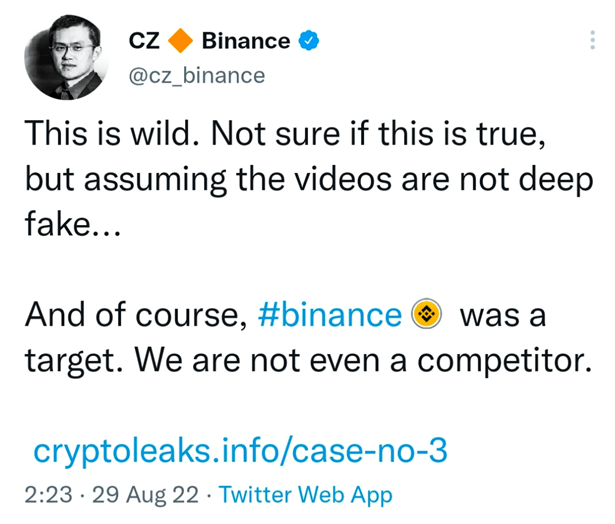 Readers can learn more about the full extent of what happened here.
Binance delisted BSV for much less
It's unclear why Zhao initially tweeted what he did and then deleted it. Perhaps there are legal maneuvers going on behind the scenes that have yet to become known.
What is clear is that Binance delisted BSV for far less, and digital currency jackals like Jesse Powell's Kraken and several other exchanges followed suit.
In 2019, Zhao tweeted that "Craig Wright is not Satoshi" and threatened to delist BSV because Dr. Wright threatened legal action against Hodlonaut, aka Magnus Granath, for leading an organized defamation campaign against him. Not long after, Binance proceeded to delist BSV.
Craig Wright is not Satoshi.

Anymore of this sh!t, we delist! https://t.co/hrnt3fDACq

— CZ 🔶 Binance (@cz_binance) April 12, 2019
Readers might rightly wonder why CZ hasn't yet instructed Binance to delist the AVAX token, given that there is clear and undeniable video evidence that Emin Gün Sirer did far worse than Dr. Wright, including allegedly targeting Binance itself.
So, what's it going to be, CZ?
Does Zhao have any consistent principles upon which he bases his decisions, or does he just have a personal problem with Dr. Wright and Bitcoin SV? Time will tell what action Binance takes regarding AVAX, but one can hazard a guess as to what sort of person Zhao is based on his previous actions.
Whatever the outcome, interested parties will be watching as they gather evidence for the BSV Claims lawsuit. The actions of Binance and other exchanges like Kraken and Coinbase (NASDAQ: COIN) will be of great interest to all involved parties in the coming days and weeks.
Follow CoinGeek's Crypto Crime Cartel series, which delves into the stream of groups from BitMEX to Binance, Bitcoin.com, Blockstream, ShapeShift, Coinbase, Ripple, 
Ethereum, FTX and Tether—who have co-opted the digital asset revolution and turned the industry into a minefield for naïve (and even experienced) players in the market.
New to Bitcoin? Check out CoinGeek's Bitcoin for Beginners section, the ultimate resource guide to learn more about Bitcoin—as originally envisioned by Satoshi Nakamoto—and blockchain.