Centbee CEO Lorien Gamaroff and nChain Director of Business Service Simit Naik took the virtual stage on July 14 for the Wales Tech Week event titled, "Applications of Blockchain: Payments."
The event was hosted by Jack Davies, the founder of BSV Wales as well as a researcher at nChain. 
In his presentation, Gamaroff took a deep dive into Centbee and how the service Centbee provides is revolutionary when it comes to using the Bitcoin blockchain. Meanwhile, Naik explored central bank digital currencies (CBDCs) in his presentation and explained why a CBDC is of interest to many governments around the world.
Here are a few of our key takeaways from the presentation: 
Bringing Bitcoin to Africa
A crucial aspect of Gamaroff's presentation was that beyond having a payment ecosystem, you need an abundance of service providers, ways to spend your digital currency, as well as ways to hold your digital currency—Centbee made sure to create their business with these elements in mind.
Through Centbee, users can easily buy and use Bitcoin SV (BSV) to pay for things such as prepaid airtime, data, and electricity, directly from their Centbee Wallet.
To onboard new users, the company partnered with several banks, which gives Centbee users an easy avenue to top up their accounts. What's even more innovative, is that Centbee has created a way for users who do not have a bank account to buy BSV. 
To accomplish this, Centbee partnered with several retailers, from grocery stores to gas stations, allowing individuals to buy Bitcoin at their respective retail-locations with fiat. Through the Centbee app, a QR code is generated that any of the participating retailers across Africa accept; once the merchant scans the barcode, the consumer pays in cash, receives BSV in their Centbee wallet, and the transaction is complete. 
Centbee does a great job of making it effortless for individuals across Africa, especially in South Africa, to buy, send, and receive BSV. Centbee is one of the few companies that has fulfilled Satoshi's vision of making Bitcoin an electronic cash system.
Central Bank Digital Currency
After Gamaroff presented, Naik took the stage to discuss how a blockchain can help in the deployment of a central bank digital currency. It is important to note, Naik began his presentation by making it clear that cash still has a place in society, 17% of the population still relies on cash to make and receive payments. That is a significant chunk of the people on earth, so we can't just do away with cash.
For individuals without access to electronic devices, cash is easily accessible and allows individuals to retain their financial privacy. Even for individuals with electronic devices, cash is a great back-up for an electronic payment system.
However, cash has its problems, it's expensive to manufacture, complicated, and costly to distribute, allows individuals to easily create untraceable black market economies, and is prone to tax evasion.
That being said, the rise of digital currencies has become attractive to many governments around the world. Naik explored the three main use cases for a CBDC, several of the benefits of a CBDC, and explained why you want to create your CBDC on a public blockchain like Bitcoin.
Use cases
For retail payments (for consumer use)
For inter-bank use (clearing and settling payments between banks)
For use in cross-border payments and cross-border clearing/settlement.
Benefits
In terms of benefits, a CBDC is cheap, fast, secure, and enhances the ability to implement/make monetary policy effective.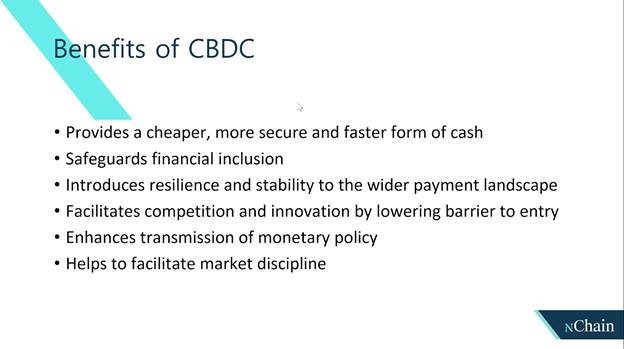 Why a public chain?
Naik also explained why you would want to use a public blockchain opposed to a private ledger when creating a CBDC; a public ledger would allow the world to audit the ledger with 100% transparency it would also allow on-lookers to track AML/KYC compliance across services among the many other benefits it provides.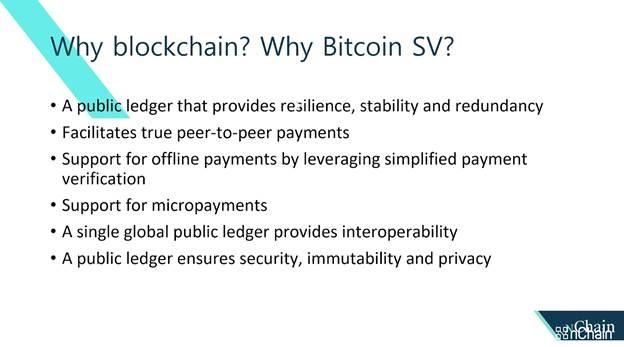 Naik concluded his presentation by explaining how a CBDC is not just theory, but how many governments around the world are either researching, developing, or piloting a CBDC.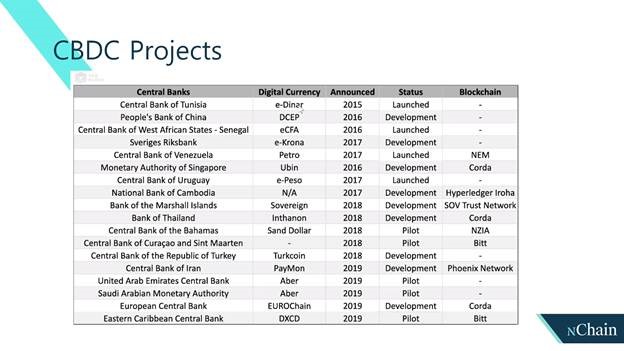 Tune in for more
The blockchain events at Wales Tech Week run from July 14 to July 16. Ron Austring, Senior Architect & Consultant at EHRData, and Josh Petty, the CEO of Twetch, also spoke at the Applications of Blockchain: Data & Beyond event.
We also recommend tuning into the Blockchain for Enterprise event on July 16, where Naik will be speaking to the audience about how nChain sees the enterprise market for blockchain and why blockchain technology is primed for businesses around the world.
You can register for the Blockchain for Enterprise event here, we hope to see you there!
To learn more about central bank digital currencies and some of the design decisions that need to be considered when creating and launching it, read nChain's CBDC playbook.
New to Bitcoin? Check out CoinGeek's Bitcoin for Beginners section, the ultimate resource guide to learn more about Bitcoin—as originally envisioned by Satoshi Nakamoto—and blockchain.