When the inaugural Bitcoin Association Virtual Hackathon was announced, several developers got to work, creating some of the most innovative blockchain-powered projects seen to date. UptimeSV emerged victorious and during the recent CoinGeek Seoul conference, project leader Dean Little shed some light on what the team has been up to since then.
UptimeSV is a crowdsourced network intelligence platform that gives its users robust and DDoS-hardened enterprise systems. Uptime monitoring is crucial in the modern era where most business is done over the internet. Still, monitoring when and where your website is online remains a great challenge for many companies. This is the challenge that UptimeSV sets out to solve, relying on the microtransaction capability of the Bitcoin SV network to make small payments for its users.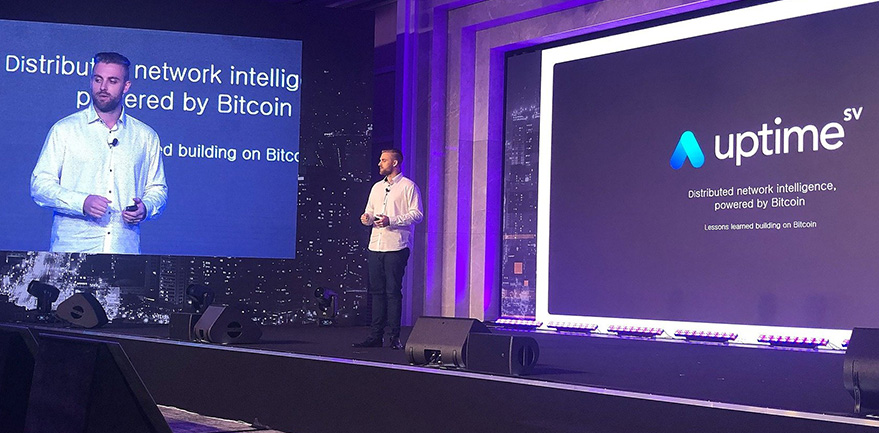 Little, who is the co-founder and lead developer of UptimeSV revealed that for him and his team, winning the Hackathon let them know that their product was something people were interested in. Thus, immediately after being declared the winners, the team set out to work in June this year and launched the beta signup a month later. In a month's time, the platform had over 500 signups.
In their quest to build one of the most innovative applications on the blockchain, the team encountered three key challenges. One of these was spam, and while spamming in Bitcoin only means that the spammer contributes to the betterment of the ecosystem by paying the miners, there are certain types of spam that can be quite annoying. These include OP_RETURN spam and P2P broadcast network spam.
To solve this, the team built Unplanaria which allows you to create a transaction, send it to a business which can then take the data needed from the transaction without necessarily having to scan the entire blockchain.
Unplanaria, which Little described as BIP270 for apps, drastically reduces OP_RETURN spam, protects merkle proofs, allows for a much smaller network footprint and is horizontally scalable.
The team also devised a solution to the challenge of address resolution. The Bitcoin ecosystem has quite a number of address types, from P2PKH addresses to P2SH, Paymail and more. To solve this, the team built Polynym which supports HandCash, RelayX and Paymail handles. Polynym is an interim solution for BSV addressing, with Little stating that he believes in the future, this issue will be handled through a more standardized approach.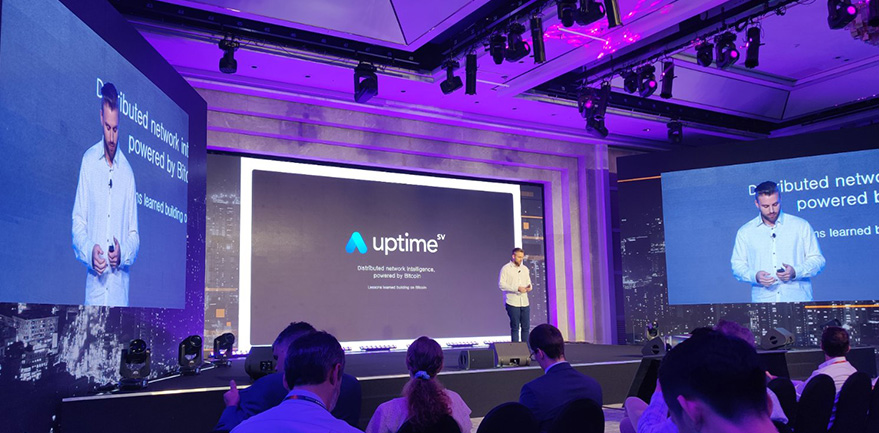 The third challenge was UTXO management, he noted. To solve this, the team developed Datapush which enables for the publishing of huge amounts of data to the blockchain really quickly.
"So, we have a single unique top up address which you send your Bitcoin to. It tops up a bunch of XPRIV threads and then it generates a bunch of UTXOs and addresses. What it can do is chain them, it can publish them to an actual payment channel for a miner, and the miner can help you broadcast those transactions."
Datapush seeks to reduce the number of HTTP requests and handle the UTXO management locally, giving you a really efficient transaction creation and allowing you to write a lot of data on the blockchain quickly.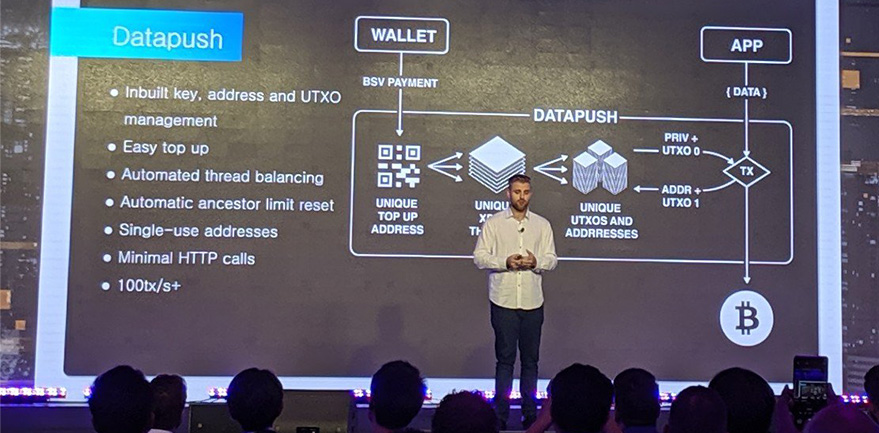 The UptimeSV team hasn't abandoned its core mission; that of making the platform better and scaling it for global use. It rebuilt the entire mobile app since winning the inaugural Hackathon.
"The way we'd done some things worked really well in a really small scale but when you want to have thousands of users querying websites, you want to make sure that it doesn't accidentally turn into a DDoS attack," Little explained.
The app has also been enhanced with other new features including support for English, Chinese and Japanese, with plans to add Korean soon. The app will also integrate more currencies, enabling you to view how much you've earned.
Little also revealed that the team was aiming for an October 30 private beta release. To register for the beta release, head on to UptimeSV.com.
New to Bitcoin? Check out CoinGeek's Bitcoin for Beginners section, the ultimate resource guide to learn more about Bitcoin—as originally envisioned by Satoshi Nakamoto—and blockchain.