Prolific Bitcoin developer Unwriter has revealed his latest project—PowPing, a social Bitcoin network.
Introducing PowPing, a Social Bitcoin Network. https://t.co/jVC3oSAqKH

— _unwriter (@_unwriter) July 13, 2020
PowPing has a similar feel as Twitter and Twetch—users can post text, photos, and gifs on a timeline, and can tip each other to create an economy around a post. What's unique, appealing, and different about PowPing compared to other Bitcoin-based social media networks is that every action within the platform—except for tipping—is free.
Follow me on @_unwriter's PowPing! https://t.co/rjxwX3jgPL

— Patrick Thompson 🦍 (@CryptoAmerican) July 13, 2020
Navigating PowPing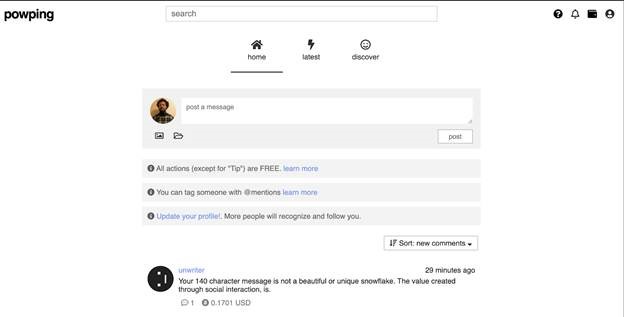 PowPing has a simple and intuitive interface. Using the search bar at the top of the page, you can look for people or a specific post by entering a name or a keyword.
Using the "post a message" box, you can publish text, photo, or any compatible file to the timeline. In the "latest" tab you can look at the most recent posts that users have published, and using the "discover" tab, you can come across new accounts to follow—which are currently ranked from the account with the highest number of followers to the account with the lowest number of followers.
In the right-hand corner of the page, you have a variety of resources. From left to right, you have the PowPing 'about' page, your PowPing notifications, your wallet (which takes you to Money Button when you click it), and your profile.
Free to play with
Many things make PowPing appealing, but what will strike you immediately is that it is free to use. Other Bitcoin-based social media networks require you to pay for every action on the platform. For individuals who aren't well-known or popular within the bitcoin ecosystem, they will often find themselves operating at a loss in a pay-to-play model. However, on PowPing, that is not an issue.
A positive aspect of a free-to-play model is that it helps catalyze user adoption. You do not need funds in your digital asset wallet to use PowPing, you simply sign up and can use every feature of PowPing—except for tipping—immediately.
Social media economy
The other interesting aspect of PowPing is that each post can be thought of as a potential economy. If a post receives tips, it is recorded to the Bitcoin blockchain, and an economy is created around it.

For example, this post on PowPing by Unbounded Capital co-founder Jackson Laskey has an economy of $0.86 around it. 
A post with an economy around it could potentially serve as a signal that the post might be worth your attention. Does this costly signal model exist on other Bitcoin social networks? Yes, however, on other platforms the costly signal exists because it inherently costs money to interact on the platform, but since PowPing is free to use, if someone is tipping another user, in other words, giving them their hard-earned money on their own accord, you may begin to wonder why and divert your own attention to the post.
Bitcoin social media
The launch of PowPing means there is a new competitor in the social media on Bitcoin arena. It will be interesting to see which Bitcoin social media network users gravitate to and use the most.
New to blockchain? Check out CoinGeek's Blockchain for Beginners section, the ultimate resource guide to learn more about blockchain technology.