Start-up Proxeus is connecting blockchain technology with traditional companies.
Last year, MIT issued 111 digital diplomas that were recorded on a blockchain in a pilot run conducted through an application called BlockCerts. This gives graduates easy access to their certificates as well as control over who gets to see them.
And it looks like blockchain-based diplomas may very well turn into a norm as more are following in on the trend.
Speeding up processes is also one of the biggest benefits of blockchain technology, and blockchain innovator Proxeus—with the help of its partners, is maximizing this value. The company partnered up with the University of Basel's Center for Innovative Finance (CIF) in creating a prototype that would allow the institution to issue course certificates and register them on a blockchain. This drastically reduced the processing time for the documents, and has placed the University of Basel as the first in Switzerland to issue blockchain-based diplomas.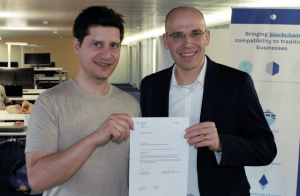 And because they are on the blockchain, certificates are easily verifiable and tamper-proof, therefore cracking down on the possibility of fraud. Dr. Fabian Schär, Managing Director at the CIF, says the project can help solve authenticity issues for academic credentials, a burden for both graduates and employers.
"Fraud is a problem in academia just as it is in any field," Schär said. "By securing credentials on the Blockchain, we provide an extra layer of security for graduates and potential employers. These credentials can't be faked, and can be easily verified online. It will introduce a new paradigm of security and offer value to all parties – employers don't lose time checking credentials, graduates have an edge, and the institutions themselves reduce their reputational risk and a significant administrative burden."
Proxeus has been actively working on similar solutions for different applications. Proxues, in partnership with IBM and other companies, are also working on speeding up legal registry of Swiss businesses—they were able to cut processing down from four to six weeks to less than three hours. In fact, they say that in their test run, they were able to pull it off in only one hour and 37 minutes. Unsurprisingly, they nabbed the 2018 Swiss Fintech Award as the Early Stage Start-up of the Year.
New to blockchain? Check out CoinGeek's Blockchain for Beginners section, the ultimate resource guide to learn more about blockchain technology.