This could make it easier for investors to narrow down their options to serious projects.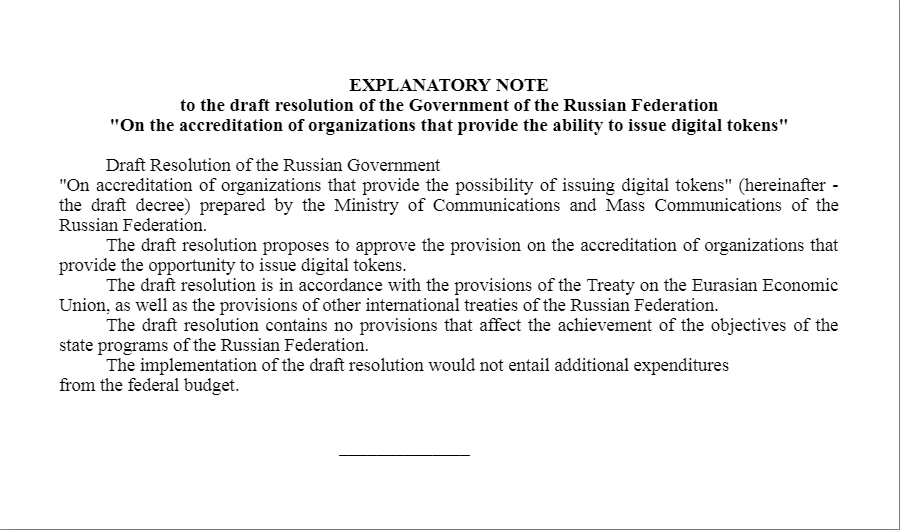 These days, it can be hard to determine whether an ICO (initial coin offering) is backed by a serious project or if it's just a bunch of people looking to make quick bucks by dumping their own coins after the token sale. With thousands of coins in existence—and many more popping out on the daily, filtering out which ones are worth investing into can be a daunting task.
And the Russian Telecom Ministry is hoping to make things easier for would-be investors. Russian news agency, TASS reports that the ministry intends to introduce accreditation for ICO issuers, which would bind them to specific standards for a period of five years.
"The organization must comply with a number of criteria: registration in the territory of the Russian Federation in accordance with the legislation on state registration of legal entities; a charter capital of at least 100 million rubles; a license to develop, produce and distribute cryptographic funds; and a special account with a bank, obtained as a result of the sale of digital tokens," TASS wrote.
Application for accreditation will either be approved or denied within 30 days, and accredited issuers will be subject to regular inspections every three years. But while the standard criteria may be a bit steep, accreditation is voluntary. The Minister of Communications and Mass Media, Nikolai Nikiforov, believes "over-regulation of the just-emerging digital economy" is not the way to go.
"We decided that we should go the way of accreditation and get some professional organizations to implement the first real projects. Otherwise, our country will become technologically backward," Russian broadcaster RBC quoted him saying.
While this wouldn't automatically eradicate unverified and possibly ill-intentioned ICO organizations, the move is enough to help filter out those that have met the standards, which would help the public in terms of assessing investments. The ministry is also calling for insights on the proposal. Comments can be sent through their website.
New to Bitcoin? Check out CoinGeek's Bitcoin for Beginners section, the ultimate resource guide to learn more about Bitcoin—as originally envisioned by Satoshi Nakamoto—and blockchain.