After being in development and testing for months, Vaionex has announced the official launch of Relysia, a BSV web wallet that delivers much more than just a secure digital asset storage experience.
The Relysia Web Wallet is open for business!

Create an account at https://t.co/hb9EUZ5FIB and drop your Relysia Paymail address below to receive some #Bitcoin. pic.twitter.com/FdtZEJwqVc

— Relysia (@Relysia_SV) July 4, 2022
The wallet allows its users to easily deposit their digital currencies by keying in their BSV address or wallet Paymail or by simply scanning a QR code.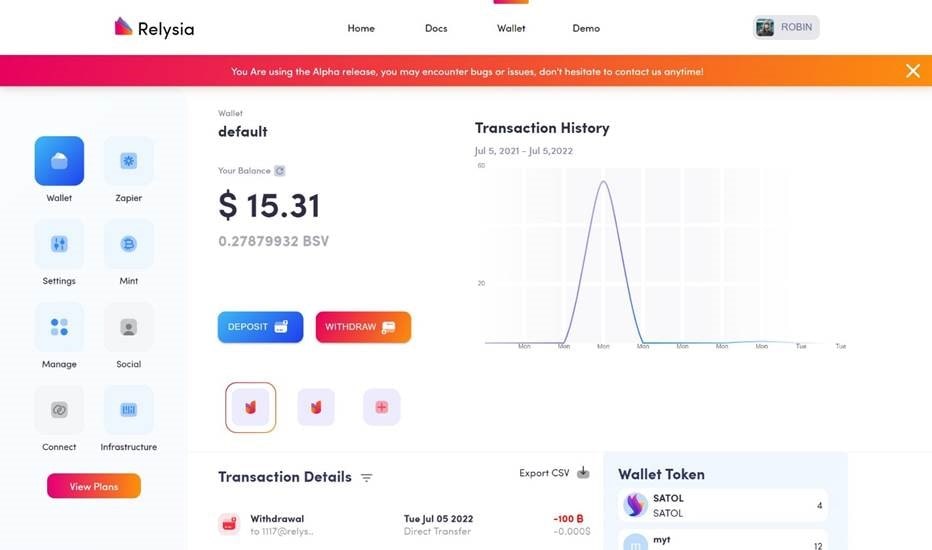 The Bitcoin SV ecosystem has several other wallets, but as Robin Kohze has stated before, Relysia is no ordinary wallet. It does allow users to easily send, receive and store BSV like all the other wallets, but it offers several other cutting-edge solutions that few in the industry can match.
These include allowing its users to mint and transfer tokens for very low fees. It integrates NFTS and other alternative tokens as payment for its users, allows integration of invoices to rival payment systems, including PayPal, and even supports multi-wallet and multi-platform integration. For the developers, it will enable them to interact with other BSV apps through APIs.
Relysia also supports a zero-fee model in which its token manager application enables managers to pay the fees for their users to mint and swap tokens.
Kohze, the founder of Vaionex, is a firm believer in a feeless blockchain model. And with BSV's fees being minuscule, Relysia can support this model sustainably for its users.
The "feeless" blockchain era is coming. There is no point charging users 1/63th of a cent (in #BSV) per blockchain interaction or transaction. We rather go for frictionless token transfers without fees in our infrastructure and thus enable devs to use BSV as pure infrastructure. pic.twitter.com/IPkDMMvWsR

— Rob (@Rob_GCC) September 27, 2021
In a past interview with CoinGeek, Kohze revealed that Relysia will support every token protocol and not just STAS, which his company developed.
"Relysia changes the paradigm of first generation wallets that were just simple tools to transmit bitcoin transactions. We opened our architecture up to all competing token protocols in the Bitcoin SV ecosystem and let the user decide their preference. We moreover identified a key aspect of every token support, the ability to remove transaction costs from the user to not require them to hold any of the base currency the protocol runs on," he told CoinGeek.
Watch: The BSV Global Blockchain Convention presentation, Vaionex: Frictionless Blockchain Solutions
New to blockchain? Check out CoinGeek's Blockchain for Beginners section, the ultimate resource guide to learn more about blockchain technology.