The presentations and panels at the BSV Global Blockchain Convention in Dubai showed that the original Bitcoin SV serves as a worldwide ledger for data processing and payments.
However, we still need blockchain to be easily accessible for everyone, and this is where the founder and CEO of the multi-faceted company Vaionex, Robin Kohze, comes into play. At the convention, Kohze introduced Vaionex and proved that a frictionless use of the BSV blockchain is necessary and possible.
"Even if you have the perfect infrastructure, that is not really giving us any adoption. That is what we at Vaionex call the Layers of Adoption. We require—beyond the infrastructure—libraries and tools that programmers can work with, services that companies can rely on, and education," Kohze said.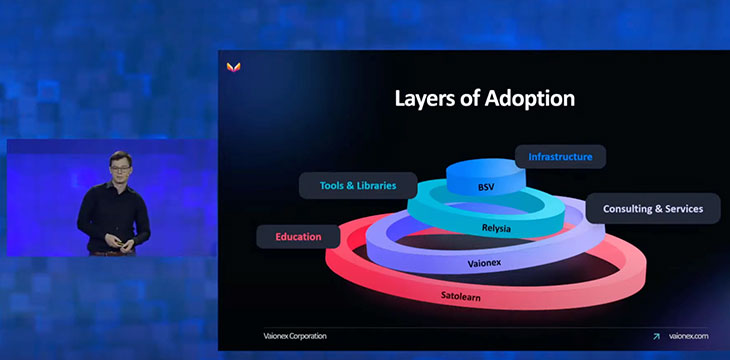 What Vaionex offers to help developers and entrepreneurs with the BSV blockchain
So far, Vaionex has 13 projects completed within a short time frame, making use of its 26 experienced developers. On Vaionex's website, various BSV blockchain-driven solutions are being offered, including:
Authentication
Payment handling
Databases
NFT building
Transaction management
Kohze went on to show the recent success of Vaionex. Satolearn is a platform dedicated to education on the essentials of Bitcoin and blockchain, realized by Vaionex. Satolearn is not just a learning platform, but also a coding platform that makes it possible to interact with the blockchain while studying it.
"Satolearn is a fun, interactive learning experience, challenging and now in the second consecutive year part of the official curriculum of the University of Exeter," Kohze said and pointed out that the feedback of the students attending the Satolearn classes so far is overwhelmingly positive.
It is amazing to see that Vaionex takes the approach of education as a basis for a frictionless utilization of Bitcoin because this is in line with Bitcoin inventor Dr. Craig Wright's passion for education.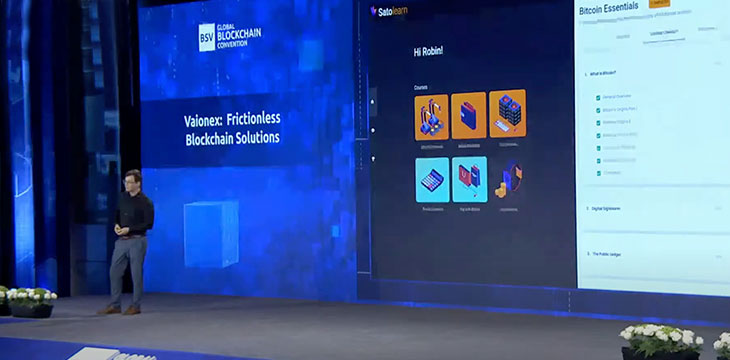 With Relysia, Vaionex built a developer-friendly and entrepreneur-focused Bitcoin wallet that allows for more than just storing digital assets. Relysia is a wallet and blockchain as a service (BaaS) development suite in one. According to Kohze, the use of over 60 API endpoints reduces the development time on BSV by a staggering 95%.
"Vaionex is now beta-tested by almost 22 companies in the last five months. We daily improve the robustness of the system. We directly collaborate with nChain and others to improve the experiences," Kohze said.
Endless opportunities utilizing the BSV blockchain with Vaionex
Kohze described STAS as the leading smart contract token platform and announced that Vaionex is creating a new STAS company, focusing on:
Dynamic data tokens
Royalty tokens
Controlled tokens
Multi-output tokens
The dynamic data tokens enable adding more data into already existing smart contracts. 
"All the tickets that you have around your necks, that could be tokens. Tokens that get updated the moment you enter here, or updated when you leave. And ultimately gives the event organizer a very robust way to trace where everyone is going and what is happening at the event," Kohze said, addressing the convention's audience.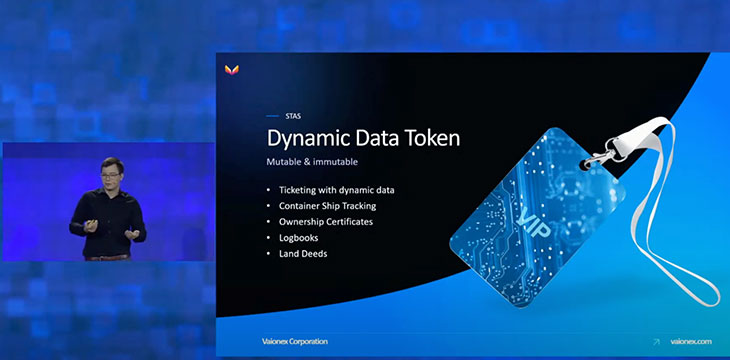 With royalty tokens, the initial issuer gets paid a royalty fee for each transfer of the token, which for example, allows for new, frictionless monetization of intellectual property. Controlled tokens assist regulatory compliance, such as freezing tokens, unlocking tokens, and more. With multi-output tokens, high throughput transactions with more than 50 recipients in one single transaction become a reality. 
BSV blockchain to emulate all other token protocols
However, Kohze isn't done yet. He went on to explain how with Bitcoin SV, all other digital assets and blockchains out there could be running on one single blockchain. The idea of the BSV blockchain being the underlying infrastructure for the countless token protocols out there originally came from Satoshi Nakamoto himself. 
"Craig told me four years ago that in just a few years we will roll up all the existing token protocols in one global blockchain (…). Bitcoin is Turing complete, that means you can run any kind of code and therefore you might as well emulate every other blockchain," Kohze said, giving credits to Bitcoin creator Dr. Craig Wright for his influence on Vaionex.
This is what Ayre Group and CoinGeek founder Calvin Ayre described as "BSV will eat the world" plenty of times, too. The BSV blockchain might start eating the world by eating the rest of the digital asset sphere first.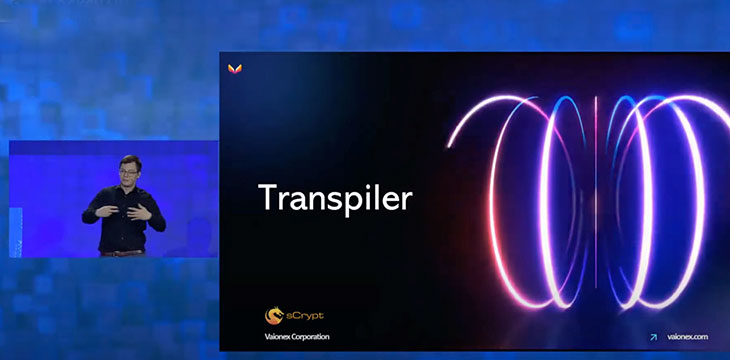 Kohze described that with the BSV blockchain, a "wormhole of efficiency" comes to other token protocols such as Ethereum. According to Kohze, BSV could reduce the transaction fees for Ethereum by 99,99%.
"All you have to do is go on transpiler.bitcoinsv.com—enter your existing smart contract, you get the sCrypt contract out, which you can convert to the low-level Bitcoin script language," Kohze said.
Kohze also introduced SVAgency, a Vaionex solution to let WordPress directly publish onto the Bitcoin SV blockchain, as well as a BSV blockchain-driven infrastructure provider called VIAPORT.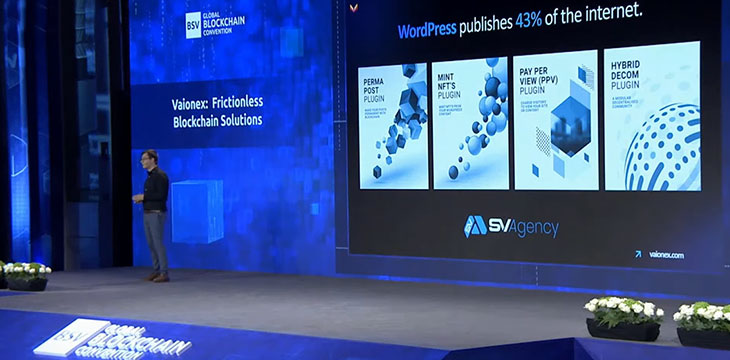 Watch the BSV Global Blockchain Convention Dubai 2022 Day 1 here:
Watch the BSV Global Blockchain Convention Dubai 2022 Day 2 here:
Watch the BSV Global Blockchain Convention Dubai 2022 Day 3 here:
New to Bitcoin? Check out CoinGeek's Bitcoin for Beginners section, the ultimate resource guide to learn more about Bitcoin—as originally envisioned by Satoshi Nakamoto—and blockchain.